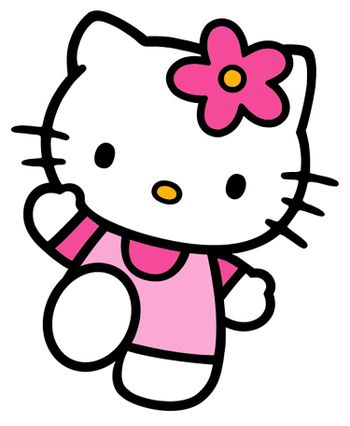 Hello Kitty is a long running Cash Cow Franchise mascot in Japan.
Created by Yuko Shimizu and licensed by Sanrio, this little cat has been marketed in America just as long as she has been in Japan. For many of us, this was our first taste of anime chibi art, and we didn't even know it yet. Unlike American cartoon animal mascots (like Snoopy, Garfield, or Mickey Mouse), she started out as a marketing icon, with actual media (including quite a few cartoons and Video Games, including an MMORPG) all coming later.
Contrary to popular belief, she does have a mouth, it's just like Dilbert's: very small and not drawn often. Usually. It's more commonly seen when she's animated,
◊ just like Dilbert's.
One explanation given by Sanrio spokespeople for why she doesn't have a mouth is because they want people to "project their feelings onto the character" and "be happy or sad together with Hello Kitty." The other explanation given by Sanrio for being depicted without a visual mouth is that she speaks from the heart; as Sanrio's goodwill ambassador to the world, she isn't bound to any particular language.
One of the most heavily merchandised things on the planet, creating all forms of insane craze in Singapore and Philippines when Hello Kitty dolls were attached to Happy Meals. Strangely enough, her biography states that she was born and raised in London. Then again, the character was originally a British fashion label. At the time of her creation, foreign countries like the UK were trendy in Japan, so her backstory depicted her as a 3rd grade student living outside London.
In Japan, she has merchandising all over the place (usually pink), including Fairytale Wedding Dresses. Think this is a joke? See here
.
---
open/close all folders
Her works
Anime & Manga
Kitty has starred in various Sanrio OVAs in both the '80s and the '90s. More notable ones would be the Sanrio World of Animation OAVs (in which were compiled into a TV series in the US during the '90s. The Hello Kitty OVAs were released in Video and DVD in Japan. But as of 2012, they're all out of print. Good luck looking at the original episodes in Japanese online.
In 2011, she surfaced in a two-DVD set called Growing Up With Hello Kitty that aims to teach children about things such as good manners, playing nicely with friends and other pro-social lessons, and is an English dub of the second wave of Hello Kitty To Issho educational videos (the earlier wave, released in 1994, never recieved an English dub). It's actually both reasonably good and fairly well-reviewed, and employs tropes such as Good Angel, Bad Angel as part of its stories.
Video Games
Her own series of video games, including:
Tropes Exhibited by Hello Kitty Herself
---