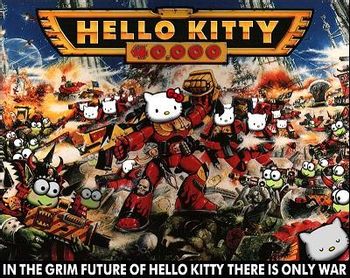 A variety of crossover fic where the characters of one or more franchises replace the established characters in yet another franchise. Usually written for the comedic value of the resulting Fish out of Water juxtaposition, although the odd serious/dramatic effort is seen, too.
The term has also started to be applied to crossover fics where the metaphysics and backstories of the universes have been fused so they have always existed as part of the same setting. As a result, rather than the characters being simply swapped, the backstories and worlds of both franchises are altered so they can exist together. For example, a villain from one show might be "revealed" to have been part of a conspiracy with similar goals from the other show, thus linking the two and leaving the protagonists likely to come into contact as they each fight against the conspiracy.
Sometimes overlaps with Meta Fic, Elsewhere Fic, and Transplanted Character Fic (the latter two usually simultaneously). Film Fic is a subtrope. Compare the more typical Intercontinuity Crossover. Has no relation whatsoever to Fusion Dance or that nuclear stuff going on in the Sun's core or a custom DeLorean.
---
Examples:
There's at least one fanfic out there that replaces the entire cast of Ai Yori Aoshi with Naruto characters.
A rare commercial variant of this would be the "Amalgam Universe" jointly created by Marvel and DC, in which their two 'verses and their inhabitants were merged in a literal fusion; unlike a classic fic fusion, though, it was not so much a case of "character X takes on the role of character Y," but "Character X + Character Y -> Character Z, who partakes of both." For example Doctor Doom and Doomsday combine to form Doctor Doomsday.

The two major mixes. Batman + Wolverine = Dark Claw and Captain America + Superman = Super-Solider.
Some characters were even fused twice. In addition to Dark Claw, there was Bruce Wayne, Agent of Shield (Bruce Wayne/Batman + Nick Fury). And Wonder Woman became both Amazon (Storm + Wonder Woman) and Diana Prince (Wonder Woman + someone who would marry The Punisher and fight crime with him).

Teknomorphs is, as you might have guessed from the title, a blending of the 'verse of Animorphs with that of Teknoman. Although it differs in that the Animorphs gain two new members rather than being replaced.
There's the The Avengers fic The Snow Queen By Elspethdixon, which has seven chapters: A mirror of steel, A Soldier and a Smith, Of the Library At the Young Woman's Who Understood Witchcraft, The Prince and the Princess, The Little Robber Boy, The Far North, and Who the Soldier Met There, and Of the Metal Woman's Palace and What Happened Afterward. It's basically the Hans Christian Anderson story told with Captain America as Gerda, Iron Man as Kay, and various Avengers, Avengers villains, and other superheroes as all the supporting characters (several of whom don't appear in the original story, but fit perfectly into the original story's various settings). It's written in a very authentic, fairy-tale-ish style similar to Anderson's, and it's actually quite a serious and angsty story, even though it's crammed full of delightful in-jokes, and Avengers fans will take great delight in recognizing which Marvel characters the usually vaguely described and nameless or ambiguously-named supporting characters are supposed to be (hint: the great number of insect- and animal-based codenames given to Marvel superheroes fits this story very well).
The Marvel Comics miniseries X-Men Fairy Tales, Spider-Man Fairy Tales and Avengers Fairy Tales are sometimes this and sometimes In the Style of..., depending on whether they're about casting the Marvel characters in an existing story (Cyclops as Momotarō! Spidey as Anansi! Captain America as Peter Pan!) or retelling a Marvel Universe story in a fairy tale manner.
There was a rather terrifying and dark doujinshi based around fusing the concepts of Azumanga Daioh and Drifting Classroom. The results (rape, trauma,

Osaka becoming a serial killer

) made for a disturbing, yet oddly compelling read.
Battle Spirit features Joseph Joestar as the Avatar training to defeat a trio of dark spirits. Sadly, it seems to have been abandoned.
Ben 10: Ultimate Alien and Hellsing have been fused. Guess who Kevin is, everybody!
One of Black Lagoon's parody covers features Revy and Balalaika in a Mari-mite-like setting.
The main premise of Blood on the Hands of a Healer is what happens if the storyline of Re:CREATORS took place in the setting of Kamen Rider Ex-Aid.
RPG.net gives us lots of crossovers: One version of TriCalvin, Kingdom Karts, etc. Warhammer 40,000 tends to be mixed more often than others, so there is Warhammer 40chibi, three-in-one "In the grim future of Hello Vader..." and even a picture of Tux in WH40K + Bunnies & Burrows + Big Eyes, Small Mouth and "My Little Heretic"◊ pony. But In the grim future of Hello Kitty there is only SAN loss.
Children of an Elder God is Evangelion with the pseudo-Christian stuff replaced with H. P. Lovecraft, right down to Misato wearing an elder sign instead of a cross.
Child of the Storm blends the backstories of Harry Potter, Marvel Cinematic Universe, Marvel Comics (the template is MCU, with bits of varying comics' continuities added on), Smallville, DC Comics, The Sandman, The Dresden Files and sprinkles in hints of Good Omens to boot, with a unique flair added by the author, who somehow manages to make it all work. Needless to say, it is remarkably ambitious series.
Christian Potter Chandler replaces Harry Potter with Chris-chan, to see how his antics and ridiculous personality affect the story.
While originally planned as something more along the lines of a Plot Twist at first, two of the fics in MF217's Citadel of the Heart continuity were planned from the start to be a Shared Universe rather than take place in a separate universe but a still shared continuity regardless. As a direct result of this, Sword Art Online: Special Edition and Reflection Code are fanfics based off of Sword Art Online and Code Lyoko respectively, but rather than simply tell the story within the same fic, two separate characters are used as a framing device so that the two different franchises remain independent of each other when it comes to the otherwise shared cast and setting. As a result, elements from both series are used to explain certain technological advancements as well as some of the backstory in both universes as well as how some of the AIs have the abilities they do. Every once in a while the canon cast members from both series will occasionally get a chance to meet each other, but these moments are few and far between considering one fic takes place in Japan and the other in France.
Code Geass: Paladins of Voltron: Between Code Geass and Voltron: Legendary Defender. In this story, the members of the Ashford Student Council (except for Nina) become the Paladins of Voltron.
The Code Mars Trilogy, with the Sailor Scouts getting involved in the Code Geass storyline.
Code Prime - R1: Rebellion: Between Aligned continuity of Transformers and Code Geass. Among other things, it's confirmed that Sakuradite and Energon are synonymous and the Decepticons are the ones behind the Britannian Empire.
The crossover fan fic A Dark Knight Over Sin City explores the concept of Batman and his rogues in Sin City.
There is a Death Note doujinshi which parodies Onegai My Melody. It's called (obviously) Onegai! Near Mellody (yes, Near plays Kuromi and Mello plays My Melody).
Decks Fall Everyone Dies has the characters of Yu-Gi-Oh! The Abridged Series in the general plot from Moulin Rouge!
JohnSu on DeviantArt gave us Desu Note.
A Different Kind of Truth has Johnny Joestar from Part 7 of JoJo's Bizarre Adventure replace the Silent Protagonist of Persona 4, disability and bitterness included. It also makes Personas closer to Stands, right down to the Gorn.
Kanius, formerly SSJ4Takeru, intertwines the Digimon and Dragon Ball Z into a long-running successful Fusion series called Digimon Fusion Kai. It has been previously and been simply called Digimon Fusion (not to be confused with the English language version of Digimon Xros Wars) or D-Fusion in the past. As of 2010, it has been revived and rebranded with the Kai label. It is now undergoing a revision to keep update with his other writing. It is an ambitious series and the battles scenes are deliciously well-written.
Dinner For One Mouse is an otherwise unaltered Dinner For One featuring the main original characters from the Chip 'n Dale: Rescue Rangers Fan Fic Closer Than a Brother playing that old Vaudeville sketch. The actress Sophia Marskov stars as Miss Sophie, and her butler Jules Crissen plays James. It was even written, greenlit by the author of Closer Than a Brother and published on New Year's Eve 2006.
Obscure doujinshi series Mythic Quest has a whole non-canonical edition crossing over with .hack, which involves Anaya as Emma Weilant and John as Harald Hoerwick, along with other omakes of Balmung as their son and .hacks Aura as their daughter. (What with them having a canonical A.I.-daughter, it's not a hard stretch to make. Her also being named Aura means the author just wasn't trying.)
"It's Five By Five" is a crossover of Dragon Age II with Angel. It features Anders/Vengeance as Angel/Angelus, Sebastian as Holtz, Female!Hawke as Buffy, Alistair as the Mayor of Sunnydale (for some inexplicable reason), Carver as a vampire...
The Endless Pantheon fanfic series combines The Dresden Files and Stargate SG-1. The Goa'uld are a race of godlings who fell from grace millennia ago after a disastrous war with the faerie Courts, alien technology is actually highly-advanced Magitek, and Goa'uld once prized wizards, or hok'taur, as the perfect host. After a trip into the Nevernever dumps him on a Goa'uld world, Harry Dresden ends up accidentally usurping a System Lord's mantle and starts contributing to the galactic chaos SG-1 kicked off.
Endless Possibilities For Jaune Arc and it's reboot puts Jaune and the rest of the cast of RWBY in various works and have the actual cast of RWBY react
Equestria Girls: Friendship Souls has Bleach happening within the world of My Little Pony: Equestria Girls, with the canon Bleach characters replaced by MLP characters.
Falling Stars dumps Lucky Star characters into the Fallout universe circa Fallout 3.
Fallout: Equestria presents an alternate future of My Little Pony: Friendship Is Magic mixed with Fallout, with a bit of 1984 thrown in for good measure.
Fallout: SG-1 seems to be this for the Fallout and Stargate universes. In this universe, SG-1 is composed of an old Daniel Jackson who lived most of his life on Abydos, Veronica Santangelo, Arcade Gannon, and of course Teal'c. Carter was an astronaut for the USSA, which fits what regularly occurs to her during the show's regular visits to alternate realities. No word on Jack save for a passing mention in the prologue and a possible descendant, though.
The Familiar of Zero has seen a good number of fusion fics because of its premise of a normal Japanese teenager named Saito getting forcibly summoned to a fantasy world by a young mage. Fanfic authors tend to have a character from another series get summoned in Saito's place, or another mage in the main cast summoning the character; some have the new character follow the Familiar of Zero manga or anime plotline, while others see the new character driving the established plot off the rails instead.
Almost everything in the "Cartoon Crossover" section of Fan Fiction Dot Net is one. We believe they call them "parodies."
A somewhat popular Fandom-Specific Plot for Fate/stay night is an example of Multiple-Choice Past where "Shirou was [another series' character] before he lost his memories in the Fuyuki fire and was presumed dead by his family". Good examples of this are:
Fellowship is a one between Chrono Cross and Digimon Tamers. Also overlaps with Transplanted Character Fic because the plot of Digimon Tamers is altered at some points to simplify some concepts and give the Chrono Cross characters Back Story without going against Chrono Cross canon (mostly).
The First Saniwa, a Touken Ranbu/Onmyōji crossover that merges aspects of both games' canons and uses one game's canon to explain the other's. For example, Yorimitsu is the ancestor of the present day saniwa,

the canonical fact that Onigiri isn't actually the personification of the sword he represents allows he and Higekiri to exist in the same universe

, and

Kuro Seimei

is actually the work of Historical Revisionists.
First there was Sonichu, a fusion of Sonic the Hedgehog and Pokemon; then there was Asperchu, a fusion of Sonichu and its creator, as well as anything else the artist decides to throw in.
Some fan fics that crossover with Five Nights at Freddy's can become this if the crossover character takes the place of the Player Character night guard and spends time (not necessarily five nights) at Freddy Fazbear's Pizza. There may be modifications on the animatronics and general lore, but that's usually about it.
4chan tends to result in a lot of these:
theCHAMBA brings us Gho-Strider, the fusion of Ghost Rider and Strider Hiryu. Note that this was well in advance of Ultimate Marvel vs. Capcom 3, where the two appear together, complete with the Special A-Class Strider having special dialogue when pit against the Spirit of Vengeance.
A Goddess Comes to Call is a fusion between Bubblegum Crisis and Ah! My Goddess, where Linna is the one who accidentally summons Belldandy and wishes that she would stay by her side forever (if you're wondering about Keichii, he wishes for the girl who would be perfect for him, and ends up with Chihiro Fujimi).
El Goonish Shive Q&A #5 has Doctor Who-lmes (

EXTRAPOLATE!

)
This is pretty common in Guyver fanfics. Which amounts to "_____ becomes The Guyver." There have been fan fics where the likes of Misato Katsuragi, Lucy, and yes, Ranma, have become hosts to The Guyver unit.
The Halloween Hack replaces Ness with the protagonist of Brandish, Varik. In-universe, some people even think Varik is Ness.
Head Trip presents: Broke-batman-tain.
Hello Cthulhu. Yes, it's Cthulhu and Co in Hello Kitty 'verse.
Her Scarlet Letter mixes Harvest Moon: Animal Parade with The Scarlet Letter. Angela has an affair with a married man and ends up pregnant, but refuses to name her child's father.
Hijinks Ensue came up with "Care Ewoks vs. Death Star" theory as the answer to No Endor Holocaust debates.
Fics that involve the concept of daemons from His Dark Materials translated into other continuities are surprisingly common.
This is rather popular with the Homestuck fandom, given the nature of its primary plot element.
How Super Mario Should Have Ended from How It Should Have Ended.

Mario: (slams his head into Companion Cube repeatedly)

GLaDOS: No. Stop. That's not how you use that.

Inside Falls is a fanfic that combines characters from many works into the story of Gravity Falls,but most of the main cast is composed by characters from Undertale and Steven Universe. Giving a example with the fifth main characters,Chara replaces Dipper, Frisk replaces Mabel, Pearl replaces Stan, Asriel replaces Soos and Lapis replaces Wendy.
JoJo's Bizarre Adventure: One Cartoonist's Dream: Disney songs fused with JoJo's Bizarre Adventure.
Some characters from other works replace a few of the characters in the original JoJo's Bizarre Adventure canon in Vaguely Recalling JoJo.
Just an Unorthodox Thief is a Fate/Zero and Lupin III Fusion Fic. Lupin the Third in this fic was a well-known thief in the Nasuverse and all his exploits are well known and documented. He also stole several historical artifacts for Mages hoping to get into the Holy Grail War, including Hassan's mask. Thus leading to him being summoned as the Servant Assassin by Kirei.
Batman was fused with Kim Possible and Classic Cowboy makes it work beautifully. These stories are quite good.
One writer is writing a story called Hybrid, a fusion Kim Possible and Species, with the titular redhead playing the part of alien hybrid Sil. Surprisingly, the writer appears to be making it work.
Lantern Prime has Optimus Prime as the indirect source of the Manhunter robots and the first Green Lantern.
Last Child of Krypton: Between Evangelion and DC Comics. Shinji is Superman; Kaji is the second Batman, having been trained by Bruce Wayne; Kyoko was an Amazonian; Asuka takes on the mantle of Wonder Woman; Toji becomes a Green Lantern; Kaworu is essentially Black Adam; Rei is essentially Supergirl; and Naoko Akagi is essentially Galatea. There is mention made of Barry Allen, Shinji meets the Martian Manhunter before the latter expires, Diana takes gives Asuka and the others refuge after the Zeruel incident, Atlantis was destroyed by Second Impact, and several classic DC villains make an appearance in the story.
Legacy of the Red Sun has Kal-El land on Tatooine after Luke is killed.
The Legend of Eevee: Pokéflute of Time is exactly what it sounds like: Ocarina of Time with Pokémon. And copious amounts of Rule of Funny.
Lelouch of the Wings of Rebellion takes away the supernatural elements of Code Geass from its plot and replaces them with those of Persona 5, with prince-in-hiding Lelouch becoming the Trickster instead of a Geass User, and leaving everything else pretty much the same. The Code Geass cast is also mostly the same in characterization and personality, but their circumstances are just different enough to keep things interesting.
Leviathan: A detailed fusion between Godzilla and Neon Genesis Evangelion
The Little Pony Legend: Yes, the metaphysics of Spirits, Magic and Bending are all rolled together into 1 universe.
Magical Pony Lyrical Twilight is a fusion fic of My Little Pony: Friendship Is Magic and Magical Girl Lyrical Nanoha which asked the question of "What if the Jewel Seeds landed elsewhere other than Earth?" In this case, the entire Jewel Seed crisis would end differently and less traumatically. Later additions would put the citizens of Ponyville through A's and StrikerS
The Elementary, My Dear Natsuki series has Mai-HiME characters taking the place of Sherlock Holmes regulars.
A Man of Iron, depicting Tony Stark as a cousin of Ned Stark.

The author, Mr. Chaos, has pretty much made this his signature style, with the likes of Harry Potter: Pokemon Master Series and The Death Star: An Imperial Work Place.

The Fan Fic Martian Manhunter is an interesting case. No characters are replaced; rather, Veronica Mars, along with her backstory and supporting cast, are shoehorned into the background of Buffy the Vampire Slayer's Sunnydale... The twist is she still has all her Neptune memories, including who killed Lily, and the entire series of Buffy the Vampire Slayer, which to her was, until a certain point, entirely fictional. And there's a valid explanation for this, if you read far enough in.
An official one: the DC Elseworlds tale Superman's Metropolis. Superman and his supporting cast in the setting of Metropolis.
Tears of Revelry is the story of Mobile Suit Gundam Wing told in the world of Avatar: The Last Airbender as a sequel of sorts instead of The Legend of Korra. The main events start 195 years after A:TLA concludes, and while the plot changes course eventually, the overall story remains. Supplemental material can be found in Tales From Gundam Island.
Mystery Science Theater 3000 must have gotten fused with just about everything already. The recipe is always the same: Replace both the Mads and the Riffers with characters from another franchise, change the setting itself accordingly if necessary, and then let the new cast riff on something, usually other fanfic.
My Hero School Adventure Is All Wrong As Expected is a story that integrates the Ore Gairu cast as native inhabitants of the My Hero Academia world. To wit, Hachiman, Yukino, Yui, Hayato, Yumiko, and Tobe are Class 1-A students, Orimoto, Ebina, and Iroha are in Class 1-B, Saika and the rest of Hayama's posse enter General Studies, and Saki Kawasaki is in Support. For others, Yukino's sister is a successful Pro Hero and U.A. High alumna, and Hiratsuka-sensei works as an Investigative Hero.
In My Huntsman Academia, the heroes and heroes-in-training of My Hero Academia are retooled into Huntsmen and Huntresses-in-training. In addition, the concept of being "Quirkless" is introduced as being "Broken" or a "Moon Child", meaning that one's soul is so weak that they'll never produce an Aura or a Semblance.
Several fanfics are about My Little Pony: Friendship Is Magic characters acting out Spongebob Squarepants characters.
The Naruto fic Of Youkai, Life and Other Things and its sequel, Across the Goldstar Barrier, are fusions with Axis Powers Hetalia and My Little Pony: Friendship Is Magic. They're much, much better than they sound.
Supah Nario Bros is Naruto if all the characters were mixed with Super Mario Bros. characters (Naruto becomes Nario, Sasuke becomes Princess Toadsuke, Lee becomes Leegi and so on).
In Necessary To Win, various Saki characters attend the Girls und Panzer schools. For example, the main characters at Oarai Academy have two additional teams- one consisting of the Saki characters from Kiyosumi, and the other consisting of those from Tsuruga. Various characters from each series contrast with each other, such as Maho and Teru's relationships with their respective younger sisters.
In Neither a Bird nor a Plane, it's Deku!, Izuku Midoriya is a Superman-in-the-making, but the history of My Hero Academia is meshed with the history of DC Comics, resulting in numerous other changes (i.e. Batman and Wonder Woman being active decades before Izuku arrived on Earth, Firestorm is Japanese) to the established history of both series.
Neon Genesis Evangelion had the intro redone with characters from Maria-sama ga Miteru as seen here.
Ladies and gentlemen, this Neon Genesis Evangelion AMV starring Yu-Gi-Oh! characters. note It actually works surprisingly well.
Nerf NOW!! had Team Fortress 2 + Pokémon arc, the one about Blue Engie's niece. "P.S.: Don't let her have a pet."
Feli Summons Painis Cupcake.
An interesting example is Coming Forward, a Paper Mario: The Thousand-Year Door fic by krisetchers. The author got a few chapters in when he realized, purely by coincidence, that his fic had the exact same plot as Final Destination. He decided that the only proper thing to do was to retroactively make it one, even though the fic is in fact a sequel to another fic which has nothing to do with Final Destination. Unfortunately, this means that some really early plot points are forgotten and never mentioned again.
Perhaps epitomized by a piece of artwork entitled simply "Popeye the Sailor Moon."◊ There are lots of these little horrors.
Pinocchio, Vampire Slayer.
Rum and Mint Jelly crosses Pirates of the Caribbean with Care Bears.
The Pokémon fan fic Brave New World is basically the anime cast in a Darker and Edgier version of the Pokémon Mystery Dungeon world (with a dash of Redwall) starring in a Darker and Edgier version of Paper Mario: The Thousand-Year Door.
The game Pokéthulhu, an Affectionate Parody of both Pokémon and the Cthulhu Mythos, has as its central conceit that there actually is a Pokethulhu cartoon series. In it, the characters are fusions of Pokémon characters and fictional or real people associated with the mythos: the main character is Ash Ketchum/author avatar Randolph Carter, while Team Rocket is Team Eibon, made up of Derleth (named after author/editor/fan hate object August Derleth) and Bloch (named after author Robert Bloch).
Pony Fantasy VI is a playable romhack of Final Fantasy VI with the cast of My Little Pony: Friendship Is Magic replacing the game's heroes.

Pony Poki Panic is a romhack of Super Mario Bros. 2 (yes, SMB2, not Doki Doki Panic, despite the name) with ponies slapped into it. So for instance, Mario is Twilight Sparkle and Princess Peach is Princess Luna.

Which makes it even more funny when you consider who Wart is now.

Super Fluttershy Land 2. Exactly What It Says on the Tin.
There's also Ponies, Please which does the same sprite reskin shtick to Papers, Please.

The fan fic Avenging fuses manga in general and Ranma ½ in particular with Marvel Comics in general and the Mighty Avengers in particular; the Avengers in this universe are based in Tokyo and made up of characters from the Ranma comics. Ranma is both Captain Japan and his spunky female sidekick, Bucky (never seen at the same place at the same time, which Bucky explains by their only having one indestructible shield between them); Akane is Thor (presumably because they both pick hammers out of empty air...); Ukyo is Hawkeye (who claims to be a man in her superhero identity but is unable to conceal her attraction to Captain Japan); Dr. Tofu and Kasumi are Giant-Man and the Wasp for no reason whatsoever; Ryoga is the Hulk (he stumbled onto the testing grounds of the Gamma Bomb when being lost as usual; there is also a giant green rampaging boar which people don't know is also Ryoga...); and Mousse is Daredevil (not normally an Avenger, but the writer couldn't resist the joke, also making Electra = Shampoo and Stick = Cologne...). The writing is less funny than it sounds, the main attraction being trying to figure out who is going to be who, so to speak.
Ranma ½ seems to have a lot of Fusion Fics. Listed below are two common variants:

For some reason, it was very popular in the late 1990s to replace the crew of any given Starship Enterprise with the Ranma cast. Inevitably, eternally-lost wanderer Ryoga would be given the post of navigator/helmsman.
Replacing the cast of Sailor Moon with the Ranma cast also had a brief vogue. Ranma was usually cast as Sailor Moon whenever the latter was absent. (Read more about this in Fuku Fic.)

Another rather odd variation was a Ranma ½ + Star Wars fusion where, while the Nerima Wrecking Crew were all cast into roles similar to the characters in A New Hope, they didn't replace them at all! They just happened to have similar adventures before, alongside, and occasionally intersecting them. For example, Kasumi (Luke's neighbor) and Nodoka (Obi-Wan's Ex-wife) getting on the Death Star by requesting a tour, and in the process get their pictures taken with two Stormtroopers (one a little short) escorting their Wookiee "prisoner." Sadly, it died before they could get to The Empire Strikes Back.

A straighter example of the same combination can be seen in Blade and Epsilon's Ran Wars.

In Angus MacSpon's The Replacement Ranmas, Fusion and Meta Fic mix when the entire cast of Ranma ½ turns up missing on the first day of shooting for a new fic, and the "director" must scramble to replace them with characters from other anime series...
Renegade takes the Mass Effect setting and replaces Systems Alliance Earth with Tiberium Earth. Changes abound, with a heavily militarized humanity who doesn't align with the Citadel, the Brotherhood of Nod operating in the background, and apparently

Garrus being a Spectre, Nihlus surviving Eden Prime, and Kaidan as a Tiberium mutant

.

This has actually become a somewhat popular theme to do in Mass Effect fandom: how would another faction, such as the UNSC from Halo, or the United Federation of Planets handle being put into the place of the Systems Alliance?
In the case of the former, there's The Last Spartan, in which Master Chief is thawed out 131 years after the events of Halo 3 to find the UNSC has been renamed the System Alliance due to a serious reorganization overhaul and has thus joined the Citadel. The lynchpin of this canon fusion is The Chief functionally filling the role of Commander Shepard.

In Rick and Morty New Drama Adventures crossover between Rick and Morty and Total Drama the fic fuses the universes of the Total Drama series and the Rick and Morty series. The backstories of the characters are blended so that they all grew up in a similar location and attended school with one another.
A Canon example would be R.O.D the TV, which is a fusion story of Read or Die and Read or Dream, a manga set in an Alternate Continuity.
RWBY has of course plenty of these given how easy is build a team from any established canon and have them on their own adventures in Remnants, but did anyone ever expected that someone wrote a one of these with the cast of Yu-Gi-Oh! ARC-V? Well here is the ongoing series of The Remnants of Earth which instead of following Team RWBY, it follows the adventures of Team RYGY note composed by Reiji, Yuya, Gongenzaka and Yuzu, with the exception of Ozpin, Glynda, Ironwood and Torchwick so far all the major characters are from the anime series, the story is noticeable for averting the Stations of The Canon early into the story, slowly combining aspects of the Arc V and completely diverging from the original RWBY plot by the time of the main team's initiation

which in this setting takes place on the Forever Fall Forest with different objectives and outcomes.

School Idol Days uses the characters of Love Live! with the plot of School Days. It's about as jarringly brutal as it sounds. Its sequel, School Idol Days S, averts this, as it is based on Love Live! Sunshine!! but has an original story.
Mercedes Lackey wrote the short story "Moving Targets," which is a fusion of Valdemar and, oddly, Scooby-Doo. It has four Herald trainees and a kyree in a green flower-painted wagon solving a "Scooby-Doo" Hoax. It even includes the line "And I would have gotten away with it, too, if it hadn't been for you meddling Heralds."
Sinfest proposes three slasher comics (as in, Slasher Movie + Comic, not Slash Fic).
Anzai's School for Gifted Basketball Players: So what would happen if all Slam Dunk characters were mutants and joined their respective sides?

They'd still play basketball.

This appears to be either a tongue-in-cheek parody of this genre, or perhaps simply just a Crack Fic. Nonetheless, the characterizations are actually quite spot on while managing to incorporate each mutant's quirks.
Slightly Damned has a Spin-Off comic called The Legend of Buwaro: Soprano of Time by the same author that is an Affectionate Parody of The Legend of Zelda: Ocarina of Time where characters from Slightly Damned play the roles of Zelda characters. Humorously, most of the bosses are played by Thadius.
Unsurprisingly, there's a Soul Eater/Naruto fusion fic out there. The fic in question is Master and Weapon. Despite what you'd expect, the Black*Star substitute isn't Naruto.
Babylon Park is set aboard the Babylon 5 space station, populated by South Park-style versions of the characters.

"By G'Quan, they've killed Kosh!"
"You bastards!"

Stand On The Horizon fuses The Legend of Korra with Pacific Rim.
Star Mares is a fusion of My Little Pony: Friendship Is Magic and Star Wars, positing a potential future of Equestria in which it has become a galaxy-spanning empire recently fallen into tyranny after the fall of the alicorn princesses (who serve the same role as the Jedi in this rendition). Instead of following the canon storyline of the Star Wars films, it relates the misadventures of a motley assortment of background ponies.
Speaking of Star Trek, the villain of The Undiscovered Country being a fan of Shakespeare resulted in a close relative of this trope by inspiring someone to translate Hamlet into Klingon. Apparently it worked well enough that the Star Trek: New Frontier novels suggest that the immortal bard has quite a following in the Klingon Empire.
Quite a few people have read the script of the Ring Wars Trilogy (The Fellowship of the Hope, The Two Towers Strike Back, and The Return of the Jedi King). Featuring occasional appearances by Monty Python.
What really happened to Ahsoka Tano before Order 66. Those poor Daleks...
In the Swedish gaming mag Sinkadus, waaaay back, RPG writer Anders Blixt wrote a short story fusing Star Wars and The Lord of the Rings, entitled (in English translation) "Lord of the Rings part IV: A New Hope." It featured Obi-Wan Gandalf and Aragorn Solo leading a bunch of Jawas down into Mordor, eventually encountering "Darth Angmar, the right hand of Emperor Sauron himself!" Who is the daddy of one of the Jawas...
Sucker Punch cast with human versions of The Penguins of Madagascar: Omega Boom.
There is a Let's Play of Super Mario RPG that assigns each character the voice of someone from Family Guy. It was eventually abandoned. note
GOI Ball Comics are a fusion of SCP Foundation and PolandBall.
Superwomen of Eva 2: Lone Heir of Krypton: Between Evangelion and The DCU. Asuka is Power Girl and later Supergirl, Rei is Wonder Girl, other Eva characters have powers of DC superheroes, and several Superman villains show up such like Comic Book/Brainiac or Parasite.
Tangled In Time is a fusion of The Legend of Zelda and Tangled where Ganondorf kidnaps the baby reincarnation of Link after the previous Link dies of old age. Figuring out that reincarnation will mean that killing the infant Link will just another one will be born, he raises Link as his own son. He keeps the young Link unaware of his destiny, despite Link's growing curiosity.
Disney's Tangled fused with The Hunchback of Notre Dame and made Heaven's Light and Tangled fused with The Princess Bride made The Tangled Princess Bride.
Teenage Mutant Ninja Turtles x Dwarf Fortress. Just one couplet — "Teenage Bearded Axelord Turtles..."
Justice Society of Japan is a fusion of a number of Anime and Video Game settings (including Tengen Toppa Gurren Lagann, Kingdom Hearts, Code Geass, Fate/stay night, Final Fantasy XIII, Puella Magi Madoka Magica and Neon Genesis Evangelion) with the DCU. Elements from all of these series coexist simultaneously, and while some aspects of the setting are very similar to canon, other elements (such as Shirley being a metahuman with technopathic powers) are added to tie the settings togeather.
This — "basically, Skynet meets The Brave Little Toaster."
The Terrible Crossover Fan Fiction Generator provides many ludicrous possibilities.

Your challenge is to write crossover fanfiction combining Lizzie McGuire and Around the World in 80 Days. The story should use losing one's virginity as a plot device!

There was once a very detailed Ranma and Naruto fusion summary, leaving a very large portion of both continuities intact. The author wouldn't use it because of the latter manga's obscene length.
In Thieves Can Be Heroes!, a Quirkless Izuku Midoriya who never met All Might replaces the protagonist of Persona 5, becoming the leader of the Phantom Thieves of Hearts.
There is an adaptation of the Body Horror movie The Thing (1982) with the characters of the Claymation childrens show Pingu. It is as insane and hilarious as it sounds.
The Storytime! subsubseries of This Time Round fic, in which Doctor Who characters find themselves unwillingly taking roles in fairy tales or classic literature for the entertainment of the Doctor Who Babies at the Look Who's Talking daycare centre.
Those That Carry On merges Mobile Suit Gundam SEED, Mobile Suit Gundam Wing and Mobile Suit Gundam into a single setting.
The fanart by Kate Kryllion — "Unmentionables Assemble" Ankh-Morpork City Watch + The Avengers; and Tortallans Assemble — Tortall Universe + The Avengers.
Advent Cirno, by the doujin circle One Night Stand, is an ongoing Touhou take on Final Fantasy VII, with everybody's favorite Baka standing in for Cloud and fighting monsters alongside a Nakama composed of Hong Meiling, and Reisen and Tewi Inaba, along with some other familiar Touhou faces.
Transposition F: The world of Remnant exists within the Dragon Ball Z universe, with Aura and Semblances revealed to be forms of Ki.
This video will probably spawn one or two fan fics mixing 2001: A Space Odyssey and Vocaloid, if it hasn't done so already.
Universe Falls combines Gravity Falls and Steven Universe into one canon. Several chapters of the fic combine the events of various episodes of the two shows (such as "Legend of the Gobblewonker" and "Giant Woman" becoming "Legend of the Giant Woman", "Dipper vs. Manliness" and "Coach Steven" becoming "Strong in the Real Way", or "Double Dipper" and "Steven and the Stevens" becoming "Copies and Clones").
Vanishing Act ties together the worlds of Persona and Jojos Bizarre Adventure. This leads to such developments as Aigis being based off the technology used to create Stroheim's cyborg body, Hifumi Togo

being a Stand user whose ability makes her a natural shogi champion

, and the main thrust of the fic, Shizuka Joestar becoming a Phantom Thief.
Vigil takes the Mass Effect setting, adds XCOM: Enemy Unknown's humanity to the setting, and integrates Fear's characters and psionics and Eclipse Phase technology, along with elements of Destiny to the setting, along with some sprinkling of Sid Meier's Alpha Centauri and Terminator as well. The result is a heap of transhumanism, psychic insanity, and ass-kicking with a side of horror.
War of the Worlds: Global Dispatches, due to the Public Domain status of the two stories it fuses with The War of the Worlds, was actually legitemately published, along with several other unofficial Side Quels.

Mars: the Home Front is a crossover with John Carter of Mars wherein Carter tries (and fails) to stop the invasion, and purports that the octopoid Martians of the Wells novel are just one of the many species of Barsoomians.
To Mars and Providence is a crossover with Cthulhu Mythos, wherein the local Eldritch Abominations of Mars triggered the martian invasion of Earth when they awoke. They turn out to be humans, and the martians went berserk at seeing that their new digs were loaded with millions of us.

The Wheel of Time and Transformers have had their characters fused by Rule of Funny into Trans-WoT-ers, resulting in transforming Asha'bots, Darkfriendicons, and Egwene al'Bumblebitch, with some random lesbianism thrown in.
Mini Mythos by Kenneth Hite, a series of books that fuse the Cthulhu Mythos with popular kiddies' picture books. Where the Deep Ones Are, The Antarctic Express, and Clifford the Big Red God.
Worldfall is one between Worldwar and Footfall, featuring a simultaneous invasion of an Earth 20 Minutes into the Future by both the Race and the Fithp.
There are pages depicting a fusion between Persona 4 and Yotsuba&!, with Nanako taking Yotsuba's place. It was about as adorable as you'd expect.
Kamen Rider Zi-O: Heisei Hero King combines the worlds of My Hero Academia and Kamen Rider, with Midoriya being the titular Kamen Rider Zi-O.
Bloodstained Hands And Hearts is a group of oneshots where the cast of Yandere Simulator is put in a Deadly Game like Danganronpa.
---