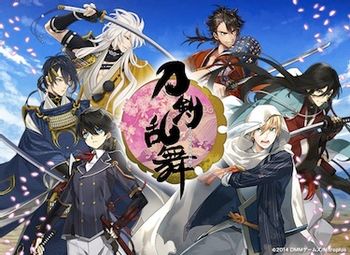 Touken Ranbu
(刀剣乱舞, literally "Wild Swords Dance") is a free-to-play browser
Card Battle Game
developed by DMM and
nitro+
, featuring an RNG-controlled turn-based game revolving around the
Anthropomorphic Personification
of historical Japanese objects. Wait, this is sounding
suspiciously familiar
...
Players assume the role of a sage, referred to as Saniwa, who travels back to the past to destroy an evil that wants to change the course of history. Being a sage, you have the ability to bring inanimate objects to life—in this case, historically famous Japanese swords, all of which take on the forms of handsome young men called Touken Danshi (刀剣男士, literally "Sword Man"). The object of the game is to bring the swords to life, create an army of them, and defeat the enemies. Battles are largely automated and manual actions by the player include smithing, repairing and creating troops.
The game officially launched on January 14, 2015 and is hosted on DMM (the same home of said above-mentioned suspiciously similar game). While being nearly identical to its predecessor save for a few key mechanics (something both fanbases quickly embraced, to the point where this game is considered KanColle's Spear Counterpart), the playerbase exploded to the point where a full-on doujinshi event opened for it only two months after the game's initial opening.
The franchise boasts several manga adaptations (including an official High School AU manga), eight Musical adaptations, eight stage play adaptations and two anime adaptations; one called Touken Ranbu - Hanamaru by Dogakobo which aired as part of the Fall 2016 season, then had a second season in the Winter 2018 season and a movie in 2022, and Katsugeki/Touken Ranbu made by ufotable which aired as part of the Summer 2017 Anime season. There are currently more adaptations for the musicals and stage plays in the works, including solo performances for certain characters.
A live-action movie adaptation was released on January 18, 2019, which saw the major stage play actors reprising their roles despite not taking place in that continuity. A manga adaptation of it was also made, with each chapter being posted up until the movie's release to cover each story.
Touken Ranbu had its first official mixed-media exhibit called "Touken Ranbu - Honmaruhaku -" where visitors could explore the world of the game, first held in Sunshine City, Ikebukuro in January 2017.
A mobile version of the game, Touken Ranbu Pocket, was released on March 1, 2016.
The game received an official English translation on April 27, 2021. It is hosted on Johren.
A Warriors Spin-Off on Nintendo Switch and PC, Touken Ranbu Musou, has been announced
, with its release date revealed to be Feburary 17, 2022 on the September 24 Japanese Nintendo Direct. A worldwide release on May 24, 2022 was announced later.
Visit the character page for specific character-related tropes.
---
Touken Ranbu features the following tropes: