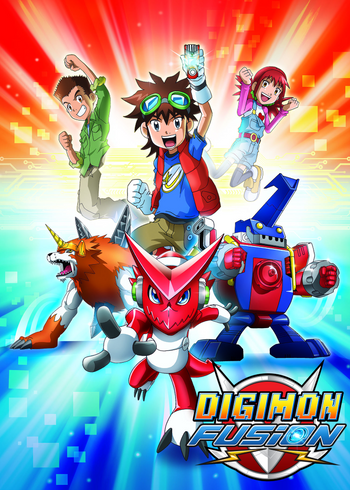 Digimon Fusion (Xros Wars in Japan, pronounced "Cross Wars") is the sixth anime series in the Digimon franchise, coming three years after the end of Digimon Data Squad. In many respects, it seems to be a throwback to its predecessors — the animation is reminiscent of the Digimon Adventure style, Chika Sakamoto returns to voice lead partner Shoutmon, a Greymon plays a significant role again, and the goggles are back — and yet in so many ways the series is significantly set apart from earlier Digimon iterations in concept.
Fusion is the story of child prodigy and good Samaritan Taiki Kudo, who one day follows the dying voice of Shoutmon. His X Loader Digivice appears and, along with childhood friend Akari Hinomoto and "eternal rival" Zenjiro Tsurugi, they are sucked into the Digital World. The world-conquering Bagra Empire's army attacks the trio and the healed up Shoutmon joins in the fight. Together with his partners, the silent and loyal Ballistamon and the naive and star-dazzled Starmon and Pickmons, they defeat the army. However, the commander of the army MadLeomon absorbs the data of his subordinates and endangers Shoutmon and Ballistamon. When Taiki comes to the rescue him, Shoutmon and Ballistamon DigiXros together and put down MadLeomon, whose superior forces him and his remaining troops to retreat.
With the lone wolf Dorulumon and his young charge Cutemon later joining them, "Xros Heart" is set for victory. Also opposing them as they fight the Bagra Empire is team "Blue Flare", consisting of the calculating Kiriha Aonuma and his partners Greymon and MailBirdramon. Filling the motivationally ambiguous slot is team "Twilight", consisting of the mysterious Nene Amano and her allies Monitamon, Sparrowmon, and DarkKnightmon.
Xros Heart proved its worth and was successful in its quest, collecting all the Code Crowns and causing the Zones to reunite. However, Bagramon intervened and cast Taiki, Akari, Zenjiro and Shoutmon back to the real world, conquering the Digital World while they were gone and transforming it into a twisted empire of his designs. When Taiki and Shoutmon returned to the Digital World at the beginning of the second half of the series (Digimon Xros Wars: The Evil Death Generals And The Seven Kingdoms), they found themselves tasked with taking on this rearranged digital empire and defeating the Seven Death Generals, its brutal governors. Kiriha and Nene allied with Taiki in his campaign, and their combined strength, tactical prowess and bonds of friendship proved to be more than a match for Bagramon's forces. The series got the green light for a third arcnote Although many mistakenly believe it to be its own season and a sequel, according to Toei and the staff involved, it isn't which is called Digimon Xros Wars: The Young Hunters Who Leapt Through Time. This makes this season the longest anime installment of the Digimon franchise.
Saban Brands has licensed the series under the name Digimon Fusion, which aired on Nickelodeon and Nicktoons. In Asian territories however, the series was dubbed by a different team and aired on Disney XD under the name Digimon Fusion Battles.
The full series is (legally) available subbed through Crunchyroll here.
See also: the Digimon Xros Wars manga, an adaptation of the anime with significant differences and deviations.
Compare to many Super Robot series in style, as well as Dragon Quest: The Adventure of Dai and Kamen Rider W (other series by the anime's head writer Riku Sanjō).
---
Digimon Fusion contains examples of:
open/close all folders
#-F
Bloodless Carnage: Not because there is blood, but rather, off-screen violence. In Episode 18, Lilamon and Stingmon were taken care of by Kiriha's MetalGreymon off-screen. We just see them downed and injured.
Bluff the Impostor: In episode 39, Kiriha suddenly remembers to return a Digimemory he borrowed from Taiki, and Taiki agrees. Except that the borrowing never happened, and Kiriha hands over a small explosive device that ruins Splashmon's impersonation of Taiki.
Dark Is Not Evil:

If Omegamon's reveal is to be believed, Darkdramon, Impmon and Leviamon (the Demon Lord of Envy no less) were actually heroic Digimon who helped him protect the Digital World, as his group were all turned into Digimemories in a failed attempt to prevent the Digital World from breaking up and those three are among them.
Dub Name Change: Lilithmon to Laylamon, SlashAngemon to SlushAngemon, Taiki to Mikey, Akari to Angie, Zenjiro to Jeremy, Kiriha to Christopher, Baalmon to Reapmon, DigiXros to DigiFuse, Xros Loader to Fusion Loader.
Elaborate Underground Base: Magma Zone has this slave camp, and Sweets Zone has this giant shredder where wastes are taken.

The latter also holds Breakdramon and the various Digimon it is feeding from

.
G-L
M-R
New Powers as the Plot Demands: Averted by the DigiMemories. They may seem to be random Digimon that just happened to have the exact power the heroes need to get out of their current fix... until you realize that the attack is already labeled on the item itself. Taiki most likely have read their names and could guess what they could do.

Possibly used when Shoutmon X4 fights GranLocomon: He can suddenly fly, backwards, as fast as a speeding train.

Nice Job Breaking It, Hero: Yeah, let's get the guy who's literally named after the Judeo-Christian Satan elected as president of a key area! What could possibly go wrong? Did we mention he was the Big Bad of Digimon Frontier? After they elect him leader, Lucemon immediately reveals his true, evil form and starts doing destructive, evil things that take two more episodes to sort out.
Ninja Pirate Zombie Robot: the LadyDevimons in Vampire Land are partly undead, who are apparently vampires too, and demons!
No Conservation of Mass: Averted in the Final Battle.

After the appearance of Shoutmon X7 Superior Mode, DarknessBagramon rips the surrounding material apart and consumes it to grow to a similar size.

Doesn't help him, but points for the thought.
No Kill like Overkill: Taiki unleashes the power of Leviamon on an Ebidramon. Kiriha does this in episodes 19 and 25, in the latter case getting called out for the excessive damage to the surroundings (the zone actually becomes uninhabitable, forcing Taiki to evacuate the locals to another zone).
"Not So Different" Remark: Akari spent most of the time annoyed at Taiki's efforts to help Nene, but after hearing Nene's anguished cry in episode 19, Akari realizes that Nene's desire to return home is just as strong as her own. Akari then becomes a close friend to Nene.
Oblivious to Love: Ah, poor Lilamon! Stingmon just doesn't get it! Though by the end of episode 19 they seem to be together as both are blushing and embracing.
Obviously Evil: DarkKnightmon; do we even need to point this out? That guy is a villain trope jamboree! Fascinated with the Darkness, as well as having "Dark" in the name; taken after a Black Knight, and the Skull symbol in case of its un-Xrossed form; ruthless towards his opponents anyone in his way; does not hesitate to order his "General" around, even tormenting her a little from time to time as well as

having a blackmail advantage over her

; speaks in a subdued yet confidently villainous tone; and last but not least, he's not shy about letting people know about it. Even his theme song is called "Dark Kight ~The Immortal Ruler~". Subtle, he ain't. And of course, at the end of #20, he shows up to confront Xros Heart along with SkullGreymon and — get this — SkullSatamon.
Out of Focus: Aside X7's component Digimon, members of X Heart and Blue Flare rarely get any spotlight episodes after their introductory arcs. The less combat-capable members, such as Jijimon and ChibiKamemon, barely appear at all.
Paper-Thin Disguise: Taiki and Nene are able to pass themselves out as vampires to some LadyDevimons wearing only black masks and cloaks while wearing their regular clothes. They also disguised Cutemon as a Lopmon with only his ear-shaped antennae as the only difference.
Rule of Three: Most of the individual zone arcs take up three episodes each. The exceptions so far are the Lake Zone and Forest Zone. There are also 3 human generals and 3 Bagra Army Head Officers.
Running Gag: During the recaps of the first arc, there's always a "Relationship map" that shows the three hero armies and the Bagra Army doing whatever they did last episode, exaggerated to the point of hilarity (IE: Episode 7, which follows Kiriha trying to recruit Taiki, has him sitting in a corner, looking at a drawing of Taiki with the words "Mine" on it with love hearts). A rescue attempt leads to the damsel in distress in question being shown as being tug-of-warred by her hair.

In turn, there's a running gag in this where characters who don't show up are represented as being in their rooms, with increasingly large piles of trash out front.
If Taiki is about to collapse, Akari grabs the nearest thing and throws it under his head to cushion the blow. Including a pillow, Shoutmon, and Dorulumon.
Any Digimon related to Lions die... as per usual. MadLeomon is killed off in Ep 3 [Later revived as a Normal Leomon, who actually does not die, as he can be seen for a moment in the final episode]. Apollomon, another anthropomorphic lion, dies TWICE, both times viva Heroic Sacrifice, in true Leomon fashion.
S-Y
Theme Music Power-Up: Taiki and Kiriha get this when they DigiXros their mons. This is the first series where different characters have their own "digivolution" theme; Taiki gets three.
This Is a Drill: Dorulumon, of course, and Shoutmon X4, who attacks with the drill he gets from Dorulumon. Strangely enough, Dorulu Cannon doesn't have drill attacks.
Three Plus Two: Taiki, Akari, and Zenjiro make up the trio; while it initially seems that Kiriha and Nene will make up the two — and they do — by the time Kiriha joins, Akari and Zenjiro have permanently returned to the real world, so they're not the three anymore.
Throwing Your Sword Always Works: Zenjiro kills a buried Drimogemon in one hit by throwing the Rare Star Sword at it.
---