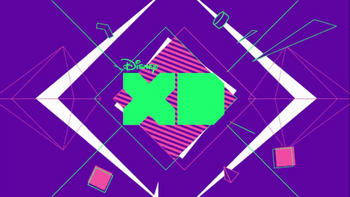 Disney XD is an American cable channel that launched on February 13, 2009, replacing Toon Disney and in some regions, Jetix.
In the late 2000s, executives noticed that while Disney Channel had an overwhelming female audience, Toon Disney was skewed more towards the male demographic. Disney XD was meant to capitalize on this realization, with the channel initially being host to action/adventure-based programming. In essence, Disney XD was Disney Channel for boys.
Disney XD's original programming started out with live-action sitcoms, more dramatic series like Aaron Stone, and a few original animated productions such as Kick Buttowski: Suburban Daredevil. The channel has also aired anime titles such as Naruto Shippuden, Canadian co-productions like Jimmy Two-Shoes and Kid vs. Kat, and eventually reruns of Doctor Who would air for a short period of time.
Disney XD is considered to have begun growing its beard following Disney's purchase of Lucasfilm and Marvel Comics, at which point the channel began playing host to numerous animated series based on Marvel properties and the Star Wars franchise. Disney XD would also become the home for all non-preschool animated programming produced by Disney Television Animationnote the sole exception being Tangled: The Series thanks in no small part to Disney Channel playing favorites to their original sitcoms, beginning with the second season of Gravity Falls. Reruns of these shows occasionally aired through a branded programming block on Disney Channel. This renewed focus on animation ironically began the process of turning Disney XD into a Spiritual Successor of the very network it replaced.
In addition to the greater focus on animation, the channel would later expand its programming scope to encompass gaming and reality television, including live e-sporting events, and programs produced with the Disney-owned Polaris YouTube network. In recent years, Disney XD would also become the new home for the Pokémon and Beyblade anime franchises following their previous tenure at Cartoon Network. Finally, the channel also began airing reruns of past Disney animated programming, increasing the similarities between it and its former brand identity.
In May 2018, it was announced that premieres of all Disney animated programming would move to Disney Channel, beginning with the remainder of DuckTales (2017)'s first season, though Disney XD would continue to air reruns of these shows. In 2019, Disney shuttered the Australian and Indian versions of Disney XD, the latter of which was replaced by Marvel HQnote a TV version of Marvel's website for kids and families. The following year, the United Kingdom version (and the rest of Disney's U.K. kids' nets for that matter) shut down in Septembernote as Disney never reached new carriage deals with Sky and Virgin Media.
Disney XD is not to be confused with the former Disney Xtreme Digital at Disney.com. In fact, it's been stated that the "XD" in the channel's name has no real meaning (aside from the obvious).
---
Shows that air (or aired) on this network:
<!—index—>
Almost Naked Animals (Europe, Latin America)
The Attack (Recorded live on Twitch, edited down for television.)
Be the Creature (Canada)
Beyblade (U.S., India)
Boy Girl Dog Cat Mouse Cheese (Netherlands, Poland)
Bravest Warriors (Canada)
Chip 'n Dale: Rescue Rangers (for a marathon made to promote the 2022 film based on the show)
Chousoku Henkei Gyrozetter (Japan)
Combo Nińos (Latin America)
Cupcake & Dino: General Services (Latin America)
Danchi Tomoo (Japan)
Dave the Barbarian (Latin America)
Detentionaire (Canada)
Di-Gata Defenders (Canada)
Digimon Fusion (Malaysia, Southeast Asia)
Doctor Who (10th Doctor seasons)
Doraemon (U.S., Canada, Poland)
Dr. Dimensionpants (Canada)
Droners (Netherlands)
DuckTales (2017)note
Dude, That's My Ghost! (Europe, Latin America)
Fangbone! (pilot originally aired in 2014 on the Canadian feed; the rest of the series debuted in 2016 in the States)
The Fairly OddParents! (Latin America, Scandinavia)
Freaktown (Southeast Asia, India)
Furiki Wheels (U.K., Europe)
GeGeGe no Kitarō (2007 series) (Japan)
George of the Jungle (2007) (Latin America)
The Ghost and Molly McGee (United States, Poland)
Giant Killing (Japan)
Gravity Fallsnote
Grossology (Canada)
Heroman (Malaysia)
Horrible Histories (Canada)
Horrid Henry (Africa, Germany)
Jibber Jabber (Latin America)
Just for Laughs: Gags (Canada)
Lab Rats
League of Super Evil (Canada, Latin America)
Looped (Canada)
Madan Senki Ryukendo (Malaysia)
Marvel Disk Wars: The Avengers (Japan, Southeast Asia except The Philippines)
Martin Mystery (Germany)
Mysterious Joker (Southeast Asia)
Mysteries and Feluda (India)
Naruto Shippudennote
Negibozu no Asataro (Japan)
Nintama Rantarou (Japan, India)
Numb Chucks (Southeast Asia, Poland)
Oh No! It's An Alien Invasion (Canada)
Pokémon: The Series (Japan, Europe, Southeast Asia; the United States from 2016—2019)
Power Rangers
Quack Pack (Scandinavia, Latin America)
Rekkit Rabbit (Europe)
Right Now Kapownote
Rocket Monkeys (Southeast Asia, Poland)
Scaredy Squirrel (Europe, Japan, Canada)
Sidekick (Australia, Southeast Asia, France, Netherlands, Japan, Canada)
Super Sentai (Japan)
Slugterra (debuted on Canadian Disney XD first)
Space Chickens IN SPACE (Latin America, Europe)
Spliced (Latin America)
Star Wars: The Clone Wars (Japan)
Stitch! (First 5 episodes in the U.S. only)
Storm Hawks (Canada)
Supa Strikas (Southeast Asia)
Team Galaxy (Latin America, Europe)
Timon & Pumbaa (Poland, Latin America)
Total Drama (U.K., Spain, Netherlands)
Walk The Prank
Wingin' It (Canada)
World of Quest (Poland, Latin America)
Yo Gabba Gabba! (Canada)
Yowamushi Pedal (Japan)
Zig & Sharko (Latin America)
<!—/index—>
---