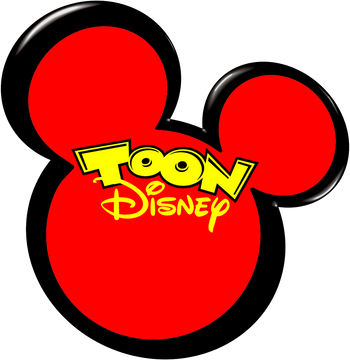 In 1997, it became apparent to
Disney
that they had so many cartoons in its archives, and too many to place on the
Disney Channel
's growing schedule. It was decided to make a "
Cartoon Network
" of their own.
On April 18, 1998, the day of the Disney Channel's 15th birthday, Toon Disney Channel was officially launched. The channel was home to all Disney-animated programming, as well as other shows they acquired (mostly from DiC Entertainment, which they had acquired with the 1996 Capital Cities/ABC merger) .note This wasn't the first attempt at a Disney Channel spin-off. Back in the early 90s, when the network was still a pay service, they participated in an experiment alongside HBO and Cinemax in a test of adding "multiplex" channels. While HBO and Cinemax both launched multiplexes fulltime following this test, Disney ultimately didn't. The network's main programming consisted of Classic Disney Shorts, shows that had been featured as part of the syndicated Disney Afternoon block, and eventually shows from Disney's more recent blocks on ABC.
In 2001, Disney would acquire Fox Family Worldwide, a joint venture between News Corporation (owners of the Fox network) and media mogul Haim Saban consisting of Saban, the Fox Kids program block, and the Fox Family Channel as well as their majority in Fox Kids Europe and the LATAM version of the Fox Kids channel. Three years later, Disney would launch the action-oriented "Jetix" brand on February 14, 2004 to replace Fox Kids program blocks and networks outside the US.note Prior to this, shows from the Saban library would be reintroduced to the former Fox Family Channel, then rebranded as ABC Family, as part of a new morning programming block. ABC Family's Action blocks were eventually relaunched under the Jetix branding as part of the brand's rollout.
A prime-time Jetix block would be introduced to Toon Disney, originally airing for two hours before eventually expanding to encompass the network's overnight, early morning, and weekend time slots.note Jetix's expansion mirrors that of Cartoon Network's [adult swim], which began as a late Sunday night block before it eventually took over the primetime and watershed hours. Jetix can also be likened to Toonami if it had the same runtime that Adult Swim does now and maintained its own weekend blocks, the "Rising Sun" and "Super Saturday", on top of that. As Disney-produced animation was slowly dying during this timenote The lack of animation being produced, in addition to the mixed-to-negative reception to the shows that were already airing., Disney Channel became fixated on tween-targeting, live-action sitcoms, and Saturday-Morning Cartoon blocks were being abandoned by ABC and other broadcast networks. Meanwhile, new original programming was being produced for Jetix rather than Toon Disney proper, with the latter brand reduced to airing either new episodes, burnoffs, or endless reruns of "One Saturday Morning / ABC Kids" cartoons outside of Jetix's hours.
After wholly acquiring Jetix Europe, the international joint venture that operated Jetix blocks and networks across Europe, Israel and MENA, Disney would announce the discontinuation of Jetix in 2008. Seeking a Distaff Counterpart to the now-female skewing Disney Channel, Toon Disney was replaced by Disney XD in 2009. The launch of Disney XD, which initially focused on action and comedy programming targeting tween boys, and served as the de facto replacement for Jetix internationally, was viewed as Toon Disney either merging with or outright becoming Jetix by the channel's former fans. Ironically, Disney XD would undergo its own unique case of Network Decay that saw it briefly become Disney's de facto animation channel, essentially bringing the channel back to its roots.
Shows that premiered new episodes on Toon Disney:
<!—index—>
Jetix-produced programming that premiered on Toon Disney:
Non-Disney and Saban/Fox Kids shows that aired on this channel:
<!—/index—>
---