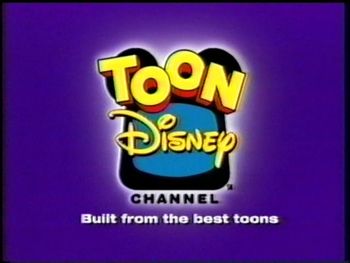 In 1997, it became apparent to Disney that the company had so many cartoons in its archives, and too many cartoons to put on the Disney Channel's growing schedule, that they decided to make a Cartoon Network of their own. On April 18, 1998, the day of the Disney Channel's 15th birthday, Toon Disney, a 24 hour home to all Disney cartoons that had been made at the time (and some they had acquired, mostly from DiC Entertainment, which they had acquired with the 1996 Capital Cities/ABC merger) was officially launched.note This wasn't the first attempt at a Disney Channel spin-off. Back in the early 90s, when the network was still a pay service, they participated in an experiment alongside HBO and Cinemax in a test of adding "multiplex" channels, ie. another channel with the same programming, just with programming aired at different times as counterprogramming to the main network. While HBO and Cinemax both launched multiplexes fulltime following this test, Disney ultimately didn't, since at the time the Disney Channel's line-up wasn't that great, with tons of recycled content from Disney itself as well as programs targeting older people.
Initially, the main focus of Toon Disney's line-up went to the cartoons that had been around right when it started up, the Classic Disney Shorts and the syndicated weekday afternoon shows that had been featured as part of The Disney Afternoon, along with their Saturday morning fare. As time went on, shows from Disney's more recent children's programming block, One Saturday Morning on ABC, soon joined the channel as well, and thus certain changes were made to balance the schedule between the two eras of Disney TV cartoons.
On February 14, 2004, Jetix, an action-oriented block, made its' debut in prime-time; it was the result of Disney buying out Saban and the remnants of Fox Kids. In various international markets, the 24-hour Fox Kids cable networks became Jetix directly; these international channels were operated by Jetix Europe, formerly Fox Kids Europe before the Disney buyout, which Disney had a majority interest in.
At first, Jetix was only a two-hour block (that also aired on ABC Family; they dropped it after two years), but the block chose to expand themselves and took up more and more of the networks' hours. Because of Jetix's expanding, the old Disney cartoons that once made up the majority of the channel's schedule were all dropped one by one and the channel would even begin airing live-action movies. In the Jetix block, Toon Disney ran reruns of cartoons based on Marvel Comics superheroes (this was before Disney bought Marvel and became the outright owner of those cartoons; thanks to the aforementioned Fox Kids/Saban buyout, they had the rights to the majority of Marvel shows made prior to 2000), most likely to cash in on The Movies that the characters were now starring in. Jetix also picked up reruns of Batman: The Animated Series, Pinky and the Brain, and Superman: The Animated Series, despite being made by Warner Bros. (however, fans of those series were definitely glad Jetix brought them back to TV).
In 2008, Disney announced that, due to the channel's demographic preferring to instead watch Cartoon Network and Nickelodeon they were dropping Toon Disney and replacing it with a new network called Disney XD, come February 13, 2009. In other words, Toon Disney effectively became Jetix in all but name. Even worse, when Phineas and Ferb premiered on Toon Disney, The Suite Life of Zack and Cody premiered that same day, being the first live-action series to air on the one channel, which was a sign of change to come. However, as time has passed, Disney XD now has a heavy animation focus again, though with new content produced specifically for the channel. In the process, Disney took over all remaining interest in Jetix Europe and began rebranding the Jetix channels in most international markets to Disney XD as well, dropping most of the Fox Kids, Saban and Jetix-branded programs in the process. In some markets it was rebranded as Disney Channel instead. Jetix Europe continued to legally exist for about a decade before Disney dissolved the entity entirely in March 2019, with their assets being dispersed to other Disney units by then.
Not to be confused with Disneytoon Studios, which was Disney's B-team animation studio.
Disney cartoons that have aired on Toon Disney:
Non-Disney cartoons that aired on Toon Disney/Jetix (one * indicates a Saban/Fox Kids show, two ** indicates a Jetix original):
---