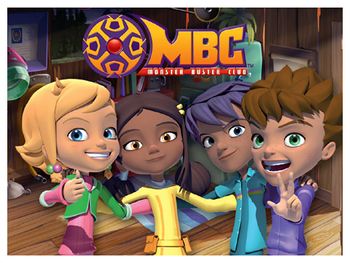 "Hi! My name is Cathy. My grandpa and I came from planet Rhapsodia to power up an age-old secret society. With my new friends, our mission is to battle troublemaking aliens around Singletown. We are... the Monster Buster Club!"
— Cathy Smith, the opening sequence
Monster Buster Club is a French-Canadian co-produced computer-animated series which ran from 2008 to 2009 on YTV, and which was produced by Marathon, the animation company where Totally Spies! and Martin Mystery were created. It's about a foursome of twelve-year-olds (Sam, Chris, Danny, and Cathy) who, as members of an "age-old" secret society called the Monster Buster Club, protect the city of Singletown from troublemaking aliens.
The four kids are all surprisingly mature for their age; not only do they not seem to depend on their parents, they've been seen to hold part-time paying jobs in spite of being twelve years old. Their only adult supervision comes from Cathy's grandfather, a well-meaning alien disguised as an old man who oversees the Monster Buster Club's operations, although he's far from a reliable mentor, being much more interested in tending to his garden.
In each episode, the kids' everyday affairs are interrupted by one of the outrageous alien villains from their Rogues Gallery (often with a bizarre, harebrained scheme such as turning the entire planet Earth into an exclusive nightclub), whom the kid heroes must suit up and stop. Along the way, they must also deal with obnoxious millionaire Mark and their school principal, Ms. Rollins, who was an officer in the armed services and runs the school like a battleground.
Now has a Character sheet. Tropers are encouraged to contribute.
---
Tropes:
2D Visuals, 3D Effects: Inverted in one episode, with the normally 3D show having a TV show in 2D animation.
Academy of Adventure: Singletown Middle School, at least for our heroes. Everyone else is unaware of the alien-battling that takes place there.
Alien Invasion: The Spoilers destroying Singletown in "Famous Four (Part One)".
Brainless Beauty: Wendy isn't the most sensible person.
Brainwashed and Crazy:

Danny, Wendy and Ralph in "Battle of the Bands".
The kids (except Danny, Chris and Cathy) in "Comic Book Heroes".
Mark, Ralph, and Roy in "Stupid Human Tricks".

Brought Down to Normal: In "Sticky Situation", Cathy ended up losing her powers

but she gets them back later on thanks to her grandfather's antidote

.
City of Adventure: Singletown, the trio's home. Justified, since

Their founder was an alien

.
Class Trip: "Pipe Dreams". Who wants to go on a field trip in the city sewers?
Cliffhanger: The last episode "Goodbye Earth" ends

with the MBC returning to Earth after the virus is eliminated

. Word of God states that Cathy and Mr. Smith will continue to stay on Earth as along as there are evil aliens in town, while the MBC continues to hunt alien criminals.
Gone to the Future: In one of the episodes, Danny accidentally goes to the future and sees alien invaders destroying Singletown. Whats worse is that the MBC's secret is revealed through

Mark's website

. Good thing that the MBC Set Right What Once Went Wrong by taking

Mark's video camera

.
Grand Theft Me: In "Lizard's Tails", the Reptilian Morpher switches bodies with Danny

in order to steal the MBC's power supply — the Mobato flower

.
Great Big Book of Everything: The MBC Alien Archives. They can be seen on MBC's supercomputer.
Group Hug: In "The End of Everything (Part Two)", after

capturing Nossida

.
Grumpy Bear: Mr. Fusster, the Science teacher and Mr. Bitty, the store owner of "Happy Mart".
Horrible Camping Trip: In "Camping Out", Chris admits that he hates camping. Meanwhile, the rest of MBC members and Mr. Smith have trouble searching for a special flower and setting up camp.
Human Aliens: Subverted. All of them are wearing a disguise.
Humanoid Aliens. Most of the aliens are this, but some aren't.
Humanshifting: Aliens can shapeshift into human forms.
Humongous Mecha:

Gilbert's clown-like robot in "Comic Book Heroes".
In "Beware of Frogs", Herptilius and his crew steal many electrical devices to built a giant robot.
His robot also appeared in "The End of Everything (Part Two)", but there's no operator inside.

Idiosyncratic Episode Naming: In the French dub, episodes are numbered "Rule" (not the actual MBC rule numbers that the main characters mentioned).
Improbable Age: Kathy's age, which is well in advance of 100, but never kept straight.
Iron Lady: Principal Rollins acts like an army colonel, unless Mr. Smith is around.
---