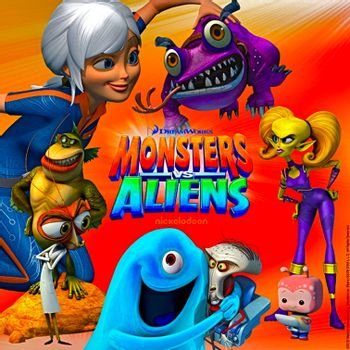 Monsters vs. Aliens is a TV Series based on the movie of the same name. It premiered on March 23, 2013 on Nickelodeon.
The plot revolves around the team of monsters waiting quietly at their military base for something to happen so that they can rush to the rescue. As luck may or may not have had it, the president ends up getting imprisoned by a telepathic alien named Coverton, who wants to make a peaceful deal with the monsters. Unbeknownst to our heroes, Coverton is working for an evil alien bent on world domination. Other aliens join the team in the course of the series: Sqweep, an adorable child from an advanced race writing a school report on Earth; Sta'abi, a fierce warrior woman; and her hunting beast Vornicarn.
On November 17, 2013 producer Bob Schooley announced that the series would not be renewed for a second season. The series finale aired on February 8, 2014.
---
Tropes:
---