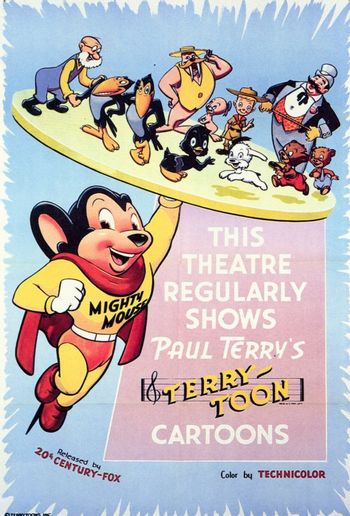 "Disney is the Tiffany's in this business, and I am the Woolworth's."
—Paul Terry summing up Terrytoons in a nutshell.
One of the more obscure yet prolific studios from The Golden Age of Animation, Terrytoons was an animation studio with a close relationship with 20th Century Fox, who handled distribution of the cartoons throughout much of its historynote 20th and RKO Pictures were the only studios in Hollywood who did not have in-house cartoon departments, relying solely on the third-party Terrytoons and Disney, respectively, to fill the holes; the rights to the Terrytoons theatrical library are now owned by Paramount following the 2019 merger of previous owners CBS and Paramount parent Viacom while the Terrytoons television library remains under the oversight of CBS Studios. It was founded by former Van Beuren employee Paul Terry. It produced classic cartoon serials such as Mighty Mouse and Heckle and Jeckle.
Animation historians and modern animators (with occasional exceptions like Leonard Maltin and John Kricfalusi) are hostile towards this studio and its output, writing off these cartoons as cheaply produced garbage only worth a footnote in their books. This is Hilarious in Hindsight because Paul Terry was considered the Dean of Animation in the 20's and 30's period of animation; even Walt Disney looked up to him and hoped to make cartoons as good and funny as his. Also, thanks to an online resurgence of the cartoons, not only on YouTube but many classic animation blogs and websites, the cartoons are slowly gaining a loyal fan following, particularly among modern animators.
The animation was helter skelter, but it had its merits: from the beginning it was cartoony and lively, and the cartoons had good pacing and crisp visual jokes. Jim Tyer and Carlo Vinci in particular made some creative, wild animation in these shorts, which helped contribute to their popularity back when they were popular.
Terry himself didn't care how these cartoons were drawn or animated as long as the animators met their quota (which they usually did). There were and are many, many cartoons from this studio, but most of them (even the good ones) haven't gotten much airtime since the end of The Dark Age of Animation.
This was the debut studio of six major animation stars: Bill Tytla, Art Babbitt and Norm Ferguson of Disney fame, Frank Tashlin before he became a director on Looney Tunes, Joseph Barbera of Tom and Jerry and Hanna-Barbera fame before he went to MGM, and Ralph Bakshi, who joined the studio in its twilight years.
In 1999, there was an attempt to revive the Terrytoons characters at Nickelodeon—Curbside was a pilot for a proposed animated series which parodied the talk-show genre starring Heckle and Jeckle as the hosts with Dinky Duck as co-host. Due to the fact that it has never seen the light of television, its evidence of existence can only be attributed in an animation highlight right here
, but the finished project has been uploaded on YouTube which can be viewed here
.
These cartoons were also a big influence on anime legend Osamu Tezuka.
Now has a Character Sheet.
---
Series Made By This Studio:
<!—index—>
Farmer Alfalfa
Gandy Goose and Sourpuss
Dinky Duck
Little Roquefort
The Terry Bears
Nancy (1942-1943): The studio made two shorts based on the classic comic, "School Daze" and "Doing Their Bit".
Luno the White Stallion (1963-65) (sometimes known as Luno the Soaring Stallion)
Deputy Dawg
Oil Can Harry
Sad Cat
---
Notable Animated Shorts Made By This Studio
<!—/index—>
---
Tropes Related to This Studio:
---