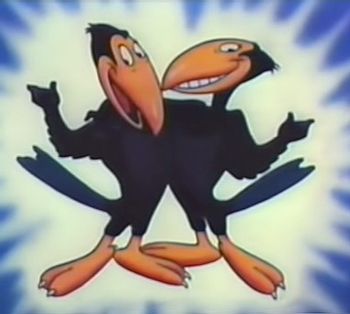 A classic series of Terrytoons cartoons, starring two identical wisecracking magpies, Heckle and Jeckle. One has a British accent, the other a New York one, and they are fast friends who are able to overcome foes by outwitting them, breaking the rules, and generally having fun at other people's expense.
Many characters on other shows are known to enjoy watching Heckle and Jeckle, including Fonzie, Lenny and Squiggy, and Jack, while imprisoned by the Others.
Together with the rest of the classic Terrytoons package, Heckle and Jeckle haven't been seen much on television lately, their last appearance in animation being Curbside, an unsuccessful pilot for an Animated Anthology series centered on Terrytoons characters that had the framing device of Heckle and Jeckle hosting a talk show, with Heckle voiced by Toby Huss and Jeckle voiced by Bobcat Goldthwait.
---
Filmography
The Talking Magpies (1946)
The Uninvited Pests (1946)
McDougal's Rest Farm (1947)
Happy Go Lucky (1947)
Cat Trouble (1947)
The Intruders (1947)
Flying South (1947)
Fishing by the Sea (1947)
The Super Salesman (1947)
The Hitch Hikers (1947)
Taming the Cat (1948)
A Sleepless Night (1948)
Magpie Madness (1948)
Out Again In Again (1948)
Free Enterprise (1948)
Goony Golfers (1948)
The Power of Thought (1948)
The Lion Hunt (1949)
The Stowaways (1949)
Happy Landing (1949)
Hula Hula Land (1949)
Dancing Shoes (1949)
The Fox Hunt (1950)
A Merry Chase (1950)
King Tut's Tomb (1950)
Bulldozing the Bull (1951)
The Rainmakers (1951)
''Steeple Jacks (1951)
'Sno Fun (1951)
Rival Romeos (1951)
Off to the Opera (1952)
House Busters (1952)
Moose on the Loose (1952)
Movie Madness (1952)
Hair Cut-Ups (1953)
Pill Peddlers (1953)
Ten Pin Terrors (1953)
Bargain Daze (1953)
Log Rollers (1953)
Blind Date (1954)
Satisfied Customers (1954)
Blue Plate Symphony (1954)
Miami Maniacs (1955)
Pirate's Gold (1957)
Wild Life (1959)
Trapeze, Pleeze (1960)
Mint Men (1960)
Deep Sea Doodle (1960)
Stunt Men (1960)
Thousand Smile Checkup (1960)
Sappy New Year (1961)
Messed Up Movie Makers (1966)
---
Tropes:
---