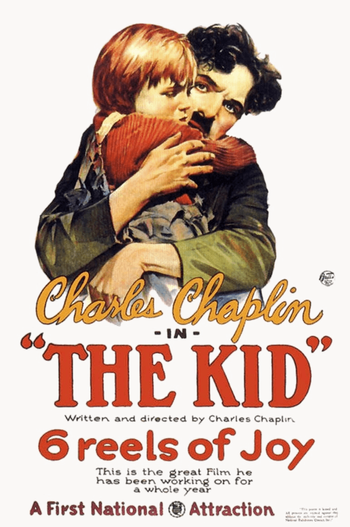 "A picture with a smile, and perhaps a tear..."
— Opening title card
An unwed mother leaves a charity hospital, clutching her newborn son. Alone in the world, she decides that she can't look after the baby, so she leaves him in a fancy car outside a mansion, with a note pinned to his blanket asking the rich folks to take care of him. Very soon after, she thinks better of it. She races back to the car, but the car is gone, stolen by a couple of hoodlums. When the hoodlums find a baby in the car they ditch him in the alley, where he is found by...the Tramp. After trying a couple of times to get rid of the baby but failing, Charlie brings him home to his grimy little attic garret, and soon they are a family. But Child Services is a problem, as is the mother, now a famous actress, who is still looking for her little boy.
Charlie Chaplin's The Kid was his first feature film. It is considered the first Dramedy, mixing Chaplinesque slapstick with dramatic moments and heart. It was a huge hit and remains one of his best-remembered films. It also made Jackie Coogan a big star at the age of six, making him the first true child star in American movie history. Over four decades after this film, Coogan would play Uncle Fester on the original The Addams Family series. After Chaplin received his lifetime achievement Academy Award in 1972, he told Coogan "I think I would rather see you right now than anyone else."
Has a place in the National Film Registry. Not to be confused with a totally unrelated film starring Bruce Willis.
---
This film provides examples of:
---