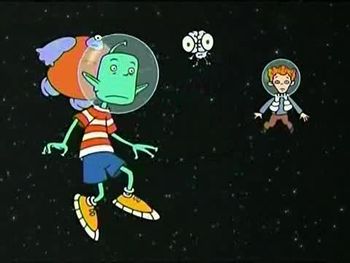 Lloyd in Space was an animated television series from Paul Germain and Joe Ansolabehere, the creators of Recess, running from February 2001 to February 2004 for a total of 39 episodes.
Living far in the future, shortly after the end of World War IX, 13-year-old Lloyd Nebulon is a 7th-grade green-skinned alien (of the Verdigrean race) who lives in the Intrepidville Space Station along with his telekinetic and telepathic younger sister, 5-year-old Francine, and his mother, Commander Nora Li Nebulon, the Head of Intrepidville. The show followed Lloyd and his friends Edward "Eddie" R. Horton, a Token Human teenage boy, Kurt Blobberts, an enormous simple-minded Blobullon, and Douglas McNoggin, a geeky, intelligent Cerebellian, and their adventures throughout Intrepidville.
---
Contains examples of
Tsundere:

Brittany is Type A Tsundere for Lloyd, as revealed in "Love Beam #9". She has never been able to reveal her feelings due to her popularity.
---