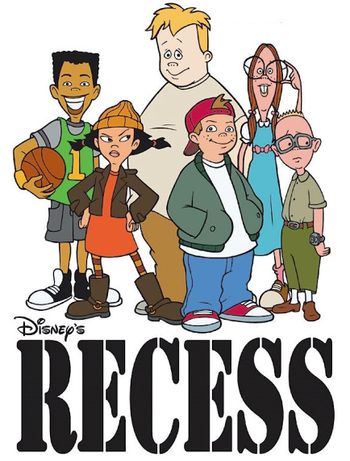 Recess is an American animated television series that was created by Paul Germain and Joe Ansolabehere (who worked on Rugrats until the show was originally supposed to end in 1994), and produced by Walt Disney Television Animation. It ran from September 13, 1997, to November 5, 2001, simultaneously on ABC (Saturday mornings) and UPN (Sunday mornings and weekday afternoons, beginning in 1999).
The series focuses on six elementary school students and their interaction with their schoolmates and teachers. In many respects, it serves as an animated knock-off of prisoner-of-war movies such as The Great Escape... combined with a generally positive depiction of the elementary school experience.
The main characters were:
T.J. Detweiler, the leader of the gang and the one who comes up with the Zany Schemes.
Vince LaSalle, the sportsman.
Gretchen Grundler, the group's genius who loves science, yet also kickball.
Ashley Spinelli, usually referred to by her last name, who was the "toughest kid in school".note
Mikey Blumberg, the very tall yet good-hearted poet and deep-voiced singer.
Gus Griswald, the new kid at Third Street.
Many plots would deal with the kids' Serious Business attitude about simple grade school life, mostly, among other aspects, recess. This includes having a designated 'King'. Nicknames for each other based on their main 'quality' (Swinger Girl, The Diggers, Pale Kids etc.), and the concept of popular fads quickly taking over playground demographics. The series was also well known for its large Periphery Demographic, due to every episode having at least one Parental Bonus.
The series was notably the only show to premiere in the initial season of Disney's One Saturday Morning that would last the entirety of the block's run, going on well into the first two years of ABC Kids (The New Adventures of Winnie the Pooh doesn't count, as it originally ran on ABC from 1988 to 91; they put it on to fulfill ABC stations' E/I quotas). It was also rerun the most out of all the shows on One Saturday Morning, pretty much being on all of Disney Channel's affiliates at one point or another. It was one of the few older shows to air on Disney XD after Toon Disney shut down.
In 2001, a film based on the series, Recess: School's Out, was released in theaters to positive reception. Please put all tropes relating to the movie there. In 2003, the film (and the show itself) was followed up with a Direct to Video sequel and finale, Recess: Taking the Fifth Grade. The main six characters (and Miss Finster) themselves last appeared in a 2006 crossover episode of Lilo & Stitch: The Series. There was also Recess: All Growed Down (2003), which, despite consisting of three previous episodes, one new episode, and framing material, is still considered a "movie" by Disney.
The series and movies are currently available to stream on Disney+.
---
This animated series provides examples of:
open/close all folders
A-B
Achilles in His Tent: In "Dodgeball City", Gus refuses to take sides in a dodgeball fight, despite being a dodgeball virtuoso at one of his older schoolsnote . Upon seeing a younger student (a.k.a. a kindergarten kid who he was keeping an eye on) getting clobbered, however, he enters rage mode and proceeds to wipe out the opposing team single-handedly.
Actor Allusion:

The old lady in "The Lost Ball" is named Dot and is voiced by Tress MacNeille... who's played another character named Dot.
Spinelli's mother is voiced by Katey Sagal aka Peggy Bundy, and her character design looks strikingly like Peggy's.
In "First Name Ashley", the first kid to join the Ashleys after everyone changes their name to Ashley is Gretchen—whose voice actress is actually named Ashley!
In the episode "The Dude", the main six meet Franklin Dudikoff, the school's original charismatic prankster (Like T.J.) in the '80s, who's now back to become a teacher. T.J. looks up to him like an older brother. The Dude is voiced by Joey Lawrence, who's the older brother of T.J.'s (then) voice actor, Andy Lawrence.
In Recess: School's Out, T.J.'s sister, Becky, is shown talking on the phone in one scene with her friend, Melissa. Becky's voiced by Melissa Joan Hart.
In Recess: Taking the Fifth Grade, Becky is voiced by Tara Strong instead of Melissa Joan Hart. In two made-for-TV movies for Sabrina the Teenage Witch, both of them star in the films: Melissa Joan Hart as Sabrina, and Tara Strong as Gwen.
This is now the fourth time in a row, where Justin Shenkarow has voiced a bully.

Actually Pretty Funny: From "Good ole TJ":

Ms. Grotke: "Everyone is going to be assigned a partner to work with for ancient civilisations week."

T.J.: "Ancient Civilisations? You mean back when Ms. Finster was a kid?"

Ms. Grotke: "Actually TJ we are going to go back thousands of years, not hundreds *stifles a laugh*."

Adorably Precocious Child: Gretchen is probably the prime example, being a child prodigy, rather level headed, but having most of the same impulses and naiveté as the rest of the group.
Adults Are Useless: Adults are often the antagonist, although they are mostly a recurring obstacle with some exceptions. When they aren't, they're worthless — Ms. Finster doesn't seem to be interested in Gus being bullied every single day despite telling the bully not to do it again. Subverted in The Movie, where all of the teachers show up to help fight the bad guy and his Mooks. There were some exceptions to this, notable the single-episode teachers Mr. E and Mr. Dude.
Adults Dressed as Children: The episode "The Spy who Came into the Playground" involved said spy disguising as a 10-year-old to get into the school.
An Aesop:

In Kindergarten Derby: You shouldn't continue a tradition which the children made to take part in don't enjoy, even if you yourself were made to do it when you were younger.
In the episode "Yes, Mikey, Santa Does Shave", Mikey learns that he doesn't have to see with his eyes or hear with his ears in order to believe something is real, and that fictional things like Santa can be real if you believe in them in your heart rather than just believing that they don't exist because you can't see or hear them.
The episode "Recess Is Cancelled" delivers an Aesop about how children need time to have fun, play together, build friendships, and in general just be kids. In the episode, Third Street School cancels recess in an attempt to improve the kids' test scores. As the weeks go by, all of the children gradually become soulless, emotionless shells of their former selves who can't recognize each other or even formulate thoughts. It's only after their test scores drop dramatically that recess is reinstated, and the kids are immediately brought back to their original, joyful selves, thus improving the test scores. This was further lampshaded in the theatrical movie.
"The Rules" dropped a surprisingly thoughtful message about blindly following laws and revering past generations. When King Bob recovers an old playground rulebook written by a past King of the Playground, he immediately starts enforcing the old King's rules on how to properly play games at recess, employing a private force of "fun police" to punish any kids who break the rules. He's so set on following the old rules that he never considers that some of the more baffling ones (requiring the kids to play four-square with an old stump, for example) are completely irrelevant to their lives, and that a previous generation's king might not have had all the answers.
"The Rules" also has a lesson that kids at good schools should appreciate how good they have it. The cast learns this when it turns out that the author of the rulebook devised them during the Great Depression as a way to make recess fun without any equipment for sports or games.
The kids learn that sometimes a person just doesn't like you for no apparent reason and trying to change that will only worsen things in Nobody Doesn't Like TJ. The episode revolved around TJ learning that Gordy doesn't like him. He spends the episode trying to figure out why Gordy doesn't like him; learns from Ms Finster that, even if she puts him into detention, that doesn't mean she hates him and finally trying to show Gordy how cool and fun he is, so Gordy would like him. When everything backfires, TJ demands to know if there's at least one good reason why Gordy doesn't like him, to which Gordy regretfully admits that there isn't any, he just doesn't TJ in general.
"A Genius Among Us" explores that a person's hobby shouldn't necessarily be the same as their career; otherwise it's no more enjoyable than the next job. For being the school janitor, Hank is good at math and even likes it. But he chooses to remain a janitor because if he became a professional mathematician, he wouldn't be able to simply do math for fun.
Bittersweet Ending: The ending of "To Finster, With Love", Miss Finster and Hank break up, but they get back to all the work they had missed doing when they were together and bring the school back to order.
Bizarro Universe: The episode "The Challenge" had the main characters go to another school for a kickball game. Gus takes notices of the similarities to their school before they face their opponents. Which are near clear cut copies of themselves—except a majority of the counterparts are a different race and TJ's a girl.
Black and Nerdy:

Vince's brother Chad. A whole episode is devoted to Vince coming to terms with the fact that his brother is a geek.
Rodney, one of the Pale Kids, counts as this as well, since he stays indoors during recess with the rest of the pale kids to read comics and play Daggers & Dragons.

Black Bead Eyes: Gus, one of a few characters with this eye style. The only other characters with the eye style are Scribe Kid, Adam Able (One of the background characters), and Becky Benson.
Broken Glass Penalty: At the beginning of "Principal for a Day", T.J. accidentally breaks the window to Principal Prickly's office after kicking a kickball too hard, and thus is sent to the office for punishment.
Broken Smile: T.J. wears one for most of "The Box" after going insane from the isolation of said punishment.
Bubble Boy: The main six ended up together in a big plastic dome when they faked the symptoms of a severe illness (they were aiming for a more minor one but Gretchen messed up).
Bubblegum Popping: In the opening, Gus blows a bubblegum bubble and it pops in his face. This also occurs in "King Gus". It's what sets the plot in motion for Mikey in "Bad Hair Day".
C-D
Chekhov's Classroom: Almost every lesson the kids learn in school is important to the rest of the episode.
Chekhov's Gun: Gretchen's voice-changing device first appears in "The Army Navy Game" and is later used twice in The Movie.
Chew-Out Fake-Out: "Prince Randall" begins with Randall telling King Bob that T.J. has been entertaining people with a mocking impression of the King. Furious, Bob orders his guards to bring him forward. As they grab T.J., Bob tells them he meant Randall. Bob doesn't care about what T.J. did because he's a Class Clown who always does stuff like that. On the other hand, he is sick of Randall snitching on the other kids to him and forbids him from speaking to the King ever again.
Dangerous Interrogative: Gus clumsily lets out the gang's code-name for Miss Finster to her face, earning himself a detention:

Gus: Don't look at us, Crocodilicus.
Finster: (menacing) What did you just call me, Griswald?!
(Gus gulps terrified, realizing what he just said)

Dark Horse Victory: In the episode where the A.V. Kid is leaving, he uses a series of practical tests to find a successor. TJ and Vince are vying for the position. Initially fiercely competitive, they chose to set aside their differences during the final stage when their equipment malfunctions. They fix each other's projectors just before time runs out and are both successful. A.V. Kid commends them on their teamwork before handing the position to an obviously incompetent third candidate (who we've never seen before or ever see after, yet TJ and Vince apparently know him well), tangled up in the film, for his "independence" (Being a solitary job, the candidate had to prove that they could work without resorting to outside help).
Demoted to Extra:

Chucko was only a major character for one episode, then he started to fade into the background until disappearing altogether.
In Recess: School's Out, Lawson only appears once to give a thumbs up (after being sprayed with silly string) to someone preparing to save T.J. with the other kids. He's still listed in the credits, however. He was probably going to have a bigger role, and then his scenes were cut. At least he had it better than Cornchip Girl or Swinger Girl, who don't show up at all in the movie.
In Recess: Taking the Fifth Grade, Miss Grotke only gets two lines in the movie and doesn't show up after that. Justified, as the main kids all moved up to fifth grade and weren't in her class anymore.

Denser and Wackier: Inverted- season one was more fast-paced and cartoony compared to the rest of the show.
Depending on the Writer: Prickly ranges from Friendly Enemy to Punchclock Villain with a shade of Cloud Cuckoolander to (admittedly rarely) straight Big Bad depending on the episode. Finster and Randall qualify to a lesser extent.
Digging to China: The Diggers tried to help getting T.J. out of detention in one episode but never succeded. At the end of the episode we see them finally getting out of the ground, and about to be attacked by a group of Chinese Kindergarteners.
Disappointing Older Sibling: Downplayed in "Big Brother Chad." Vince begins this episode talking about how cool his older brother Chad is, when he's actually a huge Nerd—something Vince apparently hadn't realized until his friends point it out. He spends the rest of the episode trying to reconcile this information with the way that he's always thought of Chad before.
Do Not Call Me "Paul": Thaddeus T. Third V (the grandson of the man who Third Street is named after) is always mistakenly called "Mr. Fifth", much to his chagrin.
E-F
Early-Bird Cameo: Ashley T. appears briefly in the background at the beginning of "The New Kid" before being formally introduced with the rest of the Ashleys in "Jinxed".
Early-Installment Weirdness: Season one might fall under this. Both Miss Finster and Principal Prickly were more sadistic, Miss Grotke wasn't as sympathetic, and everyone's voice was higher, as well as T.J. was being played by a completely different kid. It was much more Off-Model as well. The main six were more of anti-heroes, Vince was more of a Sour Supporter, and the show was a bit more cartoony.
Eat the Camera: Spinelli in "Mama's Girl", after the student body begins taunting Spinelli for accidentally calling Miss Grotke "mama", she screams a Big "NO!" and the camera zooms into her open mouth. Upon which she lampshades the effect.
The Hustler Kid's first name is Francis. And he immediately asked the gang to not tell anyone after revealing it.
Evolving Credits: A minor example. When the show began its third and final season, "Created by Paul and Joe" was added to the bottom of the Recess logo at the beginning of the intro.
Exclusive Clique Clubhouse: The Ashleys have a clubhouse on the playground which they actively patrol and prevent other students from accessing. Breaking into it is a common project for TJ's squad.
Flashback: In a number of episodes:

"Teachers Lounge" has one to the gang in second grade, when Vince (almost) gets a chance to see inside the teacher's lounge.
"Outcast Ashley" has a flashback to when all the Ashleys met in preschool or kindergarten.
"Yes, Mikey, Santa Does Shave" includes a flashback from "The Voice"
"Kindergarten Derby": Mikey has a flashback to when he couldn't finish the kindergarten derby when he was a kindergartener.
"The Big Prank" has a series of flashbacks to when King Bob was in first grade and the school's prankster prince.

Flashback Cut: "The Great Jungle Gym Standoff" has one when T.J. has a flashback to how the gang first met in kindergarten.
Flawless Token: Subverted in "The Candidates". Spinelli tries to use girl power to get Gretchen's votes, but Gretchen says that being a girl is immaterial to being president. In the end, Gretchen wins partly because of the girl vote, but also because Vince voted for her.
Food as Bribe:

In "Officer Mikey", Spinelli tries to bribe Brittney A. with candy so she can give back Ashley A.'s diary. It doesn't work.
In "The C Note", after finding out that T.J. found a hundred-dollar bill (Which he was planning to return to the rightful owner), the Ashleys bribe T.J. with candy so he can ditch the Recess Gang and become their friend. It (almost) works.

Food Fight: In "Tattletale Heart". A hidden culprit started a food fight. Gus was the only eyewitness but his friends warn him not to break the code by telling Miss Finster who started the food fight.

It was Randall who started the food fight, and it is hinted that he was squealed on by every single member of the student body to Finster besides Gus and his friends.
G-H
I-J
The Ashleys. While the girls do sometimes have their Lovable Alpha Bitch moments, they're usually stuck-up jerks. Ashley Q. shows this the most
K-L
"Kick Me" Prank: Former student and school legend Frank "The Dude" Dudicoff once stuck a sign on Miss Finster's back which read "Pony rides for $1.00". When he comes back as a student teacher, he does it again when no one's looking, this time reading, "Point at me and whisper!".
Kids Are Cruel: Mostly averted with the main six, but the rest of the student body can show shades of this at times.

"Mama's Girl": Spinelli accidentally calls Miss Grotke "Mama" while saving her from stepping in a puddle. This causes all the kids to tease her for it. Even TJ, Vince, Gretchen, Mikey, and Gus are Not So Above It All. Towards the end of the episode, Miss Grotke calls the class out on it, implying that she herself suffered a similar experience when she was a little girl.
"The Lost Ball": Gus accidentally kicks a "Spirit of '76" kickball over the fence into the house next door, and his peers give him a hard time about being unwilling to do it. Even Mikey bullies him for it.
M-N
O-P
Object Ceiling Cling: In "The Girl Was Trouble", Gretchen helps Mundy with trying to get paper towels to cling to the ceiling.
Oddball Doppelgänger: In the episode where the kids go to another school to play kickball. It quickly becomes apparent to Gus that the school they are visiting is one of these with every character from the show having a clone that varies in ethnicity and/or gender. The other kids refuse to believe him until they are introduced to their counterparts on the opposing team. Regalli (Spinelli but blonde), Vance (Vince but white), Greta Grobler (Gretchen but Ambiguously Brown), Russ Rimple (Gus but black), Mickey (Mikey but Asian), and finally C.J. Rottweiler (T.J. but a girl and redhead). Gretchen even refers to them as their doppelgangers. At the end when the kids have declared a tie, the clone kids invite the main characters to play on their playground named "Old Crusty" and T.J. says that they call theirs "Old Rusty".
Oh, Crap!: The expression that Gus has on his face when Gelman charges at him. What happens next is that Gelman then kicks the shit out of Gus, and he does this TWICE.
Parents Know Their Children: In "The Army-Navy Game", Gus and Cornchip Girl are found together by their dads; their laughter gives them away.
Parody Sue: In the episode "Here Comes Mr. Perfect", Jared, a Marty Stu from out of town shows up whose sympathetic character flaw is that he's Marty Stu — his perfection always makes everyone immediately hate him because he's so much better at the stuff everyone else is known for, and he actively tries to avoid showing it off for this reason. He also gives a speech in his own defense, that he didn't decide to be perfect, he just exists.
Puppet King: What Jordan and Jerome originally intended Gus to be in "King Gus". Unfortunately, things play out differently.
Putting on the Reich: The anti-germ movement in "Germ Warfare". Seriously, the banners and the speech are almost identical to the Nuremberg rallies.
Pyrrhic Victory:

In "The Great Jungle Gym Standoff", Old Rusty is saved from demolition when the kids' parents join them in their protest... but then collapses under the weight of so many people. Subverted in the end, though, when the workers hired for the demolition realize they can rebuild it.
In "Rainy Days," T.J. and the gang finally snap out of their Cabin Fever, defy the rules, and play outside in the rain... but then all catch colds.
Lampshaded by Spinelli in "The Story of Whomps": T.J. doesn't get expelled for his invented word after all... but that means he does have to keep going to school.
Q-S
The Quiet One: Ashley T. hardly has any solo speaking lines.
"Rashomon"-Style: In "The Trial", where the kids hold a trial to see if Spinelli was guilty of throwing a rock at Randall during a dirt clod war. Randall claimed that Spinelli was ruthlessly attacking all the kids in the dirt clod war and then threw a rock at him, and Mikey claimed that Spinelli was looking out for the good of the rest of the kids when Randall hit her during a "time out" when she was making sure someone was okay, causing her to throw a rock at him in anger. After persuasion from T.J., Spinelli tells her story:

She was about to throw a dirt clod at Randall, until she heard a cat from up in a tree and rescued it. It turns out that it was Miss Finster's cat, and Finster complimented her for finding her cat

. Randall then adds that

he threw the rock at his own head out of jealousy that Finster complimented Spinelli

.
Reading Foreign Signs Out Loud: Used on the German version, Grosse Pause (Big Recess), at least.
Real After All: In "Yes, Mikey, Santa Does Shave", Mikey has a crisis of faith about Santa, but rallies after an inspiring conversation with an old man who turns out at the end to be Santa himself.
Reasonable Authority Figure: Principal Prickly, who, although tough on disobedience and often somewhat at odds with the main characters, has joined many an Enemy Mine or cut them a very generous amount of slack when he felt their hearts were in the right place.

The kids' teacher, Mrs. Grotke. Probably the antithesis of the Sadist Teacher trope.
Although playground monitor. Ms. Finster is generally shown as a stern authority figure, she is usually portrayed as unfailingly fair and given several humanizing episodes.

Red Oni, Blue Oni: Split into three groups of two with the main characters.

T.J. as the red oni (hot-headed, easily excitable) with Vince as the blue oni (cool, sarcastic)
Mikey as the red oni (outgoing, drama king) with Gus as the blue oni (shy, quiet)
Spinelli as the red oni (hot-tempered, tough) with Gretchen as the blue oni (smart, laid back)
Robo Cam: Parodied in "Gus's Last Stand", where Gelman is looking for Gus through this trope.
Roger Rabbit Effect: In the 2001 opening for One Saturday Morning, the gang (And characters from other OSM shows) appear in a live-action park with some live-action kids.
Running Gag: Gus always needed to go to the bathroom at the absolute worst time.
Slow "NO!": T.J. at the beginning of "Bad Hair Day" when Captain Sticky is about to pop Mikey's bubblegum bubble.
Socially Scored Society: In the episode "The Ratings Game", the popular girls start rating the other kids on the playground, which winds up overhauling the social order. TJ, a 5, can't talk to anybody with higher scores, and after he displeases the Ashleys, his rating drops into the negatives and nobody wants to talk to him.
Somebody Doesn't Love Raymond: One episode has T.J. trying to get a kid named Gordon to like him, only to learn by the episode's end that he can't force anybody to like him.
So Unfunny, It's Funny: Some of the jokes from the joke book Randall tells in "Stand Up Randall" come off as this.
Strong Family Resemblance:

T.J. looks like his mom, Vince looks like his dad, Spinelli doesn't really look like any of her parents but looks a bit more like her mom, Gretchen looks like both of her parents, Mikey looks like his mom (and has the same hair color as his dad), Gus looks like a smaller, less rugged version of his dad (and has his mom's eyes and glasses), the Ashleys all look like their moms, and Hustler Kid looks like his dad.
Randall looks like a minature version of his father, only with more hair (and no pencil mustache).
T-U
Digger Dave: Me, bossy? I'm not bossy! Am I bossy?
Spinelli: Jawohl, mein Kommandant.
"Prickly Is Leaving". We were introduced to Dr. Slicer, the most evil villain in the series, who employed cruel and unusual tactics to control the school and, unlike Finster or Prickly, only cared about power without regard for the students' welfare. His behavior even disgusted Miss Finster, and TJ (who was never afraid to stand up to adults before or since) was completely scared of him. He was ousted in the end, but consider this: Third Street wasn't the first school he was principal of, and likely would not be the last.
"The Biggest Trouble Ever" is a Wham Episode for the series. It involves the gang accidentally breaking the statue of Thaddeus T. Third III and become the town's most hated people. Ms. Finster punishes them by making them work menial jobs. But the real reason why the episode is so dark is what happens later: Mayor Fitzhugh, the mayor of Third Street, decides to send the Recess Gang to six separate schools, even though they were remorseful and Prickly and Ms. Finster objected. Throughout the episode, Fitzhugh looked very gleefully sadistic about the whole thing, and only relented when Third's own grandson, demanding that they be pardoned, threatened to expose Fitzhugh's own (deliberate) past misbehavior regarding the statue.
The Halloween episode which is non-canon, does a parody of both Christine and Maximum Overdrive, adult horror novels. The episode is presented quite well in a very creepy atmosphere, with Mikey's Bike coming to life and stalking him, then all the other vehicles in the city. The ending shows everyone cramming into a driverless bus, which drives off with everyone trapped inside. And just ends there. It never said what happened next, but it's obviously implied that everyone is going to be killed offscreen.
Unnamed Parent: Most of the kids' parents, save for Spinelli's parents (Bob and Flo), Gretchen's parents (Phil and Doris), T.J.'s mom (Ellie), Gus' mom (Madge), and Randall's dad (Leonard).
Unusual Euphemism:

"This whomps!" - a phrase T.J. invented so he would never get in trouble for swearing.
As well as "froopin'", but not as often.
And "What the hang?"
The adults tend to exclaim "Good sweet Mike!" One time Mikey exclaimed "Good sweet me!"

Used to Be a Sweet Kid: In "The Biggest Trouble Ever," Thaddeus T. Third V shows some old photos of Miss Finster and Principal Prickly playing on the statue of his grandfather, Thaddeus T. Third III, when they were preteens (Prickly being in sixth grade when his photo was taken). There are other hints of Prickly being this trope throughout the series, most notably in "The Hypnotist" and "Buried Treasure."
V-W
Vacation Episode: The Lilo & Stitch: The Series crossover, where the gang go to Hawaii.
Valentine's Day Episodes: "That Stinking Feeling" and "My Funny Valentines" (Both were paired up together). "That Stinking Feeling" was about Spinelli's crush on a boy, while "My Funny Valentines" (which is the more official Valentines episode) was about T.J. making joke Valentine cards for the girls of the school, but with them thinking that he had crushes on him. Ship Tease ensued between T.J. and Spinelli (again). Oddly enough, the episode didn't air anywhere near the holiday (though the show is usually in its off-season in February)
Vertigo Effect: On Gretchen in "The Girl Was Trouble" when she finds out that she needs to talk to Kurst the Worst in order to get her Galileo computer back.
Very Special Episode:
Vocal Dissonance: Back in the day, Miss Finster was a very attractive young woman, but she had the same raspy voice that she has currently.
Vocal Evolution: Because the kids in the show are all voiced by real kids, their voices ended up getting lower throught the show's run. Vince's voice broke half-way through the first season, Mikey's voice got a little lower in season three (and then completely broke in the 2003 DTV movies), Gus, Randall, and Digger Dave all had lower voices in the DTV movies, and Digger Sam's voice broke in the DTV movie Taking the Fifth Grade (due to this, we never hear him speak in All Growed Down). It was lampshaded at the end of the movie:

Digger Sam: My voice! What happened to my voice?

Gus also had a slight lisp in some of the early episodes, as Courtland Mead had one at the time.
Averted with T.J., unlike the other male characters. Because the creators wanted his voice to always sound cute and youthful, he was replaced three times.
Miss Finster was less sinister sounding in the early episodes of season one.
When T.J.'s mom first appeared in "Parents Night", she had a higher voice (Similar to the one April Winchell uses for Peg Pete or Lydia Pearson). For the rest of the series (And movies), April Winchell used her natural voice for her.
Where the Hell Is Springfield?: The unnamed city the show takes place in never has a proper location revealed. The closest we get is a set of coordinates in one episode, which apparently puts it somewhere in the Pittsburgh area- and that's not likely, as the city skyline (the few times we see it) doesn't resemble Pittsburgh in any way, and the climate is far too mild for the area (rarely getting snow, getting a heat wave once). And the fact that another episode has the kids take the Arkansas Standard Achievement Test makes the location of Third Street School even more ambiguous.
Whip Pan: In the theme song, where it whip pans from T.J. playing cards with a few background students to Randall writing something in his notebook.
Y-Z
---