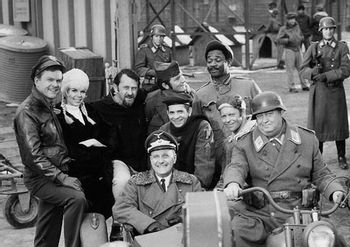 "I loved watching
Hogan's Heroes
as a kid. It taught me that war is hell — unless you're locked up in a WWII Nazi POW camp, then it's just a series of wacky misadventures!"
During the European campaign in World War II, a group of multinational POWs in a small German prison camp execute daring sabotage and spying missions right under the noses of their Nazi keepers. It's just like watching The Great Escape or Stalag 17 — every week. And the best part? It's a sitcom!
Starred Bob Crane as Hogan, Werner Klemperer as the bumbling Colonel Klink, and John Banner as the lovable Sergeant Schultz. Aired on CBS from 1965 to 1971.
Ironically, all the major recurring German army characters were portrayed by Jewish actors. (An old story claims that Werner Klemperer would only do the show when assured that the Nazis would never be anything close to successful or competent.) And Robert Clary (Cpl. LeBeau), born Robert Max Widerman, survived Buchenwald (12 other family members didn't).
The show was one of the first American sitcoms to feature a black character as an integral member of the cast. Kinchloe is Hogan's second-in-command and the camp genius (also very unusual for the time period). The producers cast a black actor to play Kinchloe in part to prevent the network from providing Southern stations with a "black-free" cut, as was common at the time — Kinchloe was too important to the story line for his scenes to be removed.
---
Hogan's Heroes provides examples of:
---