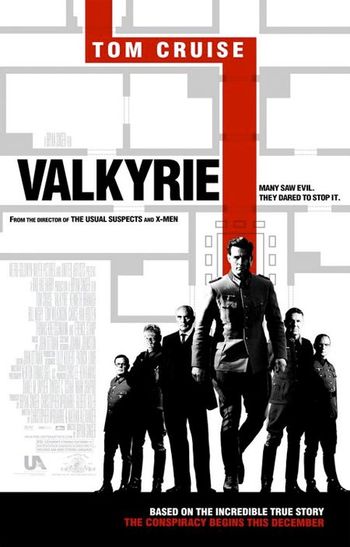 "It only matters that we act, now, before we lose the war. Otherwise, this will always be Hitler's Germany...and we have to show the world that not all of us were like him."
— Henning von Tresckow
Valkyrie is a 2008 historical drama film about the attempted assassination
of Adolf Hitler by a dedicated cabal of German military officers, as well as some non-military personnel. It is directed by Bryan Singer, written by Christopher McQuarrie, and starring Tom Cruise, Kenneth Branagh, Bill Nighy, Eddie Izzard, Terence Stamp, Tom Wilkinson, Carice Van Houten and Matthias Schweighöfer.
Part of what got interest in this film going is that popular consciousness has it that after 1933 there was no resistance within Germany to the Nazi party after the mass-arrests and exodus of the country's overt opposition to Hitler, in part because Hitler remained in power (and alive) until the Soviets took Berlin. Operation Valkyrie was actually the last of over 15 attempts (and one of the closest to being successful) on Hitler's life by various fringe factions within Germany before the end of the war. Even though the outcome of this assassination attempt is rather obvious, it serves as a reminder that the politics of Nazi Germany was far more fractious than it appears at first sight/from Middle- and High-School textbooks.
"Valkyrie" itself comes from the name of the prepared plan dictating the delegation of power that would transpire should Hitler die. The members of the plot had manipulated the Valkyrie protocol so that when Hitler died they would be able to unilaterally seize power with minimal infighting.
Not to be confused with the mythological characters from which this movie takes its name.
---
This film provides examples of:
---