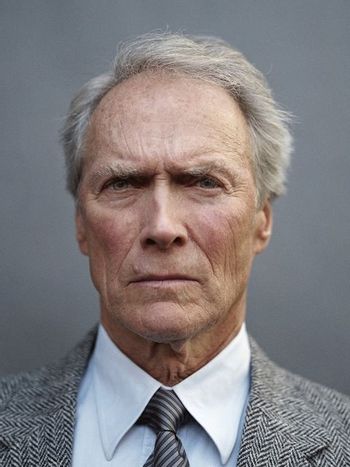 "Westerns. A period gone by, the pioneer, the loner operating by himself, without benefit of society. It usually has something to do with some sort of vengeance; he takes care of the vengeance himself, doesn't call the police. Like Robin Hood. It's the last masculine frontier. Romantic myth. I guess, though it's hard to think about anything romantic today. In a Western you can think, Jesus, there was a time when man was alone, on horseback, out there where man hasn't spoiled the land yet."
— Clint Eastwood, on the genre that helped shape his career.
Clinton "Clint" Eastwood Jr. (born May 31, 1930 in San Francisco) is an American actor, director, producer, singer, songwriter, former mayor of Carmel, California, and designer of his own line of golf clothing. He's most famous for portraying tough-as-nails gunslingers who speak very little, and make each word (and bullet) count. The two most famous roles of this kind are Dirty Harry, and the Man With No Name in Sergio Leone's Dollars Trilogy. He is also widely cited as being the only western actor to win a Quick Draw contest for real.
He popularized the One-Liner (like the Pre Ass Kicking One Liner, Pre-Mortem One-Liner, or just the generic "I'm so badass"-One-Liner). His Influence on the movie industry was such that without him (or his Dirty Harry library, to be more specific) The '80s would have seen about a mere fourth of the action movies it actually did see. Aside from Westerns (which his cop movies pretty much are) he also played in an occasional war movie of the Trapped Behind Enemy Lines kind. (Kelly's Heroes, Where Eagles Dare). He was also in the movie of Firefox, resulting in the sequel novel being dedicated to him. If you want a break from Clint's ever-expanding body count, but can't stand Bridges of Madison County, you should give Paint Your Wagon a try. Clint Eastwood walking through a forest singing "I talk to the trees, but they don't listen to me" will do the trick.
Recent audiences have caught on to something that critics and admirers long noticed about Eastwood, especially the films he directed. He really likes to act, and especially direct, movies that deconstruct his own Image: Unforgiven deconstructs his westerns in general and The Outlaw Josey Wales in particular; The Gauntlet deconstructs his Dirty Harry persona as early as 1977; one of his most recent acting roles was Gran Torino (which he also directed and produced) can be seen as a comment on both his Man With No Name and Dirty Harry characters, exploring the demons of the grizzled badass grown old.
He first began directing in 1971, and indeed as per interviews claimed that he always wanted to direct, and that his success as a movie star in Italian-made spaghetti westerns took him by surprise. Before making his star-making films, Eastwood worked as an actor in American television and low-budget television, and was fairly realistic that such roles didn't exactly portend a great career. As a director, he is considered a film-maker who embodies the old-fashioned Hollywood ethos of John Ford, Anthony Mann and Howard Hawks. He prefers visual storytelling, directly expressing his ideas in simple terms, he also works fast and finishes his movies quickly, known for being one of the few to consistently bring in his movies under budget and on schedule (which even Alfred Hitchcock cannot claim). Actors describe Eastwood as a real darling on the set, known for speaking softly rather than shouting, and generally organizing things that make even difficult parts easy to finish on time. Eastwood has won several Academy Awards for them, including two Best Pictures (Unforgiven, Million Dollar Baby) and 5 of the various acting awards. On his own acting front he changed his palette to include comedic roles (Every Which Way but Loose, Any Which Way You Can, which believe it or not were the biggest hits of his career, along with Bronco Billy where he had some Self-Deprecating Humor) and also romantic roles (The Bridges of Madison County). Critics especially adore his performance as a John Huston spoof (John Wilson) in White Hunter, Black Heart where he plays the Hollywood legend as a Byronic Hero and The Dandy, really showing his great range.
Although 2008's Gran Torino was treated as a Swan Song by critics and media (as is, in fact, every film he stars in since, the latest being Cry Macho), all while Clint became the oldest actor to headline a #1 movie at age 78, he continues to work tirelessly even in his 90s. Although he had slowed down his work in front of the camera, he attracted some of the biggest names for his directorial efforts, including Tom Hanks (Sully), Leonardo DiCaprio (J. Edgar), and Bradley Cooper (American Sniper).
Despite his macho image, he is very much One of Us, as emphasized by the times he was interviewed during the production of another of his films, Space Cowboys. He openly and willingly admitted to being very much a science nerd, and enjoying sci-fi and being a major jazz fan, and even capable of composing his own music scores.
In his younger days, he was very much The Casanova, so much so that he not only had mistresses but reportedly cheated on his mistresses with other mistresses. According to one of his friends and biographers, Eastwood "seemed to get a bang out of this kinkier side to himself and rarely concealed it, often gloated about it." One person who wasn't laughing was actress Sondra Locke (she played a few of his on-screen love interests) who discovered that during their 14-year relationship Eastwood had actually fathered two children with another girlfriend. Locke accused Eastwood of using his star status to bury her career after their breakup. Eastwood and Warner Brothers both eventually settled out of court. Suffice to say, if Clint offers you a part in one of his movies, accept. If he offers you dinner, maybe think it over.
Eastwood has seven children from his various relationships (Clint himself joked "at least seven"), several of whom have appeared in his films. These include Kyle, Alison Eastwood, Scott and Francesca.
From the number of his films that include characters being punished for Failing Gun Safety Forever you can reasonably conclude that Clint does in fact know something about gun safety.
Fun Fact: His name is an anagram for "Old West Action".
Another Fun Fact: Though his characters often smoked in his films, Clint himself is actually a non-smoker in real life.
---
Films directed by Clint Eastwood include:
Tropes associated with him:
---
---