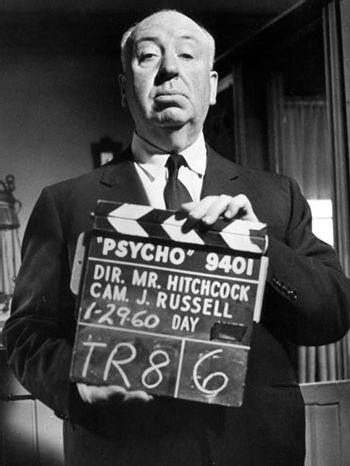 "People believe that the cinema has to, by necessity, be horizontal in its form. That is, go to a great many places and locales. That is not so. It should be possible to make an interesting film in a closet with the door shut. The idea is to reveal human nature and behavior with your camera moves. This presupposes, of course, an interesting story and characters worth revealing."
The acknowledged master of cinematic suspense, Sir Alfred Joseph Hitchcock KBE (13 August 1899 – 29 April 1980) is also one of the most famous film directors of all time, if not the most famous. Most people will have at some time or another seen at least one of his classic thriller films, many of which were adaptations of novels or short stories.
Hitchcock also produced and hosted the television anthology series Alfred Hitchcock Presents from 1955 to 1965, although he only personally directed 17 of its 361 episodes.
Although "Hitch" is now considered to be one of the greatest filmmakers of all time, for much of his life he was dismissed as a mere entertainer rather than a serious artist. The French New Wave critics, led by François Truffaut, played a big role in correcting this by propounding the "auteur theory", which holds up the director (rather than the screenwriter, the actors, etc.) as the primary creative artist on a film. Hitchcock was regarded as the major exemplar of this. It didn't hurt that he started producing his own films beginning in the late 1940s, thereby allowing him complete creative control.
Most people consider either Vertigo or Psycho to be his masterpiece, although Hitchcock himself was partial to Shadow of a Doubt among his own films. Rear Window, North by Northwest, Strangers on a Train, and The Birds are also frequently cited as favorites among fans, with Rear Window in particular often employed as a plot template in other media. Meanwhile, Hitchcock's first Hollywood production, Rebecca, was his sole film to win the Academy Award for Best Picture, while the man himself earned five nominations for Best Director without ever taking home the prize.
The Hitchcock style went on to typify a certain kind of screen thriller, one which was copied by others over time. The Stanley Donen-directed Charade, for instance, was referred to by one reviewer as "the best Hitchcock film that Hitchcock never made". Also, the Italian Giallo film movement was essentially derived from the Hitchcockian style. Hitchcock was also known for his frequent use of the "MacGuffin" (a term he popularized) in his films.
Hitchcock was also infamous for being somewhat of a prankster, who would frequently keep his film crews and actors, and even personal friends, on their toes with practical jokes, often very elaborate and well-planned ones. While some of Hitchcock's pranks could be considered pretty funny by most standards (such as one where he gifted his crew with expensive furniture at the wrap party, only for said crew members to come home with their presents and discover that said furniture was just a little too bit to big to fit through their front doors; Hitchcock had, of course, been visiting their residences in secret and carefully written down measurements of their doors to make sure that this would happen), others definitely crossed the line into Dude, Not Funny! and Prank Gone Too Far territory (during the filming of Frenzy, after discovering that actress Elsie Randolph was deathly afraid of fire, Hitchcock "accidentally" locked her in a telephone box one day on set and started pumping smoke into the box), and revealed Hitchcock to be less of a merry prankster than someone with a latent sadistic streak.
Hitchcock was knighted a brief four months prior to his death. He is also somewhat well known for making the shortest-ever acceptance speech at the Academy Awards Ceremonies (on receiving the Irving G. Thalberg Memorial Award in 1968): "Thank you very much, indeed."
More recently, his complicated record in dealing with women has come under scrutiny. On one hand, he frequently hired women for creative roles in the filmmaking process at a time when that wasn't very common, and his films often featured complex female characters. On the other hand, he still engaged in stereotyping and the Male Gaze, plus his treatment of actresses has been questioned, particularly his troubling relationship with Tippi Hedren.
Important books on Hitchcock's life and working methods include: Hitchcock/Truffaut, the founding work and still the definitive oral history; Bill Krohn's Hitchcock at Work, the best single-volume text on Hitchcock's filmmaking process, based on extensive and thorough archival research; and Patrick McGilligan's Alfred Hitchcock: A Life in Darkness and Light, by general academic consensus the best and most reliable biography on Hitchcock himself. Other important books on Hitchcock's films, life and production habits include Stephen Rebello's book on the production of Psycho, Dan Aulier's account of the making of Vertigo, and Tony Lee Moral's book on the making of Marnie.
---
Films directed by Alfred Hitchcock:
Filmography
<!—index—>
The Pleasure Garden (1925) – His feature debut. About two chorus girls whose husbands leave for the colonies and how all of them react to being away from each other.
The Mountain Eagle (1926) – Set in Kentucky. A shop keeper tries to marry a schoolteacher, but she marries a hermit and Tragedy ensues. A lost film.
The Lodger (1927) – His first thriller. About a Jack the Ripper-esque murder spree in London and how one man is accused of being the murderer. Also has Hitchcock's first cameo.
The Ring (1927) – A love triangle between a boxer, his girlfriend, and another fighter. The only movie where the writing is credited entirely to Hitchcock himself.
Downhill (1927) – A schoolboy takes the blame for a friend's theft, and his life falls apart after he is expelled.
The Farmer's Wife (1928) – An old farmer tries to marry again with the help of his housekeeper, who's secretly in love with him.
<!—/index—>
Easy Virtue (1928) – Loosely adapted from the Noël Coward play of the same name. A divorced woman tries to hide her past from her husband and his family.
<!—index—>
Champagne (1928) – A comedy about a spoiled young woman trying to find work after her father lies to her and says he has no more money left.
The Manxman (1929) – Two childhood friends, a fisherman and a lawyer, fall in love with the same girl.
Blackmail (1929) – The first sound feature ever made in the UK. In fact, it was already in production as a silent movie when the producers decided to make it a sound picture. So there are two versions available. A young woman kills an attempted rapist in self-defense, and a petty thief discovers evidence that suggests it was murder. He tries to blackmail her but unwittingly winds up implicating himself.
Juno and the Paycock (1929) – An adaptation of Sean O'Casey's classic play. In Civil War-era Ireland, a family finds out that they will earn a huge inheritance and quickly forget their old values.
Murder! (1930) – When an actress is convicted for killing her friend, one of the jury members is determined to prove her innocence.
Elstree Calling (1930) – Hitchcock was one of the multiple directors working on this. About the television broadcast of a musical revue.
The Skin Game (1931) – About the feud between two rival families, one old wealth and one new wealth.
Mary (1931) – German-language remake of Murder! .
Rich and Strange (1931) – A poor young couple receive a big inheritance and go on a cruise, but the money starts to destroy their relationship.
<!—/index—>
Number Seventeen (1932) – Jewel thieves hide an expensive necklace in an old abandoned house, but a detective is hot on their trails and the neighbors find out about their plot. Hilarity Ensues.
<!—index—>
Waltzes from Vienna (1934) – A musical about Strauss writing The Blue Danube. Hitchcock only made it for money and called it the low-point of his career.
The Man Who Knew Too Much (1934) – His first spy thriller. A British couple learns about an assassination plot, and the assassins kidnap their daughter to keep them quiet. Hitchcock's breakthrough movie internationally, it was his first big hit in America. (Later remade in color by Hitch himself; see below.)
The 39 Steps (1935) – A Canadian man in London is wrongfully accused of murdering a female spy who was killed in his house, and he is chased across the country by police while he tries to piece together the clues she left him. Eventually, he is apprehended and handcuffed to a woman he met earlier, but he escapes while he is still handcuffed to her. Often called the best of his British movies, and one of his first movies that balances humor and thrills equally.
Secret Agent (1936) – A famous British writer fakes his death during World War I and is sent by the British intelligence to kill a German agent.
Sabotage (1936) – An American woman in London suspects her husband, a foreigner who runs a local cinema, is part of a bombing plot. Roiled audiences with its aversion of Improbable Infant Survival. Includes a piece of the Silly Symphony short Who Killed Cock Robin?. A clip from this was briefly shown in the scene in Inglourious Basterds where the narrator explains how easy it was for old film to cause fires.
<!—/index—>
Young and Innocent (1937) – A famous movie star is killed by her husband for having several affairs. One of her boyfriends finds the body but gets arrested on suspicions of being the murderer. He escapes with a police constable's daughter to try to prove his innocence. Has a famous tracking shot.
<!—index—>
<!—/index—>
---
Works featuring fictional portrayals of Alfred Hitchcock:
---
Tropes in the films of Alfred Hitchcock:
---