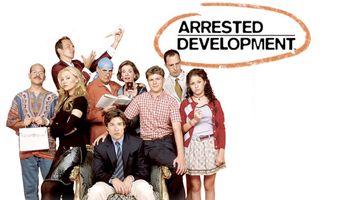 "Now the story of a wealthy family who lost everything — and the one son who had no choice but to keep them all together. It's Arrested Development."
Arrested Development is a single-camera Sitcom, debuting in 2003.
The show follows the farcical exploits of a wealthy family grappling with the loss of their fortune as the family patriarch is arrested for numerous dubious dealings involving the family business. The show's tone is quick-witted and fast-paced, tempered with a voice-over documentary-style narrationnote provided by producer Ron Howard and coupled with Running Gags, Brick Jokes, nested flashbacks, and other complex narrative structures.
Michael Bluth (Jason Bateman) is the Only Sane Man in a family that doesn't know how to live frugally; he is trying to keep the company afloat and the family together, but his siblings live their lives on a whim. His older brother GOB (George Oscar Bluth II — pronounced "jobe", like the biblical Jobnote although GOB himself doesn't know the correct pronunciation of the Biblical Job) (Will Arnett) is a mostly incompetent magician who performs illusions. Michael's twin sister Lindsay (Portia De Rossi) is a fair-weather activist for whatever cause happens to catch her attention at any given moment; her husband, Tobias Fünke (David Cross), is a disgraced psychiatrist turned disgraceful actor (and is in denial about his obvious homosexuality). Michael's younger brother, Byron "Buster" Bluth (Tony Hale) is a bizarre Manchild who still lives with his mother, Lucille (Jessica Walter), who is constantly drinking and critical of everything and everyone. Michael's father, George (Jeffrey Tambor), is under arrest for fraud and embezzlement, as well as under investigation for "light treason", and is enjoying his time in prison. Finally, Michael's well-behaved, but also quite awkward and confused son, George-Michael (Michael Cera), and Tobias and Lindsay's rebellious and Street Smart daughter, Maeby (Alia Shawkat), frequently find the rest of the family ignorant of the Unresolved Sexual Tension between them.
The show was brought back for a fourth season on May 26, 2013, exclusive to Netflix. It uses character-focused episodes and Anachronic Order to bring the viewers up to speed on the missing five years of the family's lives. Mark spoilers for Season 4. The show has been renewed for a fifth season, though said season was in a bit of a Development Hell, before finally being confirmed to premiere in 2018.
Additionally, Mitch Hurwitz announced that a chronological recut of Season 4 would be available to watch.
Just in time to catch up for Season 5!
The show has a Wiki on Wikia
and comprehensive coverage on Wikipedia itself
. The now-defunct fansite Balboa Observer-Picayune
, archived on the Internet Archive, also has thorough coverage of the show's first three seasons. There is a Recap page listing the show's episodes and the tropes used in each of them (still in development).
Vote here
for the best episode.
Not to be confused with the '90s rap group.
---
Arrested Development in general provides examples of the following tropes:
open/close all folders
A-C
D-F
G-I
J-L
M-O
Manic Pixie Dream Girl: Subverted: she's actually a Mentally Retarded Female. Mr. F!

Maeby shows shades of this, especially in early episodes.

Manipulative Bastard: Lucille and George Sr.
Meaningful Name:

George Oscar "GOB" Bluth = Florida Man.
George Michael's cousin Maeby. As in, his cousin, maybe. (Turns out she's not.) (

Wait, yes she is, just a generation off.

)
George Sr., while under house arrest, hires a man to wear a camera and a microphone and relay his words to the rest of the family during a consultation with a lawyer. The guy's name is Larry Middleman.
In the Grand Finale it is revealed that

Annyong's real name is Heh-Loh

.
Tobias in the fourth series

dates a (recovering) junkie named DeBrie. Lampshaded when Tobias ends up discarding her quite literally in a pile of debris. To drive home the joke, it's actually labeled as such.

Rebel from the fourth season.

Metaphorgotten: GOB, on after the seal that

bites off Buster's hand

gets its flipper eaten by a shark.

GOB: Poor little guy. He's probably out there somewhere, swimming around in circles, freaking out his whole family.

Mid Battle Teabreak: In a season 4 episode, Michael and GOB get in a fight in a padded children's play area after agreeing it is the safest place to fight. Shortly after the fight begins, they crash through the wall of the knife store next door. At this point, they stop the fight long enough to return to the play area.
Misplaced Wildlife: The vulture that's hanging around Sudden Valley doesn't look like any American species.
Money Dumb: Having been rich for their entire lives, the Bluth family is terrible with money, since they have so much to burn that they don't necessarily need to manage it. The family burns a lot of money sustaining Lindsay and Gob, two members of the family that bring in no money at all and don't even believe they need or should work for it; Lindsay being a liberal activist that spends her time jumping from one cause to another, while Gob is virtually useless in every job he takes and spends his time trying and failing to make it as a magician and spending the family money in expensive but unimpressive tricks. When the patriarch of the family is arrested and they lose much of their access to money during the investigation, the family is still incapable of taking care of money, simply demanding that the protagonist Michael make money appear out of thin air. A line from Lucille stating that she thinks each banana costs 10 dollars and shows how disconnected they are from reality.
Muscles Are Meaningless: Lucille seems to be stronger than she looks, she can break through a barricaded door with little difficulty.
My Friends... and Zoidberg: "I'm going to stay here with all these... hot men. And Ira."
Names to Run Away from Really Fast: Tobias' business cards: Dr Tobias Fünke, analrapist note

Buster: [gasps as he reads the card]
Tobias: It isn't pronounced like that.
Buster: It's not the pronunciation I was worried about.

No Bisexuals: Played for Laughs with Tobias and played awkwardly straight with

GOB and Tony Wonder, two straight-identifying men who have sex and share some sort of confusing feelings

.
No Celebrities Were Harmed: The season 4 character Herbert Love is a pretty clear imitation of former presidential candidate Herman Cain.

Pop singer Mark Cherry appears to be a takeoff on Justin Bieber.

Not Blood Related: George Michael desperately looks for evidence that he and Maeby are Not Blood Related. In the end, it turns out that

they're not... because Lindsay isn't

.

Also, the Bluth's "uncle" Jack Bullet, who they exclusively refer to throughout the episode as as "Fake Uncle Jack", likely because a major plot point of the episode is

his sexual desire for Lindsay

.

"...and remember, he's not really their uncle."

When it's revealed that

Lindsay is adopted, she comes on to Michael and GOB comes on to her

.

Not Cheating Unless You Get Caught: Most of the conniving characters have no qualms about their schemes and are only concerned by the repercussions if they get discovered. As Bob Loblaw summarizes it: "Why should you go to jail for a crime someone else... noticed?".
Not So Different: Michael tries to be a good father to his son, but unfortunately in practice he's every bit as domineering and controlling as his own parents were.
Notorious Parent: The Bluth family patriarch, George Sr., committed a host of financial crimes as the head of the Bluth Company, and also somehow blundered his way into committing treason when he built houses in Iraq during the sanctions, when American businesses were forbidden from operating in Iraq. His kids spend much of the series having to live down their family's terrible reputation.

However, matriarch Lucille was actually the mastermind behind the crimes, and used George Sr. as a puppet to carry out the dirty work.

Once More, with Clarity!: Several scenes in Season 4. Sometimes, it's even inverted, because a new question arises after something that the viewer is led to believe proves to be untrue.

Michael coming home after Cinco de Quatro,

turns out he was turned down by Lucille 2 and did not slept with her, who was actually offended by the suggestion that she'd be so desperate to get laid that she'd let him off to paying U$700,000

.
George Michael can be seen talking with his roommate a lot about his Fakeblock app,

only to the episode centered on him to confirm that these conversations were not at all related to a privacy/anti-piracy app. It was a woodblock simulator n the first one, and in the second, it was him trying to convince his roommate this app could be done

.
The negotiation over film rights between Michael and George Sr. At first, it seems that it's a scene where George Sr. tries to apologize and cash in a favor from his son

only to reveal he got there by a coincidence, still trying to cash in a favor, since the first person to speak to Michael was actually Oscar

.
At a bus in India, Lindsay runs over a tourist and they all laugh about it,

Said tourist turns out to be Tobias and the accident ends up re-igniting his dream of being an actor

.
The meeting of Lindsay with her shaman is seen in a new light when

it's revealed that the shaman is actually Maeby in disguise trying to guilt-trip her

.
While brief, the scene of Michael eyeing a red-head woman going into the elevator gets this when that woman turns out to be Lindsay.
Maeby supporting her mother to go after Love as a way to get Marky out of prison is renewed in sense when

Maeby turns out to be pimping her mother out to him and is in fact arranging meetings she received money from him for

.
Maeby getting fired by Geroge Michael of their Fakeblock alliance becomes this when

Fakeblock turns out to be just a woodblock simulator app

.

One Dialogue, Two Conversations: Seriously, this family really need to get on the same page.

Narrator: At no point were Michael and Maeby talking about the same person, and there were only four people in their group.

One Steve Limit: Averted. Lucille Bluth's best friend/social rival is Lucille Austero, played by Liza Minnelli. When the name confusion is not being Played for Laughs, the show refers to her as Lucille Austero, or Lucille Two. To a lesser degree, there's a bit of a theme with the names of most of the male Bluths. There's George Oscar Sr, Oscar, George Oscar II ("GOB"), Michael, and George Michael. The only one to escape this is Buster.

Tobias also has a brief relationship with a transvestite (whom he believes to be a woman) bodybuilder named Michael.
There is, however, only one Steve: Steve Holt!

One-Woman Wail: Parodied in the latest season. 'Co-oo-o-oooooo-oooooo-oo-ooo-incidence.'
Only Known by Their Nickname:

Buster and GOB's real names, Byron and George Oscar II, are only mentioned once each after the pilot. Maeby's real name Mae only appears as a subtitle in the pilot.
Technically, none of the Bluth siblings go by their birth names: in addition to Buster and GOB only being called by their nicknames, Lindsay has been adopted and renamed, and Michael's first name is misspelled on his birth certificate.

Only Sane Man: Michael Bluth is all too aware of this trope.
The Only Way They Will Learn: Extreme "lessons" are a theme of the series, from Maeby's Kissing Cousins scheme to the lessons the Bluth children learned at the hands of J. Walter Weatherman.

Although George Michael and Maeby are mostly sane as well. At least until Maeby got a movie job.

On the Next: subverted; they're almost always one-off jokes based on hanging plot threads of the episode they accompany. Of course, there are a few Double Subversions where the preview is actually true...
Out of the Frying Pan:

Near the end of Season 3, George is finally exonerated for his crimes, leaving the Bluth company in an actually good position for the first time in years. However, during the boat party, Annyong shows up to reveal that he had been feeding information and evidence against them to the SEC, and then Lucille steals the Queen Mary, putting them in a worse position than ever.

Outdated Outfit: Lupe's hand-me-down jumpers
Overly Long Gag: Season 4 is especially fond of this, as episodes are longer on Netflix than they can be on network TV:

In "Flight of the Phoenix", Michael trying to work out the details of the roommate voting scam.
In "Indian Takers", Tobias and Lindsay buying an increasingly-extravagant mansion.
GOB and Tony Wonder downing the contents of their drinks in real time.
Lucille and Buster's "smoke transfer" lasts significantly longer than it seems like it should.
GOB unsuccessfully trying to tell Ann he wants to break up, stuttering through a nonsensical sentence in such a manner that would give Porky Pig a run for his money.
GOB takes a roofie one morning to try to forget about finding out just then that he contracted syphilis. The result?

Narrator: ...and soon GOB found himself experiencing what, on the street, is referred to as a "roofie circle," whereby a roofie is taken the day after a degrading event too late to erase the memory of the degrading event itself but not too late to erase the prior day's attempt to erase the event. Thus, with no memory of taking the roofie but the memory of the event very much alive, the victim of the roofie circle finds himself constantly trying to re-erase the memory but only succeeds in erasing the memory of the attempt to erase the memory. Days turn into weeks, weeks turn into months, and relationships grow testy. And what begins in shame almost always ends in a Mexican hospital with stage 4 syphilis.

In "Red Hairing," Michael and Lindsay hug several lengthy times...in order to frustratedly brief each other about how their respective schemes are playing out.
P-R
S-Z
---
Specific episodes and scenes provide examples of:
A-M
N-Z
---