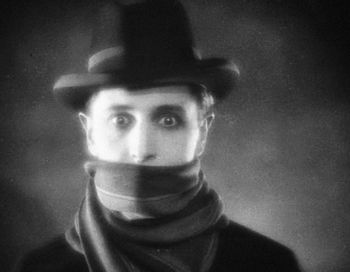 It all has to start somewhere.
The Lodger: A Story of the London Fog is a 1927 silent film adapted from a 1913 novel by Marie Adelaide Belloc Lowndes. It was the debut feature of Alfred Hitchcock (sort of, see below).
As the story opens, London is in the grip of a serial killer called "The Avenger". At the same time, Mr. and Mrs. Bounting's inn gets a new lodger by the name of Jonathan Drew (Ivor Novello). He fancies the Bountings' daughter, the blonde Daisy, who is already engaged to Joe, a detective. Over time, it's discovered that Jonathan has a few eccentric habits, including a preference for strolls on foggy evenings. Since The Avenger's favorite victims are blondes, Joe starts to suspect that Jonathan is the killer himself.
This was actually the third film Hitchcock directed, but his first two, The Pleasure Garden and The Mountain Eagle, were both shelved after the producers reacted unfavorably. The Lodger was the first Hitchcock film to be released, and it was a huge hit, leading to both of his first two films being released and kick-starting his career.
Other film versions of the story were released in 1932 (also starring Novello), 1944, 1953 (as Man in the Attic), and 2009 (set in the modern day).
Not to be confused with the 2010 Doctor Who episode of the same name.
---
This work features examples of:
---