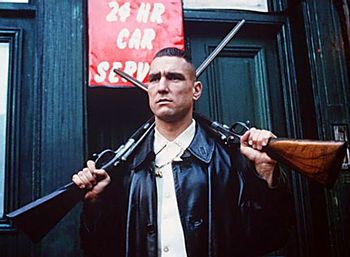 "Can everyone stop getting shot?"
A 1998 British crime caper and black comedy written and directed by Guy Ritchie. The plot concerns four bottom-rung English grifters who hatch a plan for a big payday that, instead, set off a Gambit Pileup involving two antique shotguns, a bag of cash, a huge marijuana stash, and virtually every criminal gang in London's East End.
Produced on a shoestring, the film was a huge success and launched the cinema careers of Ritchie as well as producer Matthew Vaughn and costars Jason Statham and Vinnie Jones.
The film was later adapted into the television series Lock, Stock....
---
This film provides examples of;
---
"There is one more thing. (beat) It's been emotional."
---