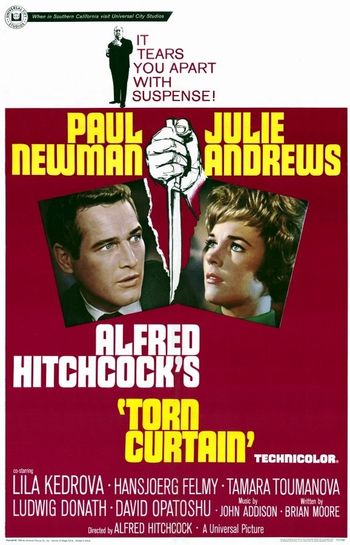 Torn Curtain is a 1966 political thriller, directed by Alfred Hitchcock and starring Paul Newman and Julie Andrews.
Michael Armstrong (Newman) is an esteemed American physicist and rocket scientist. He is supposed to attend a scientific conference in Copenhagen, but instead heads for East Berlin. Apparently defecting to East Germany. He is soon followed by Sarah Sherman (Andrews), his assistant and fiancée. She is very reluctant in doing so but remains loyal to him.
The defection is actually a ruse. Armstrong wants to meet Gustav Lindt (Ludwig Donath), the chief scientist in the East German military, to establish the extent of the Eastern Bloc's knowledge on anti-missile systems. He supposedly has a way to exit the country at will. Stasi, the East German state security service, has a very different view on the matter. Armstrong and Sherman are about to find out that entering East Germany was easy. Leaving East Germany is another matter entirely.
Generally viewed as a letdown after Hitchcock's remarkable decade-and-a-half run, faulted for an unengaging script and a lack of chemistry between Newman and Andrews (one writer observed that in their scenes together they seem like they're characters from two entirely different films). But it's still intriguing as Hitchcock's reaction to the James Bond series (which borrowed a lot of its style from his own North by Northwest), and for its colorful European setting and characters.
---
Troped Curtain:
---