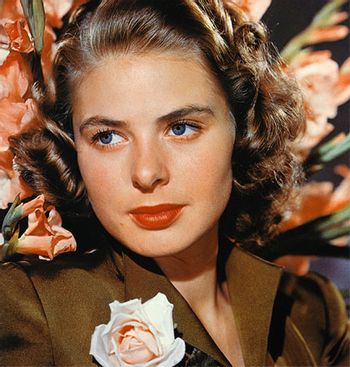 "I can do everything with ease on the stage, whereas in real life I feel too big and clumsy. So I didn't choose acting. It chose me."
Ingrid Bergman (August 29, 1915 — August 29, 1982) was a Swedish actress. She won three Academy Awards, two Emmy Awards, and the Tony Award for Best Actress in the first Tony Award ceremony in 1947. She is ranked as the fourth greatest female star of American cinema of all time by the American Film Institute. She is widely remembered for her performance as Ilsa Lund in Casablanca (1942) and is known as one of Hollywood's greatest classical beauties.
In her lifetime, Bergman had the reputation of being the World's Most Beautiful Woman, and created a legendary scandal in the 1940s when she abandoned her husband and child, started an affair with married director Roberto Rossellini, and became pregnant on the set of Stromboli. This scandal was denounced on the floor of the US Senate, with Bergman becoming more or less Persona Non Grata in America. She had written to Rossellini after seeing his film Paisan and wanted to make serious films, and their resulting love affair and brief marriage resulted in three children and five movies. After their breakup, she returned to the stage and became more sporadic, with Autumn Sonata being her last serious role.
Mother of Isabella Rossellini. Not to be confused with, and not related to, another famous Swede in the film industry, Ingmar Bergman (though he did direct her once in Autumn Sonata AND later married a woman named Ingrid, thus sharing his last name).
---
Notable roles:
---
Tropes:
---