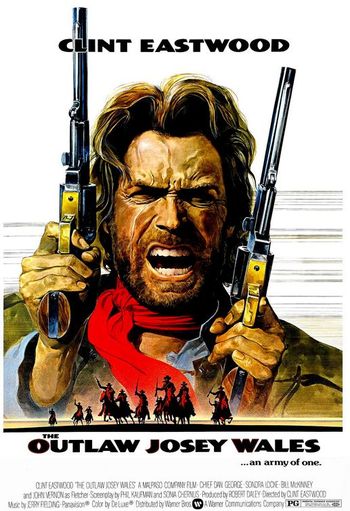 "Now remember, when things look bad and it looks like you're not gonna make it, then you gotta get mean. I mean plumb, mad-dog mean. 'Cause if you lose your head and you give up then you neither live nor win. That's just the way it is."
— Josey Wales
A 1976 Western film directed by (and starring) Clint Eastwood.
Set during the aftermath of The American Civil War, the film follows its title character, a man whose whole family was killed, leading him to join a group of Confederate guerrillas to track down the killers. After eventually being sold out, however, he is on the run from bounty hunters and Yankee soldiers (including the group who killed his family). Along the way, while racking up a prodigious body count, Wales meets a group of people whom he reluctantly allows to join him. Hilarity Ensues. And by "hilarity," we mean "murder." This is a Clint Eastwood movie, after all.
Based on the novel Gone to Texas: The Rebel Outlaw Josey Wales, by Forrest Carter. The original printing of the book was less than one hundred copies, but one of those copies was sent to Eastwood...
---
The Outlaw Josey Wales provides examples of:
---