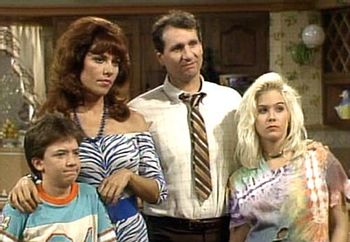 Peg: Did you miss me honey?
Al: (while eating a sandwich) With every bullet so far.
Married... with Children is a Sitcom about consummate loser Al Bundy: once a high school football hero dating the hottest girl in school, he is now a balding, starving, destitute shoe salesman. Meanwhile, the same girl that he married is now a useless, bickering TV junkie. He's still driving the same piece-of-junk car he bought in high school and is cursed with a moronic daughter who really gets around, a smart but perverted son, and a lazy dog that might as well be a throw rug.
A vitriolic, biting subversion of clean-cut 'family sitcoms' of the day, and arguably the stage-setter for the Dysfunctional Family trend that followed, the show premiered on April 5, 1987 as the very first prime-time program ever shown by the brand new Fox Broadcasting Company. note Fox actually debuted on October 9, 1986 with The Late Show Starring Joan Rivers in late night, which bombed hard; Rivers left by May 1987 and the show limped on with various guest hosts until October 1988 (excluding a period in December-January where it was replaced by the even bigger bomb The Wilton-North Report). During this period Fox was essentially limited to the six stations it owned (which Rupert Murdoch had purchased from Metromedia), only beginning a true network presence in 1987. Along with 21 Jump Street and The Tracey Ullman Show, it was one of the network's few hits before the NFL and The Simpsons turned the network into a major player. It was a constant ratings success until it ended in June 1997; it's still Fox's longest-running live-action sitcom. This is the show in which Christina Applegate and Katey Sagal got their starts. There has also been a variety of series of comic books based on the show that were published.
This series inspired and popularized a character type: the Jaded Washout, which was actually called "The Al Bundy" at one point.
Now has a recap page.
---
"Tropes and Marriage, tropes and marriage..."
open/close all folders
#-G
Gilligan Cut: Many times.

In one instance, Marcy was telling Al he needed to see a dentist due to his bad teeth, but Al reassures her that his teeth do not hurt and never have. Gilligan Cut to later in the night as Al screams "Now my teeth hurt!"
In the episode "Oldies but Young 'Uns", Al becomes obsessed with finding an old song. When he eventually sees it in a record store, the cashier says that it costs 60 dollars:

Peggy:

60 dollars?! For a record? Hey, look. You must look at my husband, and mistake crazy for stupid. He's not paying sixty dollars for a record, and if he does,

I'll kiss your

—

[cut to Al and Peggy entering their house, Al with the record in his hand, and Peggy wiping her mouth]

In an episode featuring the Bundys playing a board game with the D'Arcys, Al scoffs when a newly arrived Bud complains that a girl pushed him into jumping out of a plane, but still didn't sleep with him. Al jokes, "There's nothing that would make me jump out of a plane!" Cue Peggy announcing that Al's game piece has landed on the "kiss the neighbor" space, swiftly followed by a horrified look on Al's face. The very next scene is Al on the same plane Bud jumped out of, only a Laughing Mad Al simply jumps out of the plane without even bothering to put on a parachute.
In "A Man For No Seasons", Al and the NO MA'AM guys are griping about the baseball strike. Al says that they don't need the pro players when they can play baseball themselves. He says they can even play at Wrigley Field, but one of the guys points out that it's private property and they probably can't use it. Al then wonders who would stop a bunch of great American guys from playing the great American game. The scene immediately cuts to the NO MA'AM guys in jail, with Al realizing that the police would probably stop them.

Glory Days: Al's many stories about how he "scored four touchdowns in one game".
Gold Digger: Peggy has displayed a willingness to dump Al for any man with higher earning potential. But she never actually does.

Peg, despite the fact that her husband has a crappy job. Gender Flipped by Jefferson, whose marriage to banker Marcy is based on this trope. One of the more subtle jokes in the series was that mortal enemies Al and Marcy are essentially in exactly the same situation when it comes to their spouses and that Al's best friend had all the flaws he complains about in his own wife.
It was acknowledged as well: one episode opens with Al coming home, and delivering a speech ostensibly to Peg about how he's been working all day while she just sits on the couch watching TV and munching bonbons. The camera then pans out to reveal that he's talking to Jefferson.
Also in an episode (one of Steve's last on the show) where Marcy was among those commiserating with Al and his bar buddies over working to pay for unappreciative families.
One episode had Marcy wanting to leave her husband because he didn't make as much money as he used to when he wanted to pursue his dream job, making her seem like this as well.
One of the episodes where Marcy got him a job, she told him she was tired of having him commenting about Oprah every time she gets home and that it was like being married to Peggy.

Go Mad from the Revelation: This happened to Al after he made the mistake of looking up when he had a fat woman in the chair at the shoe store and ended up seeing her underwear, which she hadn't changed in five days.
Gonk:

This was the type of woman Bud usually ended up attracting, much to his chagrin.
Peg's mother was implied to be this, although we were spared the horror of actually seeing what she looked like.

The Greatest Story Never Told: A race of space aliens use Al's used socks to power rockets that will destroy a comet that threatens their planet. It is told that there are songs still sung about Al's help on that planet, but neither Al nor anyone else on Earth even knows this happens. In fact, Al doesn't understand their language that his used socks would be used for fuel.
Green-Eyed Monster: "Torch Song Duet": Al is jealous of all of the praise Griff is getting after he helps him win a quiz show over the radio, which rewards Griff with the opportunity to carry the Olympic Torch in the mall.
The Grim Reaper: Unsurprisingly, Al associates Peg with her. The Reaper also appeared in one episode, played by a wigless Katey Sagal.
Gypsy Curse:

The Bundy family has multiple ones upon them. The eternal darkness in Lower Uncton is one of them, Al's smelly feet are another one, and the general successlessness of every Bundy in history is said to be yet another one. (Al's Uncle Stymie avoided the successlessness, which Al attributes to the fact Stymie never got married.)
And how about being turned into chimpanzees by a Gypsy's curse, while Buck was turned into a human (played by his usual voice actor).
H-M
N-S
T-Z
---
---