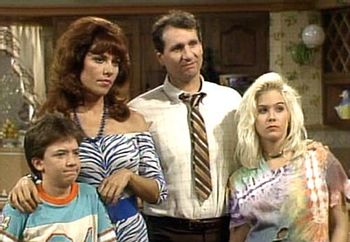 Married... with Children is a Sitcom about consummate loser Al Bundy: once a high school football hero dating the hottest girl in school, he is now a balding, starving, destitute shoe salesman. Meanwhile, the same girl that he married is now a useless, bickering TV junkie. He's still driving the same piece-of-junk car he bought in high school and is cursed with a moronic daughter who really gets around, a smart but perverted son, and a lazy dog that might as well be a throw rug.
A vitriolic, biting subversion of clean-cut 'family sitcoms' of the day, and arguably the stage-setter for the Dysfunctional Family trend, the show premiered on April 5, 1987 as the very first prime-time program ever shown by the brand new Fox Broadcasting Company. note Fox actually debuted on October 9, 1986 with The Late Show Starring Joan Rivers in late night, which bombed hard; Rivers left by May 1987 and the show limped on with various guest hosts until October 1988 (excluding a period in December-January where it was replaced by the even bigger bomb The Wilton-North Report). During this period Fox was essentially limited to the six stations it owned (which Rupert Murdoch had purchased from Metromedia), only beginning a true network presence in 1987. Along with 21 Jump Street and The Tracey Ullman Show, it was one of the network's few hits before the NFL and The Simpsons turned the network into a major player. It was a constant ratings success until it ended in June 1997; it's still Fox's longest-running live-action sitcom. This is the show in which Christina Applegate and Katey Sagal got their starts. There has also been a variety of series of comic books based on the show that were published.
This series inspired and popularized a character type: the Jaded Washout, which was actually called "The Al Bundy" at one point.
Now has a recap page.
---
"Tropes and Marriage, tropes and marriage..."
open/close all folders
#-G
Then there was the time a girl tricked Bud into thinking she wanted to make out with him (despite Kelly's warnings), only to set him up for the humiliation of hanging his underwear on a flagpole. Kelly gets back at the girl by
utterly kicking her ass
, stripping her naked and tying her to a locker just before the school day began. For bonus points, Kelly placed a sign next to the girl reading "Don't Mess With A Bundy".
And in a last season episode, during a brief period when Al and Peg temporarily separated, Bud and Kelly teamed up to kick a rich guy's ass (who was poised to be their new stepfather) when he disrespected Peggy.
H-M
N-S
T-Z
---
---