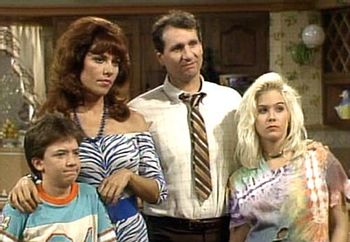 "Love and marriage, love and marriage
They go together like a horse and carriage
This, I'll tell you, brother, you can't have one without the other.
Love and marriage, love and marriage
It's an institute you can't disparage.
Ask the local gentry, and they will say it's elementary.
Try, try, try and separate them
It's an illusion.
Try, try, try and you will only come...
To this conclusion.
Love and marriage...."
*SLAM!*
Married... with Children is a Sitcom about consummate loser Al Bundy: once a high school football hero dating the hottest girl in school, he is now a balding, starving, destitute shoe salesman. Meanwhile, the same girl that he married is now a useless, bickering TV junkie. He's still driving the same piece-of-junk car he bought in high school and is cursed with a moronic daughter who really gets around, a smart but perverted son, and a lazy dog that might as well be a throw rug.
A vitriolic, biting subversion of clean-cut 'family sitcoms' of the day, and arguably the stage-setter for the Dysfunctional Family trend that followed, the show premiered on April 5, 1987 as the very first prime-time program ever shown by the brand new Fox Broadcasting Company. note Fox actually debuted on October 9, 1986 with The Late Show Starring Joan Rivers in late night, which bombed hard; Rivers left by May 1987 and the show limped on with various guest hosts until October 1988 (excluding a period in December-January where it was replaced by the even bigger bomb The Wilton-North Report). During this period Fox was essentially limited to the six stations it owned (which Rupert Murdoch had purchased from Metromedia), only beginning a true network presence in 1987. Along with 21 Jump Street and The Tracey Ullman Show, it was one of the network's few hits before the NFL and The Simpsons turned the network into a major player. It was a constant ratings success until it ended in June 1997; it's still Fox's longest-running live-action sitcom. This is the show in which Christina Applegate and Katey Sagal got their starts. There has also been a variety of series of comic books based on the show that were published. A Foreign Remakes include a highly successful one in Argentina, Casado con hijos, and a badly-received one in Israel called Nesuim Plus, starring Lior Ashkenazi, that ran for two seasons between 2012 and 2017.
This series inspired and popularized a character type: the Jaded Washout, which was actually called "The Al Bundy" at one point.
Now has a recap page.
---
"Tropes and Marriage, tropes and marriage..."
open/close all folders
#-G
Everybody Cries: As Al, Peg, Jefferson and Marcy spend an evening together watching Beachesnote , their minds wander into how disappointing their lives have turned out to be, until they start mentally singing "The Way We Were" in perfect synchronization. At the end of the song, they all erupt in tears.
Every Man Has His Price: Mr. Shimokawa (Marcy's boss) collects American classic "junk" and wants to add Al's car into the collection. Marcy will gain her so desired promotion if she persuades Al to sell it (they can't get another car of that kind because half had been recalled and the other dissolved in rain). When Al finally agreed, Mr. Shimokawa commented he knew every man had his price. Al said every woman had it as well. Marcy had to make a sensual dance and Mr. Shimokawa offered the promotion because of how sexy she was. She then subverted this by beating her boss and calling it her resignation.
Everyone Has Standards: After perusing a copy of TV Guide, Peggy declares to Al, "Honey, Cop Rock's on tonight, so we're (she and the kids) going to the movies." Note that Peg is well known for her love of awful television, but something as notoriously bad as "Cop Rock" is too terrible even for her.
Evil Versus Evil: Al Bundy against Marcy D'Arcy. Also Al Bundy vs. Satan.
Exact Words:

In one episode, Al and some of his friends tried a hair tonic that had the unfortunate (for them) side effect of making them want to have sex with their wives (or ex-wife in Griff's case). Al promised to develop an antidote, stating that a Bundy got them in that trouble and a Bundy will get them out. Cuts to a scene with Bud being forced to serve as a test subject.
In "Al Goes To The Dogs", Al's hammering and sawing to make a doghouse annoy Marcy. She gets him to stop making noise for a couple hours so she can work at home. He immediately goes back to making noise saying, "She didn't say which two hours!".
In one Christmas Episode, Al and Griff were fired and spent the day trying other jobs. They regained their jobs by tricking their replacements into quitting. When Peggy asked Al how his day was, he said it started at the store and ended there.
The Halloween Episode where Al was visited by Death (who took on the form of Peg) had her leave a note for him saying that there was a plate warming in the oven for him. Indeed, there was an actual dinner plate left to burn in there when he took it out (and burned his fingers on).
Jefferson heads off to Cuba to see Fidel Castro so he can get a fuel pump for Al's Dodge so it can work again. After he returns, Al tells him he can never repay him for what he's done. Jefferson replies to just get him a six-pack of beer. Al reiterates "which part of 'never repay' don't you understand"?

Exceeded the Goal: Al works with Kelly to create a short film about shoes in order to get into the shoe industry newsletter Shoe News. Not only does his film get him into the newsletter, he ends up taking first place in a film festival and winning a $10,000 grant from the NEA.
Explain, Explain... Oh, Crap!: In "Grime And Punishment", Bud gets Al confined to the basement as a slumlord when he starts charging Bud rent. The housing inspector fits Al with a shock collar that keeps him from leaving the basement, and Al tries to bribe his way out by giving Bud some of his photocopied hundred-dollar bills. Bud asks him where the real hundred-dollar bill is:

Al

: I left it in the...

copy machine

!!!

(He tries to run upstairs and gets shocked by the collar)

Expy: Psycho Dad is an extreme parody of The Rifleman.
Fag Hag:

Gender Flipped by Al and Marcy's cousin Mandy. Al initially thinks Mandy is hot, but when he learns she's gay that doesn't prevent them from being good friends and going to baseball games or playing foosball.
Played straight and subverted in the same episode when Peg has a close friendship with a gay man, to the point where they actually begin dancing together at an upscale nightclub. The subversion comes when the gay man's husband (played by Simpsons voice actor Dan Castellaneta) thinks that his mate and Peg are having an affair, and tries to tell Al about it. When Al learns that the husband has a job, likes to cook and enjoys watching sports on TV (except for soccer, which he doesn't think is really a "man's game"), Al briefly falls head-over-heels in love.

Fake Danger Gambit: The plot for the episode "The Weaker Sex" has Peg saving Al from a pickpocket, and worse, having it caught on the news, which as you can imagine is a major embarrassment to him. Jefferson tries to help by having Al take Peg to a seedy bar, where a contact would insult Peg, Al would knock him out, and Bud would get it on film. Unfortunately, when it comes time to deal the blow, Peg punches out the man herself just as Bud takes the photo. However, the end of the ep has Al successfully pulling this off using one of Kelly's dates.
Fanservice Car Wash: Discussed in "Honey, I Blew Up Myself". During Al's birthday, while Kelly and Bud give Al the exact clothes he's wearing as a gift, and Peggy gives him a boudoir picture, which he hates, especially when it's used in a billboard to advertise the photo studio, Jefferson gives him a coupon to a topless car wash.
Fantasy Keepsake: In the episode "Damn Bundys," a Deal with the Devil results in Al getting sent to hell, where he's given a box of Red Hots. Later, after winning a game to get them out of hell, Al awakens and thinks it was all just a dream... until he reaches in his pocket and finds the box of Red Hots.

Al: There's no hell like home.

Fashion Hurts: Al spends his days at work trying to help women squeeze their feet into painfully small shoes to appear daintier, which usually causes Al to launch into a torrent of snark. Oftentimes, Al ends up being the one feeling the pain as he gets his fingers caught in shoes or gets knocked around while trying to do his job.
Fat Bastard: Bob Rooney. Al once used his exposed gut to scare a bunch of little kids out of their Halloween candy.
Faux Horrific: Peg redecorating the bathroom with lots of pink. Al looked at the pictures and saw the Grim Reaper in them.
Feeling Oppressed by Their Existence: Al and NO MA'AM often speak this way about their wives or women in general; in turn, Marcy sometimes says the same about men. In the end of a given episode, both sides are typically undermined by Hypocritical Humor.
Fell Off the Back of a Truck: Bud and Kelly get Al a jukebox as a Christmas present...that really did fall off the back of a truck.
555:

Al got a shoddy product he ordered and called to demand to know the number of their business' supervisor. The response? "1-800-BITE-ME". When Bud got assigned to volunteer a virgin hot-line, the number was "1-800-ZIPP UP".
Also, 555-SHOE, 555-RIND, 555-PINF, and 555-RGNE, on the episode Al opened a shoe-hotline.
TV example: "Psycho Dad" is seen on channel 83, which hasn't been used as a frequency since 1982 when channels 70 to 83 were surrendered for radio communication purposes.

Flanderization: Nearly all the characters eventually, though this actually increased the show's quality, as it worked better as an over-the-top "live-action cartoon", rather than a semi-realistic show. Ed O'Neill noted that as much as he enjoyed being on the show, he was essentially playing Porky Pig.
Flat Uh Oh: Marcy occasionally gave these to the audience whenever some disaster was about to strike.
A Fool and His New Money Are Soon Parted:

Al's family often spend his meager earnings to eat out at restaurants (usually Denny's) instead of grocery stores.
One episode has Jefferson finding out that a doll treasured by his wife, Marcy, is worth millions, so he gets a different doll, switches it with the one Marcy owns, and then sells her doll for the fortune without her knowing, while getting Al to pretend to be him on the night he does this in order to prevent Marcy from becoming suspicious, on the promise that Al would get his share upon Jefferson's return. The problem? Jefferson loses the entire fortune at a casino on the way back, meaning Al had just spent a night with a neighbor he abhorred... for nothing.

Forbidden Fruit: In the episode "A Little off the Top", Al is accidentally circumcised and has to abstain from sex for a month. For most of their marriage, Al put great effort into avoiding sex with Peg. But now that it was forbidden, she suddenly became some sort of irresistible sex goddess whose every casual action seemed to turn him on. At one point, he is turned on by her breathing.
Forced to Watch: Played for Laughs when Al recounts how the Illinois Department of Corrections forced a bunch of juvenile delinquents to watch him work at the shoe store for three hours as part of their "Scared Rich" program. By the end, even the most hardened punk was sobbing and begging to be let go.
Foreign Remake: Lots.

The Russian remake Happy Together did well enough that they could make over one hundred new episodes, on top of having already adapted (almost) all of the episodes from the original series.
Polish sitcom Swiat wedlug Kiepskich is Gender Flipped - the main character is stay-at-home, lazy, unemployed husband, assisted by a Dumb Muscle of a son, with hard working mother and boy-crazed daughter.
Hilfe meine Familie spinnt is a German example from The '90s. It was aired at the same time the American original was aired and, not very surprisingly, didn't go over well.
There's also a Brazilian version named A Guerra dos Pintos (Pinto being the surname of the Bundys' Brazilian counterparts) but it didn't go very well either. The first episode was an adaptation of the original series' first episode.
Casados Con Hijos is the Argentine version. The writers made an important work in removing all American stuff from the series and fill it with Argentinian culture, from the names of the characters to their backgrounds and several plots.

For Inconvenience, Press "1": Al calls a junkyard in Rhode Island looking for an alternator for his Dodge. He spends 90% of the episode on their automated response system. Once Al pushes the right options describing his car, the automated voice then says "Hello Mr. Bundy!" and once he finally got to talk with some real person, Kelly ruined it all. Depressed, Al decided to spend the rest of his life in the basement, where he was treated to the same Arc Words Bud was earlier in the episode: "If you build it, he'll come." (Does it sound familiar?) But then the mysterious voice added: "If you want him to build it for you, press one."
Former Child Star:

In the episode, "You Better Shop Around" Jerry Mathers (known for Leave It to Beaver) guest stars, playing himself as a washed-up former child star, who has resorted to judging shopping contests in supermarkets. Bud and Kelly mercilessly mock him for this until he brought up the fact their Dad sells shoes for a living.
"How Green Was My Apple" also had Danny Bonaduce (from The Partridge Family) and Gary Coleman from Diff'rent Strokes trying to dodge their child star pasts with no success.

Formula-Breaking Episode: The three pilot episodes that had the Bundys in supporting roles; the Dream Episode where the Grim Reaper (who appears as Peg) haunts Al on Halloween after Al wishes he was dead; the fantasy episode where the Devil (played by Robert "Freddy Krueger" Englund) buys Al's soul after Al wishes he could play professional football; the 3D episode where Al is locked in a store; the war movie parody episode "T*R*A*S*H" where Al and Griff (Al's coworker in the later seasons) enlist in the National Guard and help quell a garbage strike.
Four-Temperament Ensemble:

The Bundys: Al (choleric/melancholic), Peg (sanguine/choleric), Kelly (phlegmatic/sanguine), Bud (melancholic/phlegmatic) and Buck/Lucky (leukine).
Other characters: Marcy (melancholic/choleric), Steve (phlegmatic/melancholic), Jefferson (sanguine/phlegmatic) and Luke/Griff (choleric/sanguine)

, and Seven (leukine)

Freudian Excuse:

It's implied in several episodes that Kelly's promiscuity stems from being starved for attention and treated as the Butt-Monkey in her own family (the episode where Al invents shoe-lights lampshaded this with Kelly's (who is being used as the guinea pig for shoe-lights) line: "'Kelly, this meat is green. Taste it to see if it's good.' 'Kelly, there's a noise downstairs. Go see if it's a burglar.' No wonder I run into the arms of strange men").
Marcy's hostile, Straw Feminist Strawman Political behavior is heavily implied to have been caused by her horrendous childhood and teenage years,where she was abused by her mother and relentlessly bullied by her more popular classmates, rejected by every man she had a crush on, abandonded by her husband, and so on. Her present day personality is implied to be an attempt at asserting control over her life in any way she can.

"Friends" Rent Control: The Bundys are perpetually cash-strapped, with only a single breadwinner who works a menial retail job. Their home is not in great repair, but it's a spacious multilevel house, and the family lives next door to a wealthy banker, so it must be a nice neighborhood.
Full-Name Basis: Bob Rooney is never called anything but Bob Rooney, even by his wife.
Fun with Acronyms:

NO MA'AM: The National Organization of Men Against Amazonian Masterhood (in one episode, this was changed to "Numb Old Men Anxiously Awaiting Mortician")
Also Marcy's counter-organization FANG: Feminists Against Neanderthal Guys.
At another point, Marcy and Peg started WOMB: Women Owe Men Bupkis.

Funny Background Event: Near the end of the fourth-season episode "Hot Off The Grill", after Kelly realizes that she accidentally put the ashes of Marcy's dead aunt in Al's BBQ grill and informs Bud, Peg, and Steve, their actions become this while Al and Marcy, oblivious to the truth and subsequent events taking place, chat between themselves and continue to consume the "Bundy burgers" (Peg, infuriated, chases and tries to strangle Kelly for her blunder, whereas Bud and Steve are scooping up the ashes off the grill to be re-deposited into Marcy's urn later).
Funny X-Ray: an episode has Jefferson in the hospital telling the story of how he got there by wanting to get a gift for his wife Marcy, culminating in his getting a tattoo that misspelled Marcy's name as Marty. Marcy's reaction is revealed at the episode's end when an x-ray of his rear end reveals shows the outline of a boot.
G-Rated Mental Illness: After being bitten by a particularly dangerous insect in an episode, Kelly graduates from her normal blonde ditziness to full-blown loon. She's still generally perky and happy, just completely removed from reality.
Game Between Heirs: There's an episode in which Al's Uncle Stymie, the only male Bundy to be a success in life (Al credits this to the fact Stymie was the only one who never married), left his $500,000 estate to the first male Bundy to have a legitimate son named after him. Considering that the lawyer who read the will would later marry a male Bundy and give birth to Stymie Junior to get the money, Al and the other Bundys who didn't get the money could have challenged the will under claims of undue influence.
Games of the Elderly: "And Bingo Was Her Game-O", Peg invites Marcy to go to a bingo hall for a weekly game. Naturally there are a few old people there, one of which is an unpleasant old lady that Marcy has to sit next to who snaps at her for even the slightest action (though Marcy gets even when Peg wins via yelling for the woman to shut up when she congratulates Peggy, which the woman had been doing to her through the game).
Gargle Blaster: Peggy tries serving Al a glass of orange...something that spews smoke everywhere.

Al:

...

Peggy:

Al...we thought you might be thirsty...so I made you some Tang.

Al:

...

Tang don't smoke

.

Kelly:

Oh! This is new and improved "Smoking Tang!" Chock full of vitamins and ministers!

Gay Moment: The (occasional) homoerotic tension between Al and Jefferson.

In one episode, Jefferson hugs Al in gratitude.

Al: Those better be dimes in your pockets.
Jefferson: [shrugs] Mostly.

A stronger, because more mutual, example, occurs in another episode when Al happens to graze Jefferson's hand when they're sitting next to each other on the couch.

Al: Jefferson, your skin is so soft.
Jefferson: Oh Al, you say the nicest things.
Al: Well, it's easy when I'm with you.
[they gaze into each others' eyes for a moment; then they catch themselves and start talking, in a much lower register, about the Chicago Bears' prospects for the season]

"Get Out of Jail Free" Card: Peggy usually gives Al a "Get Out Of Sex Free" card for his birthday.
Get-Rich-Quick Scheme: Al was continually hatching these. Given that he was, well, Al Bundy, they usually tended to blow up in his face. To be fair, most of these schemes involved shoes.
Gilligan Cut: Many times.

In one instance, Marcy was telling Al he needed to see a dentist due to his bad teeth, but Al reassures her that his teeth do not hurt and never have. Gilligan Cut to later in the night as Al screams "Now my teeth hurt!"
In the episode "Oldies but Young 'Uns", Al becomes obsessed with finding an old song. When he eventually sees it in a record store, the cashier says that it costs 60 dollars:

Peggy:

60 dollars?! For a record? Hey, look. You must look at my husband, and mistake crazy for stupid. He's not paying sixty dollars for a record, and if he does,

I'll kiss your

—

[cut to Al and Peggy entering their house, Al with the record in his hand, and Peggy wiping her mouth]

In an episode featuring the Bundys playing a board game with the D'Arcys, Al scoffs when a newly arrived Bud complains that a girl pushed him into jumping out of a plane, but still didn't sleep with him. Al jokes, "For a million dollars, I'd never jump out of an airplane!" Cue Peggy announcing that Al's game piece has landed on the "kiss the neighbor" space, swiftly followed by a horrified look on Al's face. The very next scene is Al on the same plane Bud jumped out of, only a Laughing Mad Al simply jumps out of the plane without even bothering to put on a parachute.
In "A Man For No Seasons", Al and the NO MA'AM guys are griping about the baseball strike. Al says that they don't need the pro players when they can play baseball themselves. He says they can even play at Wrigley Field, but one of the guys points out that it's private property and they probably can't use it. Al then wonders who would stop a bunch of great American guys from playing the great American game. The scene immediately cuts to the NO MA'AM guys in jail, with Al realizing that the police would probably stop them.

Glory Days: Al's many stories about how he "scored four touchdowns in one game".
Gold Digger: Peggy has displayed a willingness to dump Al for any man with higher earning potential. But she never actually does.

Peg, despite the fact that her husband has a crappy job. Gender Flipped by Jefferson, whose marriage to banker Marcy is based on this trope. One of the more subtle jokes in the series was that mortal enemies Al and Marcy are essentially in exactly the same situation when it comes to their spouses and that Al's best friend had all the flaws he complains about in his own wife.
It was acknowledged as well: one episode opens with Al coming home, and delivering a speech ostensibly to Peg about how he's been working all day while she just sits on the couch watching TV and munching bonbons. The camera then pans out to reveal that he's talking to Jefferson.
Also in an episode (one of Steve's last on the show) where Marcy was among those commiserating with Al and his bar buddies over working to pay for unappreciative families.
One episode had Marcy wanting to leave her husband because he didn't make as much money as he used to when he wanted to pursue his dream job, making her seem like this as well.
One of the episodes where Marcy got him a job, she told him she was tired of having him commenting about Oprah every time she gets home and that it was like being married to Peggy.

Go Mad from the Revelation: This happened to Al after he made the mistake of looking up when he had a fat woman in the chair at the shoe store and ended up seeing her underwear, which she hadn't changed in five days.
Gonk:

This was the type of woman Bud usually ended up attracting, much to his chagrin.
Peg's mother was implied to be this, although we were spared the horror of actually seeing what she looked like.

The Greatest Story Never Told: A race of space aliens use Al's used socks to power rockets that will destroy a comet that threatens their planet. It is told that there are songs still sung about Al's help on that planet, but neither Al nor anyone else on Earth even knows this happens. In fact, Al doesn't understand their language that his used socks would be used for fuel.
Green-Eyed Monster: "Torch Song Duet": Al is jealous of all of the praise Griff is getting after he helps him win a quiz show over the radio, which rewards Griff with the opportunity to carry the Olympic Torch in the mall.
The Grim Reaper: Unsurprisingly, Al associates Peg with her. The Reaper also appeared in one episode, played by a wigless Katey Sagal.
Gypsy Curse:

The Bundy family has multiple ones upon them. The eternal darkness in Lower Uncton is one of them, Al's smelly feet are another one, and the general successlessness of every Bundy in history is said to be yet another one. (Al's Uncle Stymie avoided the successlessness, which Al attributes to the fact Stymie never got married.)
And how about being turned into chimpanzees by a Gypsy's curse, while Buck was turned into a human (played by his usual voice actor).
H-M
N-S
T-Z