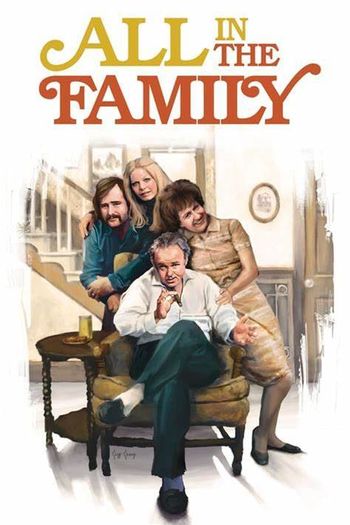 "Boy, the way Glenn Miller played
Songs that made the hit parade
Guys like us, we had it made
Those were the days!
And you knew where you were then
Girls were girls, and men were men
Mister, we could use a man like Herbert Hoover again
Didn't need no welfare state
Everybody pulled his weight
Gee, our old LaSalle ran great
Those were the days!"
— "Those Were the Days", the iconic theme song composed by Lee Adams and Charles Strouse and sung by Archie and Edith Bunker
A groundbreaking and controversial CBS sitcom from Norman Lear, based on the British sitcom Till Death Us Do Part. It aired from 1971 to 1979 (and on to 1983, if the run of Archie Bunker's Place is counted). The show has consistently been rated one of the greatest television shows of all time. It was the highest-rated show in the U.S. for five consecutive seasons between 1971 and 1976, and earned multiple Emmy and Golden Globe awards (as did each of its lead actors) as well as a Peabody during its run.
The show was, at its heart, a Dom Com focused around the Bunker family of Queens, New York and its titular head, Archie Bunker (Carroll O'Connor), an Unsympathetic Comedy Protagonist of the highest order. Archie was a blue-collar dock worker with conservative and broadly bigoted views which he was unafraid to voice at any opportunity. Archie's major foils were his wife Edith (Jean Stapleton), his daughter Gloria (Sally Struthers), and his son-in-law Mike Stivic (Rob Reiner). Mike, not-so-affectionately nicknamed "Meathead" by Archie ("You heard me. Meathead. Dead from the neck up. Meat... head."), was every bit as opinionated and vocal as Archie, but liberal and socially active. This usually resulted in a verbal sparring match between the two, with Mike's solid, intellectual, but sometimes idealized arguments clashing with Archie's stance, usually full of malapropisms and wayward logic but also with a closer personal relationship to the situation at hand and an ability to be so cleverly obtuse that Mike was unprepared to answer him. Around this, Edith simply wanted to avoid conflict, trying her sweet best to defuse the frequent conflicts and to just keep a peaceful home — no easy task when two of the people thrive on conflict.
From the start, All in the Family broke a large number of unwritten network rules, particularly with the issues which were considered acceptable to air on public TV. Archie's language was laced with epithets common on the street but never heard on television. Mike and Gloria, the Bunkers' daughter, made it clear that they had an active and enthusiastic sex life. Even the Bunkers' toilet was the first one heard actively used on air. As the show continued, it tackled a wide variety of taboo topics, either directly, or through the medium of Archie's debates with Mike and others. These included race relations, gender roles, homosexuality, war, economy, political current events, abortion, rape, child custody, and other issues that, if not new in the 1970s, were most certainly not brought up in a comedy show.
The impact of the show was such that it became the focus of a heated national debate on whether the use of comedy was an appropriate means by which to combat prejudice and social inequality. Never before had a situation comedy, light family fare for the most part, ever treaded such heady waters. Very few shows had tried to combine controversy and comedy before.
The show's success inspired quite a few spinoffs directly or indirectly resulting from the show or characters appearing during its run, and several of them were critical and commercial successes in their own right.
Maude (1972-1978)
The Jeffersons (1975-1985)

Which spun off Checking In (1981)

Archie Bunker's Place (1979-1983), an After Show focusing the location on Archie's bar.
Gloria (1982-1983), a spin-off starring only Gloria, the premise being that Mike left her to live in a hippie commune so she takes their kid and goes on a journey to find herself... In the Big City.
704 Hauser (1994), about an African-American family living in the former Bunker residence.
---
This show provides examples of:
open/close all folders
Tropes A-F
Tropes G-M
Tropes N-S
Tropes T-Z
---
"All in the Family" was recorded on tape before a live audience.
"Got a feelin' it's all over now...
All over now, we're through...
And tomorrow I'll get lonesome... rememberin' you!
Got a feelin' the sun will be gone...
The day will get long and blue...
And tomorrow I'll be cryin'... rememberin' you!"
The lyrics from the instrumental closing theme, "Remembering You", composed by Roger Kellaway.
---