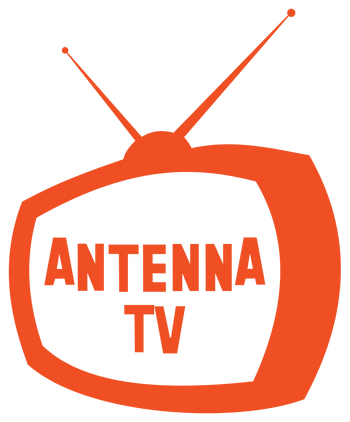 "Antenna TV, TV How It Was Meant to Be."
—
Gary Owens
, the network's original announcer from Antenna TV's launch in 2011 until his death in 2015.
Antenna TV is an American broadcast television network owned by Tribune Broadcasting that airs classic television series, largely sitcoms, which launched on January 1, 2011. Much of its programming comes from the libraries of Sony Pictures Television, DLT Entertainment (the production company behind Three's Company), 20th Television and NBCUniversal Television (which are shared with MeTV), as well as several shows from other libraries.
The network carries classic series that mainly originally aired between the 1950s and the 1980s, however it has also included a few series from the 1990s (such as Married... with Children, The Nanny and NewsRadio). Based in Chicago, where its chief rival Me-TV also originated, Antenna TV is named for its distribution model, as it is one of several networks available primarily through antenna reception on the digital subchannels of broadcast television stations, with most of its initial affiliates coming from the Tribune and Local TV, LLC station groups (the latter of which Tribune would acquire outright in 2013).
---
Current programming:
Former programming:
Antenna TV provides examples of:
As Himself: The network has been able to get surviving stars of series aired by the network to host marathons of the classic shows they've starred in (such as Tabitha herself Erin Murphy, who hosted a 50th anniversary marathon of Bewitched in 2015).
Credits Pushback: Originally averted; the network didn't (and still doesn't) even use an on-screen logo bugnote . However, Antenna TV began to gradually incorporate credit-to-show transitions across its schedule in May 2015 (with most of the Norman Lear-produced shows airing in primetime on weeknights remaining unscathed and its E/I content, so far). This went over like a lead balloon with a lot of viewers, leading to a Facebook petition for Antenna TV to start showing the closing credits of its shows full-screen and uninterrupted againnote .
Jingle: In 2016, Antenna TV began using retro radio-style jingles in their promos and bumpers, which sing the network's slogan: "Antenna TV -TV How It Was Meant To Be". These are based on jingles originally done for WNBC radio in the '80s by JAM Creative Productions.
---