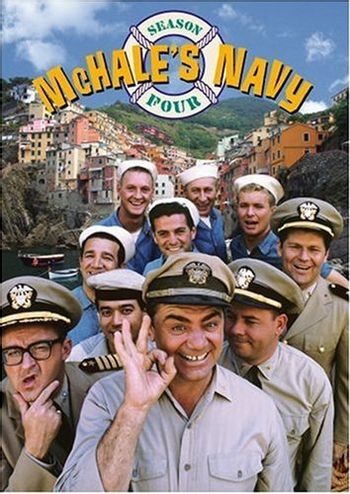 McHale's Navy is an American sitcom first aired on ABC in the 1960s, featuring the exploits of a Patrol Torpedo boat crew during World War II. Ernest Borgnine starred as Lt Commander Quinton McHale.
The series resulted in two movies, McHale's Navy (1964) and McHale's Navy Joins the Air Force (1965), and a Distaff Counterpart spin-off series, Broadside (1964, one season).
A new McHale's Navy movie was released in 1997, starring Tom Arnold as Quinton McHale Jr.
The series provides examples of:
Disguised in Drag:

One episode involves Binghamton tagging along with the crew of the PT 73, and getting Trapped Behind Enemy Lines in a Japanese encampment. In order to disguise themselves long enough to be rescued, they steal outfits from a traveling entertainment troupe. Binghamton has no choice but to dress up and act like a geisha.
Multiple episodes features Tinker dressing as a nurse or island native girl to serve as a distraction.
Retool: In its final season, the series moved from the Pacific theater to Italy.
Screw the Rules, I Have Connections!: Admiral Rogers and some of the other among the brass hold McHale in high regard and will take his side, or at least sympathize with him. One episode ended with Admiral Rogers walking in while Binghamton had irrefutable proof that would get McHale court-martialed. Rogers, upon hearing such accusations, just straight up dismisses the issue and chews out Binghamton for trying to get rid of one of his finest commanders. In another episode, Binghamton figures he can get rid of the crew for good, figuring there'd be no way the whole crew could pass a psychological test, and thus be rendered unfit for duty. Sure enough, Ensign Parker fails his test, but the psychologists sympathize with McHale, and find a way to turn the rules against Binghamton. In the end, they conclude that Binghamton has developed a persecution complex for always trying to get rid of McHale.
Screw the War, We're Partying!: Most of the episodes feature McHale and co spending their time goofing off, with them occasionally managing to contribute to the war effort by accident.
The 1997 movie provides examples of:
---