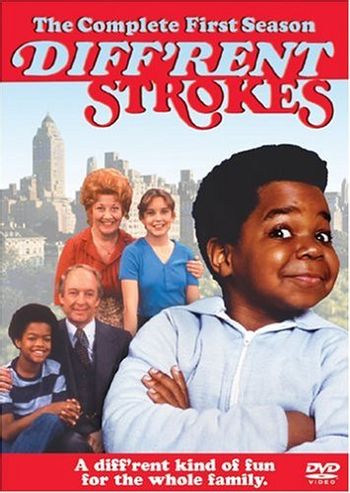 Now, the world don't move, to the beat of just one drum,
What might be right for you, may not be right for some,
A man is born, he's a man of means,
Then along come two, they got nothing but their jeans,
But they got Diff'rent Strokes,
It takes Diff'rent Strokes,
It takes, Diff'rent Strokes to move the world!
Theme song (first verse)
A proper white man adopts two street-wise black boys. Hilarity Ensues.
Diff'rent Strokes (1978–86) made a star of Gary Coleman as Arnold Jackson, the younger of the two boys. Todd Bridges was his older brother Willis and Conrad Bain was the proper white man, Phillip Drummond. As one of NBC's few late-'70s hits, it quickly launched a spinoff in The Facts of Life the following year. First Lady Nancy Reagan made a guest appearance in a Very Special Episode about drug abuse, and ABC's Webster was a Follow the Leader rival. Ironically, Diff'rent Strokes itself actually moved to ABC when it got canceled by NBC. The theme was co-written and performed by Alan Thicke.
Unfortunately, this show is best remembered now both for its special episodes and the unhappy fates
of its three child stars (Gary Coleman, Todd Bridges, and Dana Plato, who played Mr. Drummond's daughter). As of the current time, Todd Bridges is the last surviving original cast member of the show, (Danny Cooksey joined later, and has avoided the fates of his older co-stars), but it's such stories that the Former Child Star trope is built upon. Gary Coleman's is parodied in the musical Avenue Q.
---
Whatchu tropin' bout, Willis:
Borrowed Catch Phrase: Occasionally, someone else will use Arnold's "Whatchoo talkin' 'bout" catchphrase.
The Ghost: The Gooch, a bully at Arnold's school.
---