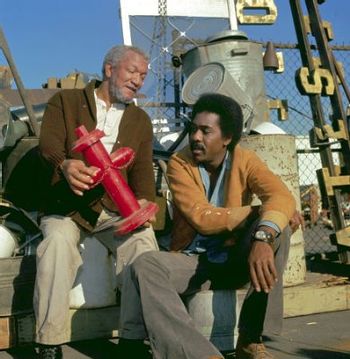 Lamont: You know what they say, the truth will set you free.
Fred: Your uncle Edgar told the truth, and the judge gave him six months.
An Americanization of the British sitcom Steptoe and Son, this series from Norman Lear is a Dom Com (of sorts) about a Grumpy Old Man and his long-suffering son who live in a rundown house situated in the middle of the Watts junkyard they operate. Hilarity ensues.
Redd Foxx and Demond Wilson played the title characters of Fred and Lamont Sanford from 1972 to 1977 on NBC and shared the screen with a number of memorable supporting players (notably Whitman Mayo as the forgetful Grady Wilson and LaWanda Page as Bible-thumping harridan Esther Anderson). The father-son duo engaged in frequent arguments about everything under the sun and truly got on each other's nerves, but despite the loud fights and constant disappointments the two remained devoted to each other. The series was one of the highest rated sitcoms of the 1970s before internal strife caused both Foxx and Wilson to walk away from the show in the spring of 1977; subsequent spinoffs and revivals failed to recapture the magic.
Redd Foxx's friend, Richard Pryor, co-wrote a couple of Season 2 episodes.
---
"Read the tropes, dummy!":
open/close all folders
A-G
H-R
S-Z
---