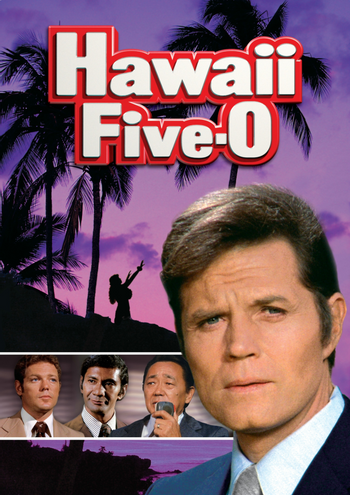 "Book 'em, Danno. Murder one."
— Steve McGarrett
Hawaii Five-O is a detective show set in Hawaiʻi, centered on the fictitious "Five-O" elite state police unit (a reference to Hawaii's status as the 50th state admitted to the United States) led by former Navy officer Steve McGarrett, as played by Jack Lord.
Running from 1968 to 1980, this show is synonymous with Hawaii, and its iconic theme song (which became a hit single for The Ventures) is regularly played by the University of Hawaii marching band
at home games for Hawaii sports teams. Appropriately, the overwhelming majority of the show was shot on location in Hawaii, only occasionally using studios in Los Angeles or other locations as called by episode plots. The show is currently available via various broadcast stations on syndication, on DVD, or streaming from CBS' websitenote only if you're in the US, however. As a testament to the show's influence, "Five-O" is still a widely used slang term for "police."
A pilot for a prospective revival series (produced by Stephen J. Cannell and starring Gary Busey, with James MacArthur's Danny appearing as the new Governor) was produced in 1997 but never aired. A completely re-imagined series, titled Hawaii Five-0 (with a zero, not an "O"), ran for a decade, 2010-20.
---
"Danno, I want the book on these Tropes..."
---
---