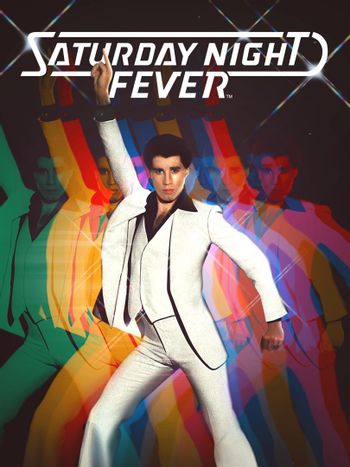 And that sweet city woman,
She moves through the light,
Controlling my mind and my soul.
When you reach out for me
Yeah, and the feelin' is bright,
Then I get night fever, night fever.
We know how to do it.
Saturday Night Fever is a 1977 film starring John Travolta in the role that made him a superstar.
The film centers around Tony Manero, a young Italian-American from Brooklyn who likes to spend nights dancing at a local nightclub; his would-be girlfriend and dance partner Stephanie; his unrequited love interest Annette; and their various friends and cohorts.
But the film is mostly remembered for being a reflection of the Disco era at its height in New York in The '70s, and the Unbuilt Trope of the modern dance flick. Subsequently, the film sparked a national Disco craze that didn't die out until the onset of The '80s. Thus, Saturday Night Fever remains a late-Seventies period piece, such as it is. Critic Gene Siskel's favorite movie of all time, its influence has been felt directly and indirectly across many later films, especially in terms of the poster's iconic finger-in-the-air pose.
And it's got Travolta dancing.
Not surprisingly, the soundtrack album to the film is one of the best-selling releases of all time, featuring tracks from The Bee Gees, Walter Murphy, K.C. & the Sunshine Band, and others — it ended up as the most popular album in history for a while, only unseated after Michael Jackson released Thriller.
A sequel titled Staying Alive was released in 1983. It didn't do as well with the critics, especially since director/co-writer Sylvester Stallone also decided to heavily feature his brother Frank on the soundtrack. However, the original movie's adaption as a musical for the stage in 1998 became an international success, still running in various productions. Has an unofficial quasi-sequel in the 2008 Chilean film Tony Manero as well, which is about a creepily obsessed fan of the original movie.
---
Saturday Night Fever provides examples of the following tropes:
---