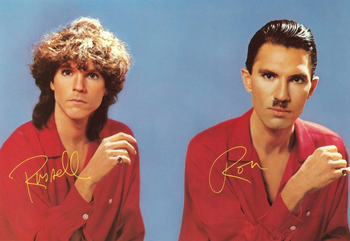 "Envision berets, tennis shorts, absurdist French comedy, espresso, faux luxury, fake English accents and a Hitler moustache, and some kind of picture will form that approximates the genius that is the first five Sparks albums."
—
Don Pyle
, 2008
Sparks are an American band who formed in 1970 in Los Angeles and are still active today. The band officially consists of only brothers Ron (keyboards, songwriting, questionable mustache) and Russell Mael (vocals), but over the years they have accumulated a large amount of ex-members and session musicians. The duo's style is characterized by their whimsically over-the-top songwriting, their funny, witty lyrics, Russell's falsetto, and a quirky stage presence which plays with the contrast between Russell's hyperactive attitude and Ron's deliberately stiff and taciturn stage persona. The quiet keyboardist/expressive lead singer combo would prove a major influence on Synth-Pop duos.
The group initially formed under the name Halfnelson, but changed it to Sparks shortly after the release of their debut. After releasing two quirky, Zappa-esque albums that were largely ignored in their homeland, the Maels decided to try their luck on the other side of the Atlantic and relocated to England. It was there that they reached their critical and commercial peak in 1974 with third album Kimono My House, a fusion of glam-rock and dance-pop sensibilities with wry and clever stories, which spawned a surprise number two hit single with their Signature Song "This Town Ain't Big Enough For the Both Of Us".
They followed it up with Propaganda the same year and the more eclectic Indiscreet the next to continued success, after which they returned to the United States starting with the more straightforward Rock sound of Big Beat. During the next few decades they would go on to make over a dozen albums in which they would flirt with many different genres, including disco with No. 1 in Heaven (produced by Giorgio Moroder) and a New Wave/Synth-Pop period in the '80s (Angst In My Pants, Pulling Rabbits Out of a Hat, Interior Design).
They had brief resurgences of popularity (especially in Europe) with 1979's No. 1 in Heaven, 1980's Terminal Jive (which made them One Hit Wonders in France with "When I'm With You") and 1994's Europop-tastic Gratuitous Sax and Senseless Violins. The release of the New Sound Album Lil' Beethoven in 2002 (ahem) sparked renewed global interest and acclaim. Since then, the band has been making music that's a mocking combination of House Music, Progressive Rock, Baroque Pop and straight-up classical music. The new style paved the way for a productive decade that resulted in the rock-oriented follow-ups, Hello Young Lovers and Exotic Creatures of the Deep, as well as The Seduction of Ingmar Bergman, a musical Ron and Russell composed for a Swedish radio station.
The band underwent a Two Hands, One Mouth tour in 2012, stripping their music back to Ron's keyboards and Russell's vocals to great success. Their first live album, culled from the tour, followed in 2013. The Revenge of Two Hands, One Mouth Tour followed shortly after.
In 2014 they formed FFS with their Post-Punk big-name fans Franz Ferdinand and released a self-titled album in 2015, followed by a tour. They released Hippopotamus in 2017, returning their sound to clever, literate (and often darkly humorous) pop.
In 2021, they returned to the big screen as subjects of The Sparks Brothers, a biographical documentary directed by Edgar Wright, and the film Annette, a collaboration with director Leos Carax, with the pair writing the story, songs and music.
In 2023, they re-signed with Island Records 49 years after their breakthrough on that label. Their 25th album, The Girl Is Crying in Her Latte, was released on May 26, 2023.
Despite being criminally overlooked during much of their career, the duo are hugely regarded in musician circles (Morrissey, They Might Be Giants, Nirvana, Björk, Ween, Sonic Youth, The Ramones, Duran Duran, Depeche Mode, Def Leppard, New Order, Faith No More, The Pixies, Franz Ferdinand, and "Weird Al" Yankovic are some of their most notable admirers, and Jonathan Ross calls them "possibly the greatest band on the planet"), and their music was crucial to the development of Punk Rock, New Wave Music and Synth-Pop.
Discography:
Sparks / Halfnelson (1971)
A Woofer in Tweeter's Clothing (1972)
Kimono My House (1974)
Propaganda (1974)
Indiscreet (1975)
Big Beat (1976)
Introducing Sparks (1977)
No. 1 in Heaven (1979)
Terminal Jive (1980)
Whomp That Sucker (1981)
Angst in My Pants (1982)
In Outer Space (1983)
Pulling Rabbits Out of a Hat (1984)
Music That You Can Dance To (1986)
Interior Design (1988)
Gratuitous Sax & Senseless Violins (1994)
Plagiarism (1997) - Cover Album/tribute album of their older songs
Balls (2000)
Lil' Beethoven (2002)
Hello Young Lovers (2006)
Exotic Creatures Of The Deep (2008)
The Seduction of Ingmar Bergman (2009)
FFS (2015) - Self-titled album of collaborative band with Franz Ferdinand
Hippopotamus (2017)
A Steady Drip, Drip, Drip (2020)
The Girl Is Crying in Her Latte (2023)
---
You've got tropes in your pants:
---
"...and brother, I ain't gonna leave."
---