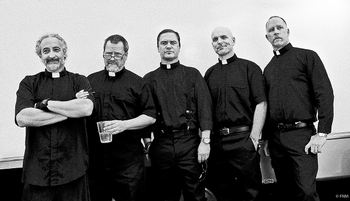 Introduce yourself! Right on!
Introduce yourself! Right on!
Introduce yourself! Right on!
Introduce yourself! Right on!
Faith No More is an Alternative Metal band formed in San Francisco, California in 1981 by bassist Billy Gould, keyboardist Wade Worthington, vocalist Mike Morris and drummer Mike Bordin. A year later, Wade Worthington was replaced by keyboardist Roddy Bottum and Mike Morris was ousted. After going through a series of singers which included Courtney Love, the band was joined by Chuck Mosley in 1983. The same year, Jim Martin was recruited to replace guitarist Mark Bowen. After a long, long time spent changing the lineup before, eventually, Chuck Mosley was replaced by Mike Patton, and the band found massive success with their third album, The Real Thing, which contains their best-known song "Epic".
The band is best known for combining elements of Heavy Metal, Funk, Progressive Rock, Hip-Hop, Hardcore Punk, and Jazz, among many, many, many, many others, and is considered one of the most influential rock bands of modern times, "Epic" having massively influenced the Nu Metal genre.
They broke up in 1998 but reformed, triumphantly, in 2009. Their seventh album, the first in 18 years, followed in May 2015.
The band suffered its first Author Existence Failure on November 9, 2017 when Chuck Mosley passed away due to a suspected heroin overdose.
Oh, and apparently they are destined to one day found the "Faith No More Spiritual and Theological Center".
Discography:
We Care a Lot (1985)
Introduce Yourself (1987)
The Real Thing (1989)
Angel Dust (1992)
King for a Day... Fool for a Lifetime (1995)
Album of the Year (1997)
Sol invictus (2015)
---
(We care a lot!) About listing tropes regarding this band:
---