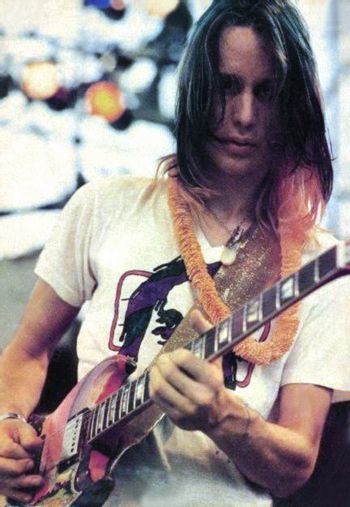 "I only want to see if you'll give up on me,
But there's always more."
— "International Feel"
Todd Harry Rundgren (born June 22, 1948 in Philadelphia, Pennsylvania) is an American singer-songwriter, multi-instrumentalist and record producer, known for his eclectic, experimental style, incredibly prolific recording and quirky sense of humor. While he's dabbled in numerous styles and has experimented a lot with his material, he largely operates within a few rock subgenres, namely: Power Pop (coincidentally, the one he made his initial name in), Hard Rock, Progressive Rock, Electronic/Club and R&B (classic R&B). His mix and match musical genres approach, dabbling in True Art Is Incomprehensible, cult following and emphasis on humour has earned him occasional comparisons to Frank Zappa.
Rundgren started his career as a guitarist and vocalist in the Psychedelic Rock band (The) Nazznote nothing to do with that other Nazz - their name comes from "The Nazz Are Blue" by The Yardbirds, which he founded in 1967 alongside keyboardist and vocalist Robert Antoni, bassist Carson Van Osten, and drummer Thom Mooney. Their first album, Nazz, showcased Rundgen's composing and arranging talents as well as the band's heavily derivative, Promoted Fanboy style – they sounded like a cross between The Beatles, The Who, Cream and The Yardbirds. It spawned a minor hit single, "Hello It's Me", and didn't go much anywhere. A planned double album followup was shortened to a single LP, Nazz Nazz, released a year later. Nazz Nazz showed the band somewhat abandoning its psychedelic trappings and concentrating on catchy, if still not too groundbreaking, Power Pop. Rundgren left the band shortly after, as his newfound love of Carole King, Laura Nyro, and soul music and the resulting material he was writing no longer fit with the band's sound. The Nazz disintegrated shortly thereafter, and an album of the heavily Nyro-influenced material left over from previous sessions was released, imaginatively titled Nazz III. Antoni and Mooney briefly ended up joining Fuse – an extremely early incarnation of Cheap Trick which played throughout the Midwest billed either as "Fuse" or "Nazz" – before practically vanishing from the music industry.
Rundgren officially began his solo career in 1970, and has been going steady ever since with his musical mashups and quirky lyrics. While Power Pop and Hard Rock have remained the primary genres he operates in, at various points he's experimented with Psychedelic Rock, Progressive Rock (both solo and with his band Utopia), Jazz Fusion, New Wave Music, Soul, Techno, Electronic Music and others. Predictably, he has a very sizeable Fandom but has enjoyed only a few, fleeting moments of mainstream success, most notably the singles "Hello It's Me" (a 1972 upbeat reworking of the Nazz song), "I Saw the Light", "Can We Still Be Friends", "We Gotta Get You a Woman", and "Bang the Drum All Day". (Utopia's best known song is almost certainly either "Love Is the Answer" or "Set Me Free".) His massive output, both solo and with Nazz and Utopia, can be a frequent source of both Archive Panic and Seasonal Rot.
He is also known for being an early adopter and innovator in the domains of Music Videos and use of computers: his video for "Time Heals" was one of the first to be aired on MTV, he developed one of the first computer paint programs for the Apple II, Utopia Graphics System, way back in 1981, he was an early adopter of the desktop video program Video Toasternote the same hardware responsible for most of the CGI in Babylon 5 for Amiga in The '90s, and was one of the first people to distribute his work online, long before iTunes or even Napster, through a subscription service, PatroNet, in the mid-nineties.
Rundgren returned to the band format through the foundation of Utopia in 1973. In its initial incarnation, Utopia was a six-piece ensemble with Rundgren, Kevin Ellman (percussion), Mark "Moogy" Klingman (keyboards), M. Frog Labat (Jean Yves Labat, synthesizers), Ralph Schukett (keyboards), and John Siegler (bass and cello). Their output was largely formed of long, jammy Progressive Rock instrumentals that brought a mixed critical reception (however, Utopia's début album, Todd Rundgren's Utopia, was its second-best selling album, only surpassed by Adventures in Utopia, and is considered by many Progressive Rock fans to be a Cult Classic). By 1976, Rundgren revamped Utopia and reduced it to a four-piece band consisting of him, Kasim Sulton (bass, vocals), Roger Powell (keyboards, vocals) and Willie Wilcox (drums, vocals). They also switched to a catchy, mainstream pop/Hard Rock sound, bringing them critical and commercial success. They carried on for a while, leaning increasingly towards Pop and New Wave Music, before calling it a day in 1986.
Alongside his solo career and work with bands, Rundgren is also known as a Record Producer, having produced albums for such acts as Sparks, New York Dolls, Badfinger, The Band, Grand Funk Railroad, Meat Loaf, Bonnie Tyler, Patti Smith, The Tubes, XTC, Bad Religion, Cheap Trick, The Psychedelic Furs, Daryl Hall & John Oates, and so on. Some of the bands have claimed that working with him was difficult and he acted like a Jerkass, most famously XTC, Sparks, and Bad Religion. However, he has also produced many artists' most successful albums, such as XTC's Skylarking, Grand Funk Railroad's We're an American Band and Meat Loaf's Bat Out of Hell, and even though they consistently argued throughout the album's production, XTC's Andy Partridge later wrote that "Todd conjured up some of the most magical production and arranging conceivable." He has also been known to complete an act's unfinished songs, but decline a writer's credit for doing so.
---
Discography:
With Nazz:
Nazz (1968)
Nazz Nazz (1969)
Nazz III (1970)
Solo:
Runt (1970; Power Pop)
Runt. The Ballad of Todd Rundgren (1971; Baroque Pop)
A Wizard, a True Star (1973; Psychedelic Rock, Progressive Rock)
Todd (1974; Progressive Rock)
Initiation (1975; Progressive Rock)
Faithful (1976; Power Pop, Cover Album)
Hermit of Mink Hollow (1978)
Healing (1981; New Wave Music, Power Pop, Synth-Pop, Progressive Rock)
The Ever Popular Tortured Artist Effect (1983; New Wave Music)
A Cappella (1985; Exactly What It Says on the Tin)
Nearly Human (1989)
2nd Wind (1991; Live Album)
With a Twist (1997; Bossa Nova, Rearrange the Song)
Up Against It (1998)
One Long Year (2000; Power Pop)
Arena (2008; Arena Rock)
Todd Rundgren's Johnson (2011; Cover Album)
(re)Production (2011; Cover Album)
Runddans (2015; collaboration with Emil Nikolaisen and Hans-Peter Lindstrom)
White Knight (2017; largely comprised of collaborations with other artists, such as Trent Reznor, Donald Fagen, Joe Walsh, and Joe Satriani)
Space Force (2022, an all-collaboration album with appearances from such artists as Sparks, Thomas Dolby, and The Roots)
With Utopia:
Notable albums produced by Todd Rundgren:
---
"Tryin' to make a livin' off an elpee's worth of tropes":
For that matter, "Slut" could be considered a less serious take on the trope.
---