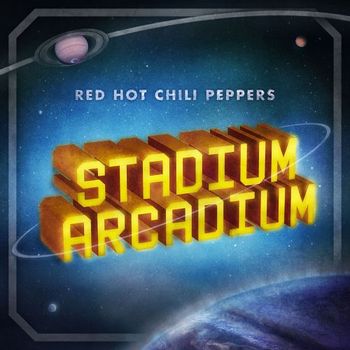 Stadium Arcadium is the ninth studio album released by Red Hot Chili Peppers in 2006. It is the band's first (and so far, only) double album, with a whopping twenty-eight songs distributed between two discs. Nevertheless, it debuted at #1 on the Billboard Hot 200 and received massive critical and commercial success. It won five Grammy Awards, including Best Rock Album, Best Rock Song, and Best Rock Performance (the latter two accolades were both achieved by lead single "Dani California").
The band had initially recorded 38 songs and planned to release three separate discs six months apart, but decided instead to condense the songs into a single two-disc album while the leftovers became B-sides. Word of God maintains that it is a Concept Album, with each disc corresponding to a planet; the first disc represents the planet Jupiter and the second one represents Mars, while the unreleased third disc was to represent Venus.
The band agreed that the chemistry between its members was at its peak during the recording of this album (as opposed to previous sessions where one member would generally be the dominant creative force), and bassist Flea even stated that this was his favorite album out of all of them. After the album promotion tour, the band took a two-year hiatus during which they pursued other interests. Guitarist John Frusciante left the band amicably in 2009 and returned ten years later, during which he was replaced by Josh Klinghoffer, at his own suggestion.
---
open/close all folders
CD 1: "Jupiter"
"Dani California" (4:42)
"Snow (Hey Oh)" (5:37)
"Charlie" (4:37)
"Stadium Arcadium" (5:15)
"Hump de Bump" (3:33)
"She's Only 18" (3:25)
"Slow Cheetah" (5:19)
"Torture Me" (3:44)
"Strip My Mind" (4:19)
"Especially in Michigan" (4:00)
"Warlocks" (3:25)
"C'mon Girl" (3:48)
"Wet Sand" (5:09)
"Hey" (5:39)
CD 2: "Mars"
"Desecration Smile" (5:02)
"Tell Me Baby" (4:07)
"Hard to Concentrate" (4:02)
"21st Century" (4:22)
"She Looks to Me" (4:06)
"Readymade" (4:30)
"If" (2:53)
"Make You Feel Better" (3:52)
"Animal Bar" (5:26)
"So Much I" (3:44)
"Storm in a Teacup" (3:45)
"We Believe" (3:36)
"Turn It Again" (6:06)
"Death of a Martian" (4:24)
CD 3: "Venus" (B-side compilation)
"Million Miles of Water" (4:05)
"Whatever We Want" (4:48)
"Lately" (2:56)
"A Certain Someone" (2:26)
"Mercy Mercy" (4:02)
"Funny Face" (4:48)
"I'll Be Your Domino" (3:58)
"Joe" (3:55)
"Save This Lady" (4:20)
---
Principal Members:
Flea – bass, backing vocals, trumpet
John Frusciante – guitars, backing vocals, keyboards
Anthony Kiedis – lead vocals
Chad Smith – drums, percussion
---
Tropium Indexium:
Alliterative Title: "Million Miles of Water", "Whatever We Want", "Funny Face".
Break Up Song: "Hey", which is can also be viewed as a subversion, since the narrator obviously doesn't want to leave:

Hey, oh yeah, how long, I guess I gotta walk away
Hey, oh yeah, so long, whatcha gonna do today [...]
Hey, what you say if I stayed, stay for a while if I may
Say it again and I'll come around, but not for the last time

Careful with That Axe: "Torture Me".
Concept Album: Sort of. The whole planet imagery relates to the spacey, psychedelic theme of the songs at certain moments, but doesn't really unite the album as a whole.
Content Warnings: The band actually averted the "Parental Advisory" sticker for the first time. However, "Tell Me Baby" does have a "shitty" concealed during its rap verses; "She's Only 18" has the cringeworthy lines "You've got some glitter on your titty at the discotheque/I throw my lovin' in your oven not a head to check"; and "21st Century" has the band singing (rather loudly) "Oral sex and bird migration" in the final verse. The committee still didn't deem it explicit for some reason.
Concept Video:

"Dani California" had the band dress up as affectionate parodies of nine different artists who represented their musical influences, before culminating in the band's present-day attire.
Also "Hump de Bump", which even had Chris Rock as the director. It was taken on the set of "Everybody Hates Chris", his TV show, and even featured a cameo from him.

Epic Rocking:

The two-minute guitar solo on "Turn It Again", complete with four separate guitar tracks interweaving each other.
The last minute of "Slow Cheetah" had a long, avant-garde psychedelic jam at the end.

The Four Chords of Pop: "Snow (Hey Oh)."
Genre Roulette: In the music video of "Dani California", directed by Tony Kaye, shows the band dressing up in various costumes that chronologically show a history of rock music. Among the genres that pass by are Rockabilly, Rock & Roll, British Invasion, Psychedelic Rock, Funk, Glam Rock, Punk Rock, Goth Rock, Hair Metal and Grunge.
Grief Song: "Dani California", about the title character born into a life of crime before being killed by a bounty hunter.

"Joe", which is about Joe Strummer of The Clash:

Stand up, turn around, beat it out, you gotta sound, Joe
Swing low, and now I know, it's hard to let a brother go, Joe

Also "Death of A Martian", about Flea's dog.

Horrible Hollywood: It's less obvious than the title track of Californication, but "Tell Me Baby" counts. It's about how people get swept under the rug in Hollywood's mad race to choose up-and-coming starlets and musicians.
I Can't Do This by Myself: "Snow ((Hey Oh))":

Come to decide that the things that I tried
Were in my life just to get high on
When I sit alone, come get a little known
But I need more than myself this time

Iconic Song Request: During the promotion tour, the band often left their signature songs, "Give it Away" and "Under the Bridge" from Blood Sugar Sex Magik, off of their setlists. They did this in order to focus on their new material more, but it still didn't sit well with audiences.
Intercourse with You: "She's Only 18", "C'mon Girl", "I'll Be Your Domino", "If", and to a lesser extent "She Looks To Me". However, these songs are much, much more gentle and metaphorical than what the band is normally known for; "C'mon Girl" is really about exploring someone you love to have really good sex.
Knuckle Tattoos: Flea has "LOVE" etched onto the knuckles of his right hand. This is actually mentioned in the lyrics of "Charlie":

Everybody do the twist
Get the message off Flea's fists

Last Fertile Region: "Animal Bar", which is more of a metaphor for practicing meditation to get closer to your soul:

Raindrops will fall from the sky
Stealing their shape from your eye
Now we can all get some sleep
The water, the water, the water saving us from the heat

Listing Cities: "Dani California", though it's more of a "listing states" thing.

Gettin' born in the state of Mississippi
Papa was a copper and Mamma was a hippie
In Alabama, she was swingin' hammer
Price you gotta pay when you break the panorama[...]
Black bandana, sweet Louisiana
Robbin' on a bank in the state of Indiana

"Readymade". Anthony apparently has a "Brother making trouble in the state of California" and is "Going to rockin' to The Ramones in the city of Ramona". Hmmm.

Loudness War: This picture◊ shows just how loud the CD version of the album is compared to the vinyl version. Granted, this album doesn't have the clipping problems notorious in Californication, but it still got complaints from lots of listeners.
Love Nostalgia Song: "Million Miles of Water", which could be a reference to Anthony's previous girlfriend, Claire Essex.
Love Redeems: The most potent example is probably "Wet Sand." Flea stated in an interview that it's about the dark side of love and its redeeming qualities.

My sunny side has up and died, I'm betting then when we collide
The universe will shift into a low
The travesties that we have seen are treating me like Benzedrine
Automatic laughter from abroad [...]
You don't form in the Wet Sand, you don't form at all
You don't form in the Wet Sand, I do

Ode to Sobriety: "Snow" is a type 3.
One-Man Song: "Charlie" and "Joe"
One-Word Title: "Warlocks", "Hey", "Readymade", "If" and "Lately".
Phrase Salad Lyrics: The long poem at the end of "Death of a Martian" takes the cake. Anthony even stated that he didn't even write it specifically for the song; he just dug it out of his notebook and changed some lines around to fit the meter.
Rearrange the Song: "Desecration Smile" was performed at the Bridgefoot School Benefit in 2004, two years before its appearance on Stadium Arcadium. At the insistence of Record Producer Rick Rubin (who claimed in turn that Sir Paul McCartney had in fact given him the idea), the band changed the chorus and bridge for the album version.
Record Producer: Rick Rubin. They even recorded the album in the same studio in which they recorded Blood Sugar Sex Magik, called The Mansion (which Rick Rubin now owns).
Recurring Character: "Dani" was a character vocalist Anthony Kiedis invented in "Californication", continued in "By the Way", and finally concluded in "Dani California" of this album.
Series Fauxnale: This album was meant to be one, since the band had decided they had written everything they wanted to and John Frusciante left in 2009. However, they decided to keep on going.
Short Title: "If". It's also the shortest song on the album.
Shout-Out:

Chock full of these in the aforementioned "Dani California" video. Among the artists they dress up like are Elvis Presley, The Beatles, Jimi Hendrix, Cream, Parliament and Funkadelic (Flea dressed up as Bootsy Collins, complete with UFO landing on stage, as was common in their shows), David Bowie (in his Ziggy Stardust period, Slade, Sex Pistols, The Misfits, Poison, Nirvana and themselves. The most notable one is probably the shout-out to Kurt Cobain during the line "It only hurts when I laugh/Gone too fast...", which mimicks the MTV Unplugged in New York concert.
Also in "Warlocks", which references the band's fanbase and its various influences.

Silly Love Songs: "Funny Face":

You're my angel, baby, you're my darling, you're my star
Lo lo lo lolita let her see me deep in love
Every single little princess needs a crown
Make more of life, just settle down

Singer Name Drop: In addition to the aforementioned namedrop on "Charlie", Anthony calls "Oh, clean it up, Johnny!" right before Frusciante does his awesome solo on "Readymade".
Songs of Solace: The title track:

Alone inside my forest room and it's storming
I never thought I'd be in bloom, but this is where I start [...]
The Stadium Arcadium, a mirror to the moon
I'm forming and I'm warming, state of the art until the clouds come crashing

Special Guest: The Mars Volta guitarist Omar Rodríguez-López, who collaborated with Frusciante a few times, does the solo on "Especially in Michigan". Film director Gus Van Sant once again did the art direction, like he did for other albums by the band before.

Billy Preston, who is sometimes considered to be "the fifth Beatle", provided clavinet work on "Warlocks". Interestingly enough, he was very ill and bed-ridden (battling kidney disease) when someone played him a recording of the song and requested his clavinet work. As soon as he heard the funky beat, he jumped out of bed, recorded his piece, and went back to sleep. It was one of the last recordings he did before his death.

Turn of the Millennium: "21st Century", which goes on about all the depravities and issues the world is facing (sex, drugs, violence, global warming), but is still somehow optimistic, since the band is sure that humanity will find a way through these problems.

There's a reason for the 21st century
Not to sure but I know that it's meant to be
---