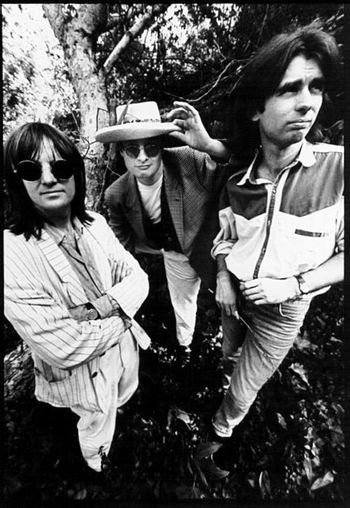 "Drowning here in summer's cauldron
Under mats of flower lava
Please don't pull me out, this is how I would want to go"
— "Summer's Cauldron"
XTC were a long-running cult favourite Alternative Rock band from Swindon, active between 1976-2006. From 1982 to 1998, the band had the following core members:
Andy Partridge - vocals, guitar
Colin Moulding - vocals, bass
Dave Gregory - guitar, keyboards, string arrangements, backing vocals
The band's other two initial members were keyboardist Barry Andrews (who left after two albums in 1979 and was replaced by Gregory; Andrews wound up joining Robert Fripp & The League of Gentlemen shortly thereafter and later formed his own group, Shriekback), and drummer Terry Chambers (who left in 1983 when the band's retirement from touring severely cut into his income, and was replaced by a series of session musicians for each album).
XTC throughout their existence were based around the two main songwriters, Partridge and Moulding. Their initial style was a frantic, hyperactive variation of New Wave that added in elements of Funk, Punk Rock, Ska and Reggae. This stylistic fusion found favour with the contemporary Punk Rock movement, and the band gained some success with its first two albums.
Andrews' resignation from XTC in 1979 and replacement with Gregory proved to be a pivotal moment in the band's career, as Gregory's sixties-influenced guitar style steered the band towards its later sound, and his invaluable contributions to the band's albums helped drive Partridge and Moulding to new musical heights. For a while after Gregory's arrival, the band got slightly more attention from the mainstream and managed to score a few hits, such as the goofy, Moulding-penned single "Making Plans for Nigel" and Partridge's "Senses Working Overtime" and "Sgt. Rock is Going to Help Me".
The band retired from touring definitively in 1982 after Partridge suffered a severe mental breakdown, forcing their world tour to be cancelled. They remained studio-bound for the rest of their career, making occasional live appearances on radio and television (like a 1989 appearance on Late Night with David Letterman where Partridge looks absolutely uncomfortable
). In response to the loss of touring income, Chambers left and moved to Australia. Partridge, Moulding and Gregory didn't bother to replace him, instead recruiting session drummers on an album-per-album basis. These drummers have included: Pete Phipps (Gary Glitter, Eurythmics), Prairie Prince (The Tubes), Dave Mattacks (Fairport Convention), Pat Mastelotto (Mr. Mister, King Crimson) and Dave's brother Ian Gregory.
Once Chambers left, the group completely changed their style, with the dreamy, pastoral folk-rock of Mummer serving as arguable New Sound Album. From that point on XTC became a full-blown Psychedelic Rock band, taking production cues from The Beatles (and The Beach Boys), jangly guitars from The Byrds and idiosyncratic, humorous lyrics critical of society from The Kinks. Soon afterwards, XTC recorded the album commonly regarded as their masterpiece, Skylarking. Besides critical accolades, Skylarking managed to gain them a controversial hit single as well, the Beatlesque rock of "Dear God", where Partridge basically embarked on a long Nay-Theist Smite Me, O Mighty Smiter rant, railing against God's horrendous, callous treatment of humanity. God was so incensed by Mr. Partridge's display of testicular virility that he personally purchased 250,000 copies of Skylarking.
Around the same time, XTC recorded some outright Psychedelic Rock Affectionate Parodies, under their alter egos The Dukes of Stratosphear. As The Dukes, the band released an EP, 25 O'Clock (1985), and an album, Psonic Psunspot (1987), where they were all credited under Stage Names (Partridge was Sir John Johns, Moulding was The Red Curtain and Gregory was Lord Cornelius Plum) and did their damnedest to pass the material off as genuine Sixties psychedelia. The EP and album were initially available on vinyl only, but simultaneous with the album the two were compiled as Chips from the Chocolate Fireball on CD only. It wasn't until 2009 that the original works were released on CD separately, with bonus tracks and credited to XTC as The Dukes of Stratosphear. The Dukes were also jokingly thanked in the Skylarking liner notes for allowing XTC to borrow their instruments.
This wasn't the first time the band recorded material under pseudonyms:
Partridge had released a solo album in 1980 as "Mr Partridge", Take Away/The Lure of Savage, featuring dub reconstructions of XTC songs. These experiments were later collected on the Explode Together: The Dub Experiments 78-80 compilation.
Moulding and Chambers recorded the "Too Many Cooks in the Kitchen" single under the name "The Colonel" the same year.
They recorded a Viz promotional single as "Johnny Japes and his Jesticles".
They recorded the 1983 Christmas single "Thanks for Christmas" as "The Three Wise Men".
They also appeared on their own tribute album Testimonial Dinner as "Terry and the Lovemen"; Instead of covering one of their own songs, they contributed "The Good Things", a song that was cut from Oranges and Lemons.
Aside from the Dukes credit, the Skylarking liner notes also humorously credited "the Beech Avenue Boys" (actually the band and Todd Rundgren) with backing vocals.
Benefiting from renewed attention, XTC managed to revive their commercial fortunes with their next two energetic Psychedelic Rock albums, Oranges and Lemons and Nonsuch, gaining three more hit singles from them: "The Mayor of Simpleton" and "King for a Day" from the former and "The Ballad of Peter Pumpkinhead" from the latter. However, they became embroiled in a long contractual dispute with their label Virgin Records and went "on strike" until they were released from their contract in 1998.
Now independent and benefiting from a large settlement obtained from Virgin (Partridge had discovered the label withheld substantial royalties from them), XTC formed their own record label and Partridge and Moulding installed recording studios in their own homes. A double album of material written during the dispute named Apple Venus was planned, which was eventually released in two volumes in 1999 and 2000, the second album containing their last major single, "I'm the Man Who Murdered Love". However, the band experienced a new setback when Gregory left in 1999 due to a conflict with Partridge and Moulding. Their fanbase became absolutely incensed by this announcement, with fans slamming Partridge and Moulding for forcing Gregory's departure. (He and brother Ian Gregory would reunite with Moulding and Partridge in 2003 for a charity single as The Dukes of Stratosphear.)
The band itself disintegrated by the mid-2000s due to Moulding's decreasing contributions and lack of interest, with Partridge officially announcing XTC's breakup in 2006. After some on-and-off squabbling over the ensuing decade-plus, Partridge, Moulding and Gregory have now said (in separate interviews) that they are back to being on more-or-less friendly terms, although they have no intention of working together again.
Two spin-off projects that reunited former XTC members occurred after the breakup. In 2007, Partridge and keyboardist Barry Andrews (collectively billed as "Monstrance") released an album of improvised freeform instrumental jazz music which sounded nothing like XTC. In the late 2010s, Moulding reunited with former XTC drummer Terry Chambers for an EP and live dates billed as "TC&I", playing both XTC-ish new material and selections from Moulding's XTC catalogue. They had broken up by 2020.
Partridge continues to release occasional material, usually one-off singles and EPs.
Younger tropers may be more familiar with Andy Partridge's son, web animator Harry Partridge.
Discography:
White Music (1978)
Go 2 (1978)
Drums and Wires (1979) - First album with Gregory.
Black Sea (1980)
English Settlement (1982) - Last full album with Terry Chambers.
Mummer (1983) - New Sound Album, marked their definitive break with New Wave. Drums here were handled by Peter Phipps, who also worked with Eurythmics and Gary Glitter. Terry Chambers played on three tracks before leaving the band.
The Big Express (1984) - Drumming duties here were split between drum machines, Phipps, and Andy Partridge himself.
25 O'Clock EP (1985) - The Dukes of Stratosphear release. This time around the drummer was Dave's brother Ian Gregory.
Skylarking (1986) - Prairie Prince of The Tubes stepped in as drummer, credited as "the part of the time bomb". Mingo Lewis provided extra percussion on "Mermaid Smiled" and "The Man Who Sailed Around His Soul", and "That's Really Super, Supergirl" started with a drum machinenote .
Psonic Psunspot (1987) - The Dukes of Stratosphear release. Again, the drummer was Dave's brother Ian Gregory.
Chips from the Chocolate Fireball (1987) - The Dukes of Stratosphear compilation, containing 25 O'Clock and Psonic Psunspot. Please don't tell us you already forgot who was the drummer.
Oranges & Lemons (1989) - The drummer's stool was passed to Pat Mastelotto, of King Crimson and Mr Mister fame. The band played a series of live performances at radio stations in the U.S. and a BBC session to promote the album with Ian once again playing drums.
Nonsuch (1992) - Continuing the famous guest trend, the drums here are played by Dave Mattacks of Fairport Convention, with extra percussion credits for Andy and producer Gus Dudgeon.
Apple Venus Volume 1 (1999) - Last album with Gregory, who left midway through recording. Prairie Prince returned behind the kit.
Wasp Star (Apple Venus Volume 2) (2000) - Four songs had Prince on drums, with the rest being played by Chuck Sabo.
You can vote for your favourite XTC album by heading over to the Best Album crowner
. You can also vote for your favourite XTC track here!
---
XTC provide examples of the following tropes:
---