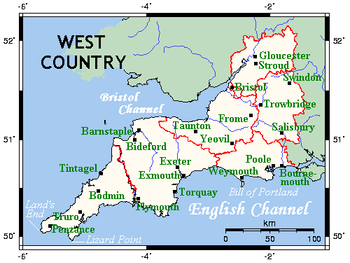 'Cause I got a bran' new combine 'arvester an' Ah'll give you the key!
—
The Wurzels
Gerrorf moi lan'!
Technically it's the South West Country but that doesn't have the same ring to it. A crucial note before we begin; in the UK, "Cider" refers exclusively to Hard Cider with alcohol in it, anything else is called apple juice.
The West Country is the informal term for the area of the United Kingdom that encompasses the counties of Cornwall, Devon, Dorset, Somerset, Gloucestershire, Wiltshire and Bristolnote Between 1974-1997, there would have been another county included in this: Avon, which was made up of Bristol, with bits of Gloucestershire and Somerset added into it for good measure. When the county was dissolved, these bits then became the City and County of Bristol, and the Unitary councils of Bath and North East Somerset, North Somerset, and South Gloucestershire. With the exception of Bristol, these are technically counted as now being parts of Somerset and Gloucestershire for ceremonial reasons., however with more than a few connections to some South East counties such as Hampshire, Berkshire and the Isle of Wight, the latter of which having a very similar dialect which is largely interconnected with that of the West Country. Known for being very rural with towns and cities being small and spread out. As such it's mostly depicted on TV as farmer towns where the inhabitants wear wellies and tweed and speak with thick Somerset accents, even though the majority of people living in the South West actually speak a much diluted version closer to the English of the home counties. Known to everyone else as "Mummerset". Expect plenty of 'oo-ar's!' to be heard and some cunning wit or action to follow. Was known as "Zedland" to wits in the 19th century, owing to the way the accent turns S to Z at least at the front of words ("Oi be drinkin' zoider!"); what often gets forgotten is that the dialect (historically at least) also turns F to V (in linguistic terms, it voices voiceless initial fricatives), and that this has been a feature of southwestern varieties of English since at least the Early Middle English period (shortly after the Conquest).
Generally a laid-back set of counties too, especially considering the amount of comedians the area has produced. Bristol is the largest city in the region note with the Bournemouth/Poole conurbation on the eastern edge of the west country coming a close second. Other important towns and cities include Plymouth, Exeter, Swindon, Bath and the Gloucester/Cheltenham conurbation and as such is the focal point for most events of notice.
Known for producing huge amounts of cider and scrumpy, cheddar cheese note to which Somerset is the original home; the village of Cheddar is there, clotted cream, cream teas note of which there are two key styles or 'methods' — Devonshire (where you spread the cream on first) and Cornish (jam first) — both of which are hotly debated over which is the better way! and Cornish pasties. Naturally, they are all consumed in greater quantities down there than in the rest of the UK. Also gave us the Glastonbury Festival too and also is the location of Stonehenge in Wiltshire. Also, Yorkshireman Patrick Stewart trained as an actor in this area. Weston-super-Mare in Somerset was also fairly well known for its pier by the beach and was an icon in the West Country; the pier was seriously damaged by a fire in 2009, but has reopened as of late 2010. Is also quite popular amongst engineers due to having such marvels like the Severn Bridges and the Clifton Suspension Bridge in Bristol. The fact Bristol also had an important role in the Aerospace Industry and helped build Concorde also helps — Concorde's last flight ended up returning it to Bristol, where it stood outside at Filton Airport for several years until a new museum, Aerospace Bristol
, was opened with a purpose-built indoor exhibition for it. The local airport also started doing flights from there to New York City a few years back.
Bristol also is somewhat notorious for its relationship with Pirates because the Bristol Channel coast was a major sea-trade region during the age of pirates, and the coast was a notoriously dangerous for shipwrecks (not always accidental), so some of the speech is derived from pirate jargon (Plymouth and Cornwall also have the pirate association, since many pirates came out of Plymouth and Cornwall's economy was once reckoned to be 90% reliant on smuggling). The West Country pirate connection has seeped deep into pop culture across the English-speaking world: Cornish-raised actor Robert Newton's
performances as Long John Silver and Blackbeard, the source of all modern preconceptions for how to Talk Like a Pirate, are based on a stylised West Country accent (befitting the Bristol connections for both characters). Parts of "Brizzle" have recently been renovated and tidied up ... although visitors should continue to avoid Knowle West unless they absolutely have to go there.
Gloucestershire has the Cotswolds running through it, and the villages, especially to the north of the county, have lots of picture perfect sandy coloured limestone cottages. Gloucestershire was also an important area in Roman times, and the town of Cirencester, or Corinium, as it was known at the time, was the second most important city in Roman Britain. To the west of the country, on the border with Wales, is the Forest of Dean, a former royal hunting Forest, who's locals have a dialect only known to them and bit of an reputation with the rest of the county, possibly due to it being one of the most undeveloped parts of the county but one area called Puzzlewood was used for filming The Force Awakens and Merlin (2008). Wedged between these two parts is the River Severn, which almost splits the county in half, in an area known as the Severn Vale. Famous for the Severn Bore, a natural tidal wave phenomenon where too much water tries to get through too narrow a channel (Gloucestershire is where the river starts to widen out into the Severn Estuary, that then leads to the Bristol Channel, which, incidentally, used to be called the Severn Sea.) comes up through the river twice a month (Usually a couple of days after a new and full moon) and attracts people to try and surf it, until it peters out somewhere north of Gloucester. Due to the Severn having the second highest tidal range in the world, Gloucestershire is bizarrely classed as a coastal county by The European Union, despite the fact that the only beach in the county is a man made one on a lake by Cirencester, which is a good twenty miles inland, and the Severn should definitely never be attempted to swam in that section due to it's dangerous tides and quick sand. Like Bristol, the city of Gloucester is also associated with the aerospace industry, as the Glosternote So foreigners could easily spell it Aircraft company producing the Hurricane, Typhoon, and pioneering jet-powered Meteor.
North Devon is best known for its combination of rugged, inhospitable coastline and incredible beaches, plus a multitude of seaside villages and resorts with a thriving tourist industry, such as Mortehoe, Woolacombe, Ilfracombe, Lynton and Lynmouth. Its long beaches and healthy surf make it a popular destination for surfers and holidaymakers alike. North Devon is also home to some outstanding valleys and cliffs, with Watersmeet and the Valley of the Rocks near Lynton and Lynmouth held in particularly high regard.
Plymouth and most of West Devon are liberally drenched in references to Sir Francis Drake, British National Hero of the 16th Century and the last interesting person to come out of the county (apart from actor twins Harry and Luke Treadaway). Plymouth is also the site of the Mayflower Steps and the departure of various soon-to-be-Americans from the country.note Apparently, we've just said that no-one who left to found America was worth noting. Moving on...
Generally, West Country folk share more of a rivalry with the Welsh than the rest of England. Part of this is due to the allegations that the Welsh were unhappy with the fact that the first Severn Bridge had its toll booth on the English side. When the second bridge was built, it had its toll booth on the Welsh side, however the toll booths were removed from both Severn Bridges in December 2018, making it free to cross the Severn estuary for the first time in over 2000 years.
---
Examples of famous/fictional people and Media:
Art
Banksy: Well-known graffiti artist born in Bristol.
Comedians
Bill Bailey: Actor/comedian, and Strictly Come Dancing champion, was born in Bath, Somerset.
John Cleese of Monty Python and Fawlty Towers was born in Weston-super-Mare in Somerset and was educated in Bristol. Fawlty Towers is also set in Torquay (in Devon), being based on a hotel in Torquay the Pythons stayed at with an owner so unpleasant they all packed up...except Cleese, who started writing.
Justin Lee Collins: Another comedian who was born in Bristol.
Lee Evans: One more comedian for you. Born in Avonmouth, Bristol, but grew up in Essex. You can probably see a trend here....
Russell Howard: Another comedian!. Was born in Bath, Somerset. His sister Kerry, who herself is comedy actress, was born in Yeovil, Somerset.
Jethro: And another comedian, this one born in Cornwall.
Stephen Merchant, born in Bristol, makes yet another comedian. Co-writer of The Office (UK) and Extras (with a small part in the first, and larger part in the second) and also voiced Wheatley in Portal 2. He also brought an authentic West Country accent to The Big Bang Theory where he played Amy Farrah-Fowler's second boyfriend.
David Mitchell (Actor) is from Salisbury in Wiltshire.
Diane Spencer (no relation) grew up on the border of Dorset and Somerset—within earshot of the Yeovilton air base, to hear her tell it—and has a number of jokes about her inability to fit in there.
Josh Widdicombe from The Last Leg makes it another comedian — he's from Dartmoor in Devon.
Films-Live-Action
Ross Hornby of Hat Films is from Swindon, but doesn't have the accent as you might expect. The other two members are from the same sort of area, but also do not have the accent and sound more like they're from London.

Most younger people from Swindon don't have a noticeable Wiltshire accent, or have a fairly mild one of if they do, mostly because the town borders the Home Counties and has received a steady influx of London commuters over the last thirty years or so. Go a bit further west, to (say) Devizes or Calne, and you'll hear it then.

How could we forget Archie Leach (AKA Cary Grant), born and raised in Bristol.
William Moseley is from Sheepscombe, a small village by Stroud, Gloucestershire.
Robert Newton, English actor, whose portrayal of Long John Silver in Treasure Island using an exaggerated form of his native Dorset accent gave the world the Talk Like a Pirate trope. Arrrr!
Richard O'Brien, of The Rocky Horror Picture Show was born in Cheltenham, Gloucestershire.
Simon Pegg: The comedian and actor was born in Gloucester. Hot Fuzz was set in a fictional West Country town which pretty much showcases the typical West Country stereotypes; it was actually filmed in Wells in Somerset.
David Prowse was also born in Somerset and educated in Bristol too, Vader as a farmer, eh. (In fact, that's why James Earl Jones dubbed him over; Prowse's voice was just too friendly.)
Edgar Wright: The director of Hot Fuzz and Shaun of the Dead was born in Poole, Dorset, and grew up Wells, Somerset.
Literature
The books Agatha Raisin (Which is what the TV series is based on) is set in fictional village of Carsley in Northern Gloucestershire. Unlike the series however, the geography is mostly correct, i.e the local police are actually based in a town that's actually in Gloucetsershire (Cheltenham).
Novelist Jilly Cooper was born in Essex, but has lived in Bisley, by Stroud, Gloucestershire since 1980, and most of her books are set in Gloucestershire.
The novelist and poet Thomas Hardy was from Dorset, and set his novels in a realistic but fictionalized version of the West Country.
Daphne Du Maurier was born in London, but lived most her life in Cornwall, and as a result, most of her books were set in the county, including Rebecca, Frenchmen's Creek, and Jamaica Inn.
Laurie Lee's Cider With Rosie, is a semi autobiographic account about his childhood growing up in the small village of Slad, by Stroud, Gloucestershire, that has received three TV adaptions over the years.
The Hitchhiker's Guide to the Galaxy specifies that Arthur's house looks out over stretches of West Country farmland, before first the house, and then the West Country itself, are demolished.
The events of Lorna Doone are mostly set in Exmoor (with a few visits to London); Lorna herself and the Doone clan are actually Scottish in origin, but John Ridd, the novel's hero and narrator, and his family are locals.
The Poldark books by Winston Graham are set in 18th Century Cornwall.
Although Terry Pratchett was born in Buckinghamshire, his family moved to Somerset when he was a child and he spent much of his adult life in Somerset and then Wiltshire.
The moles of Redwall, with their infamously incomprehensible Funetik Aksent, were based on some Somerset inhabitants Brian Jacques met during RAF training.
J. K. Rowling, author of Harry Potter, was born in Chipping Sodbury.note , a small town just north of Bristol, and grew up in nearby Tutshill, Gloucestershire, on the edge of the Forest of Dean. However, the series was conceived in Edinburgh.
Robert E. Howard's "somber puritan" Solomon Kane came from Devon.
The Wycliffe novels by W.J Burley are about a detective of the same name in Cornwall.
Live-Action TV
Agatha Raisin is meant to be set somewhere in North Gloucestershire, presumably by Moreton-in-the-Marsh or Bourton-in-the-Water. It's a bit hard to tell, since the geography in the show is all over the place, which wasn't the case with the novels the series was based on.
Fictional example: Bomber from Auf Wiedersehen, Pet, portrayed as a Bristolian by Pat Roach (who was really from The Midlands).
Beyond Paradise (2023): Set in the fictional Devonshire town of Shipton Abbot, but filmed in the very real town of Looe, which is just over the border in Cornwall.
Broadchurch: The fictional titular town is presumably meant to be in Dorset, with the real life towns of Bridport, Dorset, and Clevedon, Somerset used for filming.
The Parkinson family of Butterflies, which was filmed on location in Cheltenham, Gloucestershire — although until the final episode stated outright that they lived in Cheltenham, most viewers assumed it was an upscale suburb of London.
Casualty is set in the fictional city of Holby, but was filmed in Bristol until production was moved to Cardiff. Despite the fact that it is meant to be set in the same hospital in the same city, spin off series Holby City wasn't filmed in Bristol - it was filmed at the BBC studios in Elstree, by London, instead.
Chloe (2022) was filmed in Bristol.
The Coroner is set in the fictional small town of Lighthaven on the English Rivera in Devon.
Doc Martin is set in a small fishing village somewhere in Cornwall, called Port Wenn (The fishing village of Port Issac, North Cornwall, was used for filming).
Joel Dommett, host of The Masked Singer (UK), is from Rockhampton, a small village just north of Thornbury, Gloucestershire.
Father Brown: Set in the fictional village of Kembleford, in the Cotswolds of Gloucestershire.
Phil Harding from Time Team who, despite being a highly accomplished and internationally renowned archaeologist, took a particular delight in cultivating a West Country yokel image with Wild Hair and poacher's hat.
Robert Hardy, who played Siegfried in All Creatures Great and Small (1978), was born in Cheltenham, Gloucestershire.
James May of Top Gear and The Grand Tour was born and spent his childhood in Bristol; his accent has become a bit muddled by spending his adolescence Oop North and his adult life in London. However, he pulls out a stereotypical West Country accent for comedic effect on occasion, especially during a visit to that region on Oz and James Drink to Britain.
McDonald & Dodds, is set and filmed in Bath, and the surrounding area.
Despite the fact is was set in London, Only Fools and Horses was actually filmed in Bristol.
The Outlaws is set and filmed in Bristol, and stars Bristol native Stephen Merchant.
Michael Praed, otherwise known as Robin of Loxley in Robin of Sherwood, was born in Berkeley, Gloucestershire. The series itself was filmed in the Bristol area, and Wales.
James Purefoy, who played Solomon Kane, as well as Mark Antony in Rome, is a lad from Somerset.
Poldark, which was based on the books of Winston Graham was set, and filmed, in Cornwall.
Location filming for the Monty Python sucessor show Rutland Weekend Television was done in Bristol. Neil Innes' parody of Stevie Wonder's Superstition ("Front Loader") can be identified as being on one particular street.
Shoestring was filmed in Bristol, although the city is never mentioned by name.
Skins is set in Bristol, and the characters exhibit or encounter those who exhibit certain West Country stereotypes.
This Country takes place in the Cotswolds in Gloucestershire. Daisy May Cooper and Charlie Cooper, the sibling pair who created and star in the series as first cousins, are both from Cirencester (the main town in the Cotswolds) and speak in exaggerated Gloucestershire accents on the show, which was filmed in Northleach.
Maisie Williams, best-known as Arya Stark on Game of Thrones was born in Bristol.
Wycliffe, a mid nineties TV detective show that was based on the books of the same name by W.J Burley, was set and filmed in Cornwall.
Music
Coldplay's singer Chris Martin was born in Exeter, Devon, but the band was formed in London.
EMF, best known for their song "Unbelievable," are from Cinderford in the Forest of Dean, Gloucestershire.
PJ Harvey: An influential alt-rock singer/songwriter, she hails from Dorset.
Gustav Holst, who composed The Planets was born and raised in Cheltenham, Gloucestershire.
Brian Jones, one of the founding members of The Rolling Stones, was born in Cheltenham, Gloucestershire.
Even though he grew up in Ipswich, Nik Kershaw was born in Bristol.
Popular rock band Muse hail from Teignmouth in Devon.
Two of the biggest musical artists of the New Wave era, Tears for Fears and Naked Eyes, were from Bath in Somerset and part of the same musical scene in Bath. Roland Orzabal and Curt Smith of Tears for Fears were even in a band with Pete Byrne and Rob Fisher of Naked Eyes before either band existed, called Neon.
Since Trip Hop got started in Bristol, its early creators embody this: Massive Attack, Portishead (named after their hometown) and Tricky (from Knowle West, Bristol).
The Wurzels are a Somerset band who make songs about cider, farming and the West Country in general, usually performing with a pint of cider in their hands. Popular amongst the West Country and also amongst university students for obvious reasons.

They also have a combine harvester, and they'll give you the key.
They are also cider drinkers, they drinks it all of the day.

The members of XTC are from Swindon.
Olly Alexander, of Years And Years was born in North Yorkshire, but grew up in Coleford, Gloucestershire.
Singer, and BBC R2 DJ Jimmy Young was born in Cinderford, Gloucestershire.
Although she was born in Kent, Joss Stone was raised in Devon.
Myths
King Arthur. He was a mythical Romano-British war leader (later described as a king) who may have come from Cornwall, given that he was half-Cornish on his mother's side and according to Geoffrey of Monmouth his story begins at Tintagel Castle, where Uther secretly bedded the Lady Igraine to conceive him.

Glastonbury in Somerset also tries to lay some claim to the Arthurian legends. Locals like to believe that it is the Isle of Avalon as mentioned in the stories, and the monks of the Abbey claimed that they had found the grave of Arthur and Guinevere in 1194.
Other
Blackbeard: The famous buccaneer was also born in Bristol.

Actually, quite a few pirates and privateers were from the West Country. Sir Francis Drake was from Tavistock in Devon, and "Black Sam" Bellamy was from Hittisleigh, Devon, just a name a few.

Mrs Crocombe from The Victorian Way is apparently from the West Country (she first notes it when she mentions the region's small saffron industry in the saffron buns video, though the rhoticity of her accent gives an inkling).
Edward II was murdered at Berkeley Castle in Gloucestershire, and is buried at Gloucester Cathedral.
Edward Jenner, the 18th century physician who created the Smallpox vaccine, was born, and spent most his working life in Berkeley, Gloucestershire.
William Tyndall, who was one of the first people to translate The Bible into English (And who got burnt at the stake for his trouble), was born in the small village of Stinchcombe, by Dursley, Gloucestershire.
Radio
Most working-class characters from The Archers sound like they're from here even though the series is allegedly set in The Midlands. The series was originally conceived at a time when not many BBC employees would have known the difference, and it's stood ever since.

Somewhat justified in that the rural accent in the south of the Midlands (particularly Herefordshire and Worcestershire) does blend into West Country - it is just up the valley from Gloucestershire. Borsetshire is described as being in this general area so the locals probably would have a somewhat mixed accent.
Sports
Michael Adams, Britain's current #1 chess player, was born and brought up in Cornwall, and now lives in Somerset.
Jenson Button: 2009 Formula One world champion. Born in Frome, Somerset.
Former England Cricket captain Alastair Cook was born in Gloucester.
Robin Cousins, who won Gold in the Men's individual ice skating at the 1980 Winter Olympics was born in Bristol.
Former Spurs and England midfielder Eric Dier was born in Cheltenham, Gloucestershire.
Michael "Eddie the Eagle" Edwards, the ski jumper who represented Great Britain in the 1988 Winter Olympics and became the subject of a 2016 film, was born in Cheltenham, Gloucestershire, and still lives in the local area, where he works as a Lawyer.
Football player and manager Ian Holloway - infamous for some of his utterances to the media - was born in Gloucestershire and both played for and managed, amongst others, Bristol Rovers.
Footballer Gary Mabutt, who played for Tottenham Hotspur, among others, was born in Bristol.
Jack Russell, former wicketkeeper for England was born in Stroud, Gloucestershire.
Former British #1 hammer throwers Lorraine Shaw and Zoe Derham are from Gloucester and Yate, South Gloucestershire, respectively.
Judd Trump, a former world champion in snooker was born, and grew up, in Bristol.
Theatre
Catherine Johnson, the playwright behind Mamma Mia!, is from the small village of Wickwar, Gloucestershire.
Playwright Dennis Potter was born just north of Coleford, in the Forest of Dean, Gloucestershire.
---