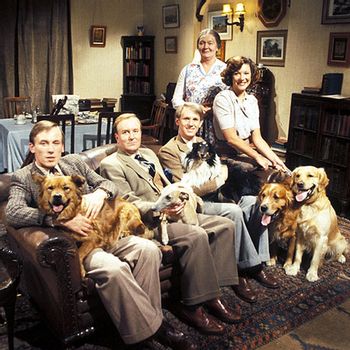 All Creatures Great and Small is a British TV series, based on James Herriot's books about his life as a veterinarian in North Yorkshire in the 1930s and beyond. Produced by The BBC, the show ran from 1978 to 1980, had two Christmas Episodes in 1983 and 1985, and came back to run from 1988 to 1990, concluding with another Christmas Episode.
The show followed the lives of unassuming newly-fledged vet James Herriot (Christopher Timothy); his temperamental but good-natured boss, Siegfried Farnon (Robert Hardy); Siegfried's laddish younger brother, Tristan (Peter Davison); and James' eventual wife, Helen. The Revival added Calum Buchanan, a back-to-nature Scottish vet. Other recurring characters included Mrs. Hall, the invaluable housekeeper, and Mrs Pumphrey, the eccentric owner of a spoiled Pekinese.
In 2011 a three part prequel miniseries written by original script editor Johnny Byrne, Young James Herriot, aired covering his early years at veterinary college, but Byrne's death effectively ruled out any chance of a full series.
Not to be confused with the 2020 adaptation of the same name.
---
This show provides examples of:
---