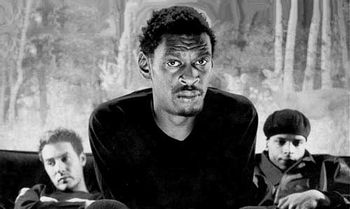 I'm a little curious of you in crowded scenes
And how serene your friends and fiends
We flew and strolled as two, illuminated gently
Why don't you close your eyes and reinvent me?
Massive Attack are a Bristol-based band formed out of the Wild Bunch soundsystem in the late 1980s, credited with creating the genre of Trip Hop along with contemporaries Portishead and Tricky (and arguably DJ Shadow too).
As with their contemporaries, they don't much like being pigeonholed into the label of "trip-hop," which is probably why every album they've made so far is a New Sound Album.
Their 1991 debut Blue Lines represented the aforementioned launch of trip-hop. Protection (1994) added more reggae, dub and soul influences to go with a more elaborate production. Mezzanine (1998) attracted an Alternative Rock audience, thanks to its Darker and Edgier sound and addition of harsher beats and grungey guitar riffs. 100th Window (2003) continued the Darker and Edgier bent of Mezzanine, but dialed down the alt-rock influences. Their most recent album Heligoland (2010) sort of returns to their minimalist Blue Lines sound but remains just as grimdark as the previous three.
The group's original line-up consisted of Robert "3D" Del Naja, Grantley "Daddy G" Marshall, and Andrew "Mushroom" Vowles. Vowles left the group after the release of 1998's Mezzanine, citing creative differences.
Massive Attack are well-known for featuring a large number of guest vocalists in their songs; reggae singer Horace Andy has appeared on all of their albums and Tricky performed on Blue Lines and Protection before leaving for a solo career. Other similar collaborators have included Shara Nelson (Blue Lines), Tracey Thorn and Nicolette (Protection), Elisabeth Fraser and Sara Jay (Mezzanine), Sinéad O'Connor and Damon Albarn (100th Window), and Tunde Adebimpe, Hope Sandoval and Damon Albarn again (Heligoland).
Discography:
Blue Lines (1991)
Protection (1994)
Mezzanine (1998)
100th Window (2003)
Heligoland (2010)
---
Massive Attack provide examples of:
---