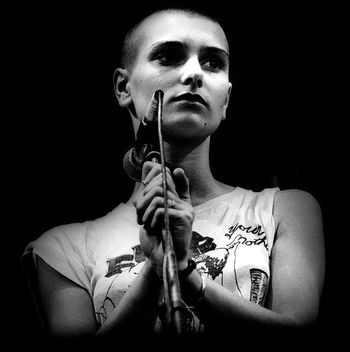 Oh, take me to church,
I've done so many bad things it hurts
Yeah, Take me to church
But not the ones that hurt
'Cause that ain't the truth
And that's not what it's worth
Yeah, take me to church
— "Take Me to Church"
Shuhada' Sadaqat (formerly Magda Davitt, born Sinéad Marie Bernadette O'Connor, December 8, 1966) is an Irish singer-songwriter well-known for her honest lyrics, whose subjects tend to range from the Irish famine to feminism. She is also known to straddle extremely different genres, such as Folk Rock, Reggae, and Indie Pop. Since her 1987 debut The Lion and the Cobra and her 1990 follow-up I Do Not Want What I Haven't Got, O'Connor has continued to remain relevant in the music industry, collaborating with a wide variety of artists and experimenting with various styles.
She is best known for her cover of Prince's song "Nothing Compares 2 U", which topped the charts in 1990. The music video, which featured a close-up of O'Connor performing the song in a single take, became iconic and received heavy rotation on MTV, going on to win the channels Video of the Year at the Video Music Awards that year. While she won multiple awards for the song, and her album I Do Not Want What I Haven't Got won a Grammy Award for Best Alternative Album in 1991, O'Connor began to distance herself from the fame. She boycotted the Grammys and eventually withdrew her name from consideration for all future awards. This led to her Creator Breakdown during the mid-Nineties, though she has since recovered.
She is also a contentious figure, sparking controversy after she refused to have the US National Anthem performed at her concerts (Frank Sinatra was very offended). She accused Prince of domestically abusing her (though this was later patched up), she made certain comments against people who criticized her shaved head... but she is probably most notorious for ripping up a picture of the pope on Saturday Night Live in 1992 to protest child abuse in the Catholic church. Yes, that's right, O'Connor single-handedly unleashed the wrath of virtually every Catholic in the Western world, and she will officially Never Live It Down. While she does not regret her actions, she did state in an interview that she wished it wouldn't have inspired that knee-jerk reaction and instead have had more of an impact toward ending the actual abuse. And she also attracted negativity regardless of herself from Madonna, who, according to Sinead, in her own words, said, "that I look like I had a run in with a lawnmower and that I was about as sexy as a Venetian blind."
O'Connor tends to keep her views on religion and and her own sexuality ambiguous, and continues to maintain her bald head to challenge preconceived attitudes toward female beauty. She is an enigmatic figure but keeps an assertive and opinionated attitude, and she continues to inspire attention no matter what she decides to discuss next.
---
Discography:
The Lion and the Cobra (1987)
I Do Not Want What I Haven't Got (1990)
Am I Not Your Girl? (1992)
Universal Mother (1994)
Faith and Courage (2000)
Sean-Nós Nua (2002)
Throw Down Your Arms (2005)
Theology (2007)
How About I Be Me (And You Be You)? (2012)
I'm Not Bossy, I'm the Boss (2014)
---
Tropes about Sinéad O'Connor and her work:
---