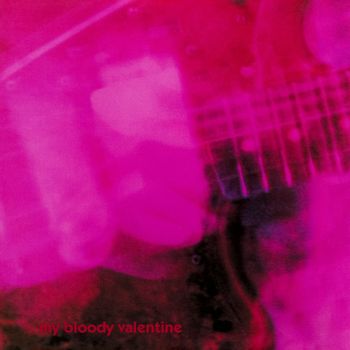 "It's rare in guitar-based music that somebody does something new. At the time, everybody was like, 'How the fuck are they doing this?'"
Loveless is the second studio album by Irish shoegazing band My Bloody Valentine, released in 1991 through Creation Records (in conjunction with Sire Records & Warner (Bros.) Records in the US). It is considered both the greatest work and unfortunate killer of the shoegazing genre as a whole.
Essentially crafted single-handedly by Kevin Shields, the album took two years to record and used 16 engineers throughout, even if all they did was provide tea. Recording for the album supposedly costed £250,000 and nearly bankrupted the band's British record label, Creation Records. (However, Shields has disputed this, saying that most of the money spent on the album was "money to live on" and that Creation probably only spent about £15,000-20,000 on the record; he also reckons that the recording process only took about four months over a span of two years.)
Further issues were compounded when drummer Colm Ó Ciosóg fell physically ill and was unable to drum properly for all but two of the tracks; "Only Shallow" and "Touched", the latter of which was Ó Ciosóg's composition. Shields worked around this by using samples. The vocals were also recorded in a fairly complex manner, and frustration with them resulted in Shields layering different takes onto each other and eventually just subduing them all together. To this day, the official lyrics still haven't been released; vocals were considered instrumentation, and Shields has a notable aversion to bad lyrics. Then the computer that held the masters threw everything out of order, and had to be remixed from memory.
Loveless, while only a modest commercial success, was so critically adored that every other shoegaze work (most notably Slowdive's Souvlaki) was compared to it, ensuring the genre's death. With shoegazing's Genre Relaunch in the late '00s-'10s, comparisons are still thrown around, no matter how heavy (A Place To Bury Strangers) or light (DIIV) your sound is. Needless to say, Loveless has since gone down as one of the most influential albums of all time. Funnily enough, Shields expected the album to be savaged by all reviewers; instead, the exact opposite happened.
Not to be confused with the manga of the same name. Or the Show Within a Show in the universe of Final Fantasy VII, which is named for the album. Or the novel. Or the emo band.
---
Tracklist
"Only Shallow" (4:18)
"Loomer" (2:38)
"Touched" (0:57)
"To Here Knows When" (5:31)
"When You Sleep" (4:12)
"I Only Said" (5:34)
"Come In Alone" (3:59)
"Sometimes" (5:19)
"Blown a Wish" (3:37)
"What You Want" (5:33)
"Soon" (7:01)
---
Principal members
Kevin Shields - Guitar, vocals, sampler (and everything else, though uncredited)
Bilinda Butcher - Guitar, vocals (Only handled vocals; Shields handled guitar)
Colm Ó Ciosóig - Drums, sampler
Debbie Googe - Bass (Didn't actually play)
---
Feel like tropes grew stronger:
---