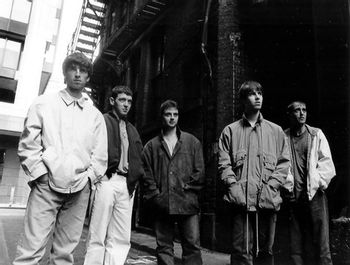 Influenced by:
"The funny thing is, that mouthing off three years ago about how we were gonna be the biggest band in the world, we actually went and done it. And it was
a piece of piss
."
— Noel Gallagher
Oasis was a British Alternative Rock band strongly associated with the '90s Britpop movement, along with their archnemeses Blur. The band was established (initially as The Rain) in 1991 by vocalist Liam Gallagher, guitarist Paul "Bonehead" Arthurs, bassist Paul "Guigsy" McGuigan and drummer Tony McCarroll; to little success, until Noel Gallagher, Liam's older brother, came out of the blue and took total control of the band – which nobody protested, for he and his songs were just that good. Led by the older Gallagher, the band went on to achieve stellar success in the mid-'90s and onward: the zenith being "the Battle of Britpop" with rival band Blur, and the album (What's the Story) Morning Glory? shifting over 4.6m copies in the UK to currently rank as the country's fifth-highest seller ever (third-highest if you discount Greatest Hits albums; Queen Greatest Hits & ABBA Gold taking the 1 & 2 spots). As the Britpop trend died out towards the turn of the millennium, Oasis survived and prospered into the new century: managing in total to produce seven studio albums (all UK Number Ones), go 14 years without missing the Top 5 with a 'proper' single, and ultimately sell over 70 million album copies worldwide. They finally imploded in 2009, after one bust-up too many between the Gallagher brothers led to Noel's departure. Prior to this, they'd also gone through some less terminal lineup changes:
McCarroll was kicked out and replaced by Alan White as drummer (not that Alan White) in 1995.
Bonehead and Guigsy left in 1999. After recording subsequent album Standing on the Shoulder of Giants as a three-piece, guitarist Colin "Gem" Archer and bassist Andy Bell (formerly guitarist and co-lead singer for the shoegazing band Ride) were brought in.
White left the band in 2004. He was unofficially replaced by Ringo Starr's son Zak Starkey, who played in the studio and live with the band but was never an official member. After the recording of Dig Out Your Soul, Starkey was replaced by Chris Sharrock, former drummer for The Icicle Works.
The band were known for their over-the-top rock and roll attitude and perennial fixation on The Beatles, which many times eclipsed their musical aspects; Noel Gallagher was also known to "borrow" musical snippets and riffs from older songs, which didn't help the case. The Gallagher brothers were infamous for their fistfights, rude remarks, and most importantly, quarrelling amongst themselves; Noel was particularly known for his entertaining wit and antics during interviews. Musically speaking, Oasis were defined largely by Noel's status as a Promoted Fanboy, and can be pretty much summed up as classic British pop/rock (The Beatles, The Who, T. Rex, etc.) updated with more modern influences (The Stone Roses, The Smiths) and played with a wall-of-sound approach indebted to Punk Rock and Shoegazing.
Oasis's future finally came into critical doubt, after the best part of 20 years marked by internal squabbling and irregular rifts of greater or lesser severity, in August 2009 when Noel – who wrote most of their singles and best known tracks, and decided their artistic directions – announced his departure. The rest of the band were ambiguous as to whether they would carry on, until Liam Gallagher announced a split in late 2009; he later announced that they would "continue the project" in 2010, albeit perhaps with a different name.
This came to pass, as some time after the breakup Liam and the rest of the band reconvened under the name Beady Eye, releasing their "debut" album Different Gear, Still Speeding in February 2011, following up with the slightly better-received BE two years later. They split up in 2014, and Liam began his solo career, releasing his debut album As You Were in 2017, followed in 2019 by Why Me? Why Not., and C'mon You Know in 2022. Noel came out of hiding more belatedly, confirming that he's going onto a solo career under the name Noel Gallagher's High Flying Birds; both of the albums he's released under this name (his self-titled debut album, released in October 2011, and 2015's Chasing Yesterday) have gone straight to #1 in the UK, and have performed decently internationally as well; his third album, Who Built the Moon?, was released on 24 November 2017. It went straight to #1, making Noel the first UK artist to ever have 10 straight #1 albums in Britain.
The band received one last stint in the spotlight on April 13, 2020, where, in the midst of the COVID-19 pandemic, Noel dug out an old demo and released it as a promotional single, titled "Don't Stop...", under the Oasis name. It was the band's first release since the "Falling Down" single in March of 2009.
Not to be confused with the indie game named Oasis (2005).
Discography:
Definitely Maybe (1994)
Be Here Now (1997)
The Masterplan (1998) (B-sides collection)
Standing on the Shoulder of Giants (2000)
Heathen Chemistry (2002)
Don't Believe the Truth (2005)
Dig Out Your Soul (2008)
---
Today is gonna be the day that they're gonna trope it back to you:
Gratuitous Foreign Language: The music video for "D'You Know What I Mean?" has phrases "Buď zde" and "Víte, co tim chci říct?" note written in the background. These are Czech translations of "Be here (now)" and "Do you know what I mean?" respectively.
Greatest Hits Album: Taking until over twelve years into the band's hitmaking career, with 2006's end-of-record-contract Stop the Clocks – and even then this doesn't feature all the hits, being Noel Gallagher's personal selection: on the sole basis that he didn't want a Greatest Hits Album while the band were still active, but if he didn't involve himself, then Executive Meddling would result in a substandard compilation.

The situation was rectified eventually, post-split, by 2010's two-disc singles collection Time Flies...1994-2009, containing all the band's 27 A-Sides.

Growing Up Sucks: The Masterplan has both sides of the Sliding Scale of Idealism Versus Cynicism on this, "Stay Young" (feeling young no matter how old) and "Fade Away" ("while we're living, the dreams we have as children fade away").
Hidden Track: "The Cage", an instrumental track at the end of Heathen Chemistry. Time Flies includes "Sunday Morning Call" as one outside North America.
Hot-Blooded: The Gallaghers.
I Am the Band: Oasis is Noel/Liam Gallagher. Without both of them, the band simply weren't Oasis as shown by Liam and company starting a new band without Noel. The exact same thing would most likely have happened if Liam had been in Noel's position too.
Instrumentals: "The Swamp Song", "A Quick Peep" and hidden track "The Cage". "Fuckin' in the Bushes" might also qualify - the only vocals are samples from a documentary film.
Jerkass: The Gallaghers are known to be quite surly at times, Liam especially.
Jerk with a Heart of Gold: While Noel does have a big ego and can be crass and rude, it's clearly shown he's very capable of being friendly, and still does have a softer side.
Jump Cut: The music video for "Songbird" features a pretty awkward one audio-wise. Liam is shown playing guitar under a tree and then the song suddenly jumps in. It's clear the editor was trying to get Liam's notes to blend into the song, but they didn't do a very good job.
Kick the Dog: Both Liam and Noel have a nasty habit of harshly criticising and outright bullying their fellow musicians and artists. Frequent targets of their abuse include Blur, Phil Collins, Robbie Williams, Kylie Minogue and Radiohead.
Last Note Nightmare: "Guess God I'm Abel" on "Don't Believe the Truth" goes from being a gentle ballad, to the drums suddenly coming at the end of the song with the last 20 seconds of eerie sounding feedback.
Lesser Star: Anyone without the surname Gallagher. Although during their heyday in the mid-90s, Noel once stated that Bonehead would go up to people in the street and inquire to them if they knew who he was, and each time being told by the person with a look of bewilderment that he was Bonehead of course, meaning that for a time at least, the other members weren't those other guys.

Arguably, Liam was this to Noel, considering that Liam rarely played an instrument that wasn't the tambourine and Noel was the primary Songwriter (even though Liam penned a few B-sides as well as the singles "Songbird" and "I'm Outta Time").

Line-of-Sight Name: On the album names Standing on the Shoulder of Giants (a misspelling - it's shoulders - of the Isaac Newton quote on the side of two pound coins◊), and Heathen Chemistry (a T-shirt Noel saw), which also includes a song with that in "The Hindu Times". Even the band's name is this, coming from a poster advertising their gig at The Swindon Oasis leisure centre.
Longest Song Goes Last: This happens on a couple of their albums:

"Champagne Supernova" (7:27) closes (What's The Story) Morning Glory?.
"Roll It Over"(6:30) closes Standing on the Shoulder of Giants.
Zigzagged with Heathen Chemistry. "Better Man" (4:20) isn't the longest song on the album nor is the hidden track "The Cage" (4:50). However, they are on the same track and are separated by nearly 29 minutes of silence and this combine makes it the longest track on the album.

Loudness War: The success of (What's the Story) Morning Glory? (a very loud album, BTW) is accused of starting this.

All their albums, really. Even Definitely Maybe is very loud by 1994 standards and clips to a certain extent. (What's the Story) Morning Glory? and pretty much all their albums after are even worse. Be Here Now takes this trope up to eleven.

Lyrical Dissonance: Arguably "Married with Children".
Mind Screw: Noel's reaction to the "Stand By Me" music video, which is a story played in Anachronic Order.
Mysterious Stranger: The protagonist of "Underneath the Sky":

Underneath the sky of red is a storyteller sleeping alone

He has no face and he has no name

And his whereabouts are sort of unknown

Nice Guy/The Quiet One:

Guigsy was described by Liam and Noel in the Supersonic documentary as a quiet, calm, mellow, gentle soul. Probably on account of being The Stoner.
In the same documentary, Bonehead describes the first drummer Tony McCarroll as being quiet and reserved.

Nice to the Waiter: For as crass and crude as he can be, Noel is known for being quite chatty and affable with interviewers. He's also been elected as a rock ambassador in Italy for Virgin Radio.
Non-Appearing Title: "Digsy's Dinner", "Married with Children", "The Importance of Being Idle" and "The Hindu Times" just to name a few.
No Title: Two tracks on Morning Glory have just blanks where the titles should be. They are both excerpts from "Swamp Song".
Oop North: The band hailed from Manchester and caused great deal of non-English-speaking fans to try and learn English with a Northern twang.
Pep-Talk Song: One of Noel's favorite themes (see his quote on Take That! below): "Live Forever", "Whatever", "Some Might Say", "All Around the World", "The Masterplan", and "Stop Crying Your Heart Out".
Power Ballad: It's been said that the Oasis rule of thumb is "for every rock out, there must be a heartbreaking follow-up."
Questioning Title?: "D' You Know What I Mean?", "Who Feels Love?", "Where Did It All Go Wrong?", and "Can Y'See It Now? (I Can See it Now!!)".
Ret-Canon: Noel stopped playing the original version of "Wonderwall" and started using Ryan Adams' version until Liam basically forced him to stop. Which form is better has been subject of debate.
Ode to Intoxication: "Cigarettes & Alcohol"

"Morning Glory" has a few not-very-subtle cocaine references; it's not the only example in their discography.

"Pachelbel's Canon" Progression: "Whatever" and "Don't Look Back in Anger" both use a common variation.
Red Oni, Blue Oni: Noel is the blue to Liam's red. When compared to Gem Archer, he's the red.

The band as a whole are the red oni to their Britpop rival Blur.

Rock-Star Song: "Rock 'N' Roll Star", among others.
Rockumentary: Lord Don't Slow Me Down and Supersonic.
Sampling:

"Hello" begins with the intro to "Wonderwall", which ends abruptly.
"Fuckin' in the Bushes" contains samples from Murray Lerner's film Message to Love-Isle of Wight 1970.
"I'm Outta Time" contains a clip of a John Lennon interview.

Self-Deprecation:
Sensitive Guy and Manly Man: Noel is the sensitive guy to Liam's manly man.
"Be Here Now" album name drops the song names from The Beatles rather frequently from "Let It Be" to "Helter Skelter".
Sibling Rivalry: The Gallagher brothers are notorious for their disagreements with each other.

The band once even did a rather ironically titled 'Tour of Brotherly Love' of North America with The Black Crowes and Spacehog, two other bands that were famous for having brothers that would fight publicly.
Stories are known to include the phrase "And we both looked at the cricket bat and I knew, if he got there first, he was gonna kill me". Rivalry indeed.
Further, famously, a fourteen minute argument between the two during an interview for NME was released as a single... and actually charted ("Wibbling Rivalry", peaking at #52 in the UK Charts).
This eventually led to the demise of the band, as the brothers simply could not stand each other any longer.

Silly Love Songs: Their Signature Song is a prime example. Straight men, take note: if you can play "Wonderwall" on guitar, women will like you. Deconstructed, meanwhile, with "Married with Children".

Mostly averted (Noel wasn't known for lovey-dovey lyrics). Two notable exceptions are "She's Electric" and "Songbird", the latter of which Liam wrote.

Singing Voice Dissonance: Noel's singing voice is notably less Mancunian than Liam's.
Sir Swears-a-Lot: Both Liam and Noel. It usually seems like the only time they're not swearing is in their song lyrics (with a few odd exceptions).
Sitcom Arch-Nemesis: With Blur.
Sliding Scale of Idealism Versus Cynicism: Noel's lyrics frequently lean on the idealistic side.

"Live Forever" has an extremely optimistic chorus of "You and I are gonna live forever".
"Supersonic" states that "You need to Be Yourself / You can't be no one else".
"D'Yer Wanna Be a Spaceman?" has a verse that says, "If you wanna be a spaceman / It's still not too late".

Small Name, Big Ego: Both Gallaghers, Noel mostly. Especially in the early days where their fame was considerably less and their ego considerably more pronounced.

Noel's reputation got better as of late, as the rock 'n' roll world steadily moves away from the '90s and pangs of nostalgia began to set in.

Spiritual Successor: Beady Eye and Noel Gallagher's High Flying Birds.
Splash of Color: During the black and white scenes in the "Live Forever" music video, the only color that is shown is the green in the bushes and plants, although it doesn't appear it's supposed to mean anything important.
Something Blues: "Those Swollen Hand Blues".
The Something Song: "The Swamp Song".
Song of Song Titles: Oh so many.
Soprano and Gravel: Liam's gritty, nasal voice vs. Noel's higher and cleaner voice.
Stage Names: Colin Murray "Gem" Archer. His predecessor Paul "Bonehead" Arthurs, not so much given he still used the given name along with the nickname.
Start My Own: Both brothers after the demise of Oasis, although the High Flying Birds are a more fitting case (see Spiritual Successor). Liam even accused Noel of breaking up the band on purpose just so he could release a solo album.
Step Up to the Microphone. While Liam was the lead vocalist, Noel actually sang lead vocals on around a quarter of their songs. However most of the band's singles, including their early breakout songs and their biggest hits, have Liam on vocals making his vocal contribution appear less than it actually was. It took until their eighth single ("Don't Look Back in Anger") before Noel featured on lead vocals on a single.
The Stoner: Guigsy loved weed in real life. Noel was also this.
Suddenly Shouting: The group scream right before the guitar solo in "Fade In-Out". Doubles as a pretty effective Jump Scare as well.
Surreal Music Video: "All Around the World", which even features an Yellow Submarine.
Take That!: "Live Forever" was written in response to the song "I Hate Myself and Want to Die"; although Noel Gallagher admired Kurt Cobain, he found the song too depressing for his tastes:

"

At the time . . . it was written in the middle of Grunge and all that, and I remember Nirvana had a tune called 'I Hate Myself and Want to Die', and I was like . . . 'Well, I'm not fucking having that.' As much as I fucking like him [Nirvana frontman Kurt Cobain] and all that shit, I'm not having that. I can't have people like that coming over here, on smack, fucking saying that they hate themselves and they wanna die. That's fucking rubbish. Kids don't need to be hearing that nonsense.

Being rivals, they naturally took some shots at Blur. One notable is them singing a slightly modified version of "Parklife".

Noel & Liam (singing): All the people, so many people, and they all go hand in hand, hand in hand through their...

Noel (shouting): ... marmite!

Liam (finishes singing): ...shitelife!

Temporary Substitute: During their 1995 tour of America, Guigsy briefly left the band, citing nervous exhaustion. He was replaced by Scott McLeod, formerly of the Ya Ya's, who was featured on some of the tour dates as well as in the "Wonderwall" video before leaving abruptly while on tour in the US. McLeod contacted Noel, claiming he felt he had made the wrong decision. Gallagher replied: "I think you have too. Good luck signing on". Guigsy was persuaded to return to the band to complete the tour.
Three Chords and the Truth: Not as stripped-down as some other examples, but they deliberately used simple musical formulas on Definitely Maybe, though they eventually moved on to more complex compositions.
Truck Driver's Gear Change: "All Around the World" begins with several verses and choruses in B, hops up to C for a couple of choruses (but only one in the music video), and then concludes in D for the final twenty- or thirty-ish chorus repetitions. (Some sheet music transcriptions of the song also notate a few bars as being in A: the "It's gonna be OK" repeats between the C and D choruses.) Noel Gallagher commented, possibly with tongue in cheek: "Imagine how much better 'Hey Jude' would have been with three key changes towards the end!"
Verbal Tic: Noel often finished sentences with, "D'ya know what I mean?" To the point it even became a song.
Vitriolic Best Buds: The Gallagher brothers—except the "best buds" bit is uncertain.

Since they often can't be in the same room together (for fear of the inevitable fist fight), they do always say how much they love each other. They just don't like each other.

Vocal Evolution: Liam. Arguably also Vocal Decay.
Vocal Tag Team: Though Liam is the only singer in Definitely Maybe, after Noel sung "Don't Look Back in Anger" it was progressing toward this.

In a one-song basis, it's done most famously in "Acquiesce", where Liam sings the verse and Noel the chorus. Liam has admitted that he simply can't sing in the higher register the chorus is in - when he performs the song solo, he gets the crowd to sing the chorus for him.

Word Salad Lyrics: A lot. Noel Gallagher admitted he doesn't understand many of them.

Some day you will find me/Caught beneath the landsliiiiiiiiide/In a champagne supernova in the skyyyyyyyyyyyyyyyy...

An excerpt of this song has something that frequently enters "worst lyric ever" lists ("slowly walking down the hall, faster than a cannonball...")

The lyrics of "Shakermaker" were written by watching TV and literally writing down whatever happened to be on. Unsurprisingly, this got them into legal trouble later on.
And if you thought "Champagne Supernova" was bad...

"Magic Pie" features the chorus: Cause you see me, I've got my magic pie/Think of me, yeah, that was me, I was that passerby/I've been and now I've gone
"Some Might Say" has the last chorus The sink is full of fishes/She's got dirty dishes on the brain/All my dogs been itchin'/Itchin' in the kitchen once again
"Hey Now!" features: The first thing I saw as I walked through the door/Was a sign on the wall that read/"It said you might never know that I want you to know/What's written inside of your head"
---