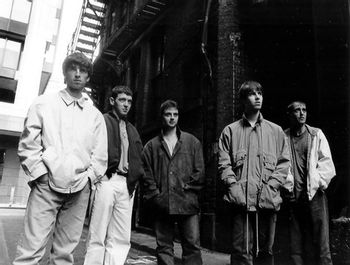 "The funny thing is, that mouthing off three years ago about how we were gonna be the biggest band in the world, we actually went and done it. And it was
a piece of piss
."
— Noel Gallagher
Oasis was a British Alternative Rock band strongly associated with the '90s Britpop movement, along with their archnemeses Blur. The band was established (initially as The Rain) in 1991 by vocalist Liam Gallagher, guitarist Paul "Bonehead" Arthurs, bassist Paul "Guigsy" McGuigan and drummer Tony McCarroll; to little success, until Noel Gallagher, Liam's older brother, came out of the blue and took total control of the band – which nobody protested, for he and his songs were just that good. Led by the older Gallagher, the band went on to achieve stellar success in the mid-'90s and onward: the zenith being "the Battle of Britpop" with rival band Blur, and the album (What's the Story) Morning Glory? shifting over 4.6m copies in the UK to currently rank as the country's fourth-highest seller ever. As the Britpop trend died out towards the turn of the millennium, Oasis survived and prospered into the new century: managing in total to produce seven studio albums (all UK Number Ones), go 14 years without missing the Top 5 with a 'proper' single, and ultimately sell over 70 million album copies worldwide. They finally imploded in 2009, after one bust-up too many between the Gallagher brothers led to Noel's departure. Prior to this, they'd also gone through some less terminal lineup changes:
McCarroll was kicked out and replaced by Alan White as drummer (not that Alan White) in 1995.
Bonehead and Guigsy left in 1999. After recording subsequent album Standing on the Shoulder of Giants as a three-piece, guitarist Colin "Gem" Archer and bassist Andy Bell (formerly the lead singer for the shoegazing band Ride) were brought in.
White left the band in 2004. He was unofficially replaced by Ringo Starr's son Zak Starkey, who played in the studio and live with the band but was never an official member. Before the recording of Dig Out Your Soul, Starkey was replaced by Chris Sharrock, former drummer for The Icicle Works.
The band were known for their over-the-top rock and roll attitude and perennial fixation on The Beatles, which many times eclipsed their musical aspects; Noel Gallagher was also known to "borrow" musical snippets and riffs from older songs, which didn't help the case. The Gallagher brothers were infamous for their fistfights, rude remarks, and most importantly, quarrelling amongst themselves; Noel was particularly known for his entertaining wit and antics during interviews. Musically speaking, Oasis were defined largely by Noel's status as a Promoted Fanboy, and can be pretty much summed up as classic British pop/rock (The Beatles, The Who, T. Rex, etc.) updated with more modern influences (The Stone Roses) and played with a wall-of-sound approach indebted to Punk Rock and Shoegazing.
Oasis's future finally came into critical doubt, after the best part of 20 years marked by internal squabbling and irregular rifts of greater or lesser severity, in August 2009 when Noel – who wrote most of their singles and best known tracks, and decided their artistic directions – announced his departure. The rest of the band were ambiguous as to whether they would carry on, until Liam Gallagher announced a split in late 2009; he later announced that they would "continue the project" in 2010, albeit perhaps with a different name.
This came to pass, as some time after the breakup Liam and the rest of the band reconvened under the name Beady Eye, releasing their "debut" album Different Gear, Still Speeding in February 2011, following up with the slightly better-received BE two years later. They split up in 2014, and Liam began his solo career, releasing his debut album As You Were in 2017, followed in 2019 by Why Me? Why Not.. Noel came out of hiding more belatedly, confirming that he's going onto a solo career under the name Noel Gallagher's High Flying Birds; both of the albums he's released under this name (his self-titled debut album, released in October 2011, and 2015's Chasing Yesterday) have gone straight to #1 in the UK, and have performed decently internationally as well; his third album, Who Built the Moon?, was released on 24 November 2017. It went straight to #1, making Noel the first UK artist to ever have 10 straight #1 albums in Britain.
Not to be confused with the indie game named Oasis.
Discography:
Definitely Maybe (1994)
Be Here Now (1997)
The Masterplan (1998) (B-sides collection)
Standing on the Shoulder of Giants (2000)
Heathen Chemistry (2002)
Don't Believe the Truth (2005)
Dig Out Your Soul (2008)
---
Oasis provided examples of:
---