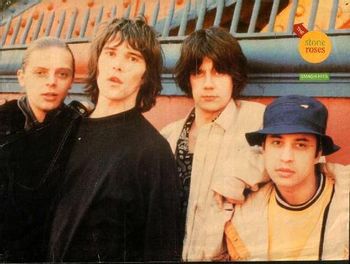 "The past was yours but the future's mine
You're all out of time"
—"She Bangs the Drums"
The Stone Roses are an Alternative Rock band from Manchester, known primarily for being the Trope Codifier for the Madchester movement in the late eighties and early nineties, despite the fact that they did not consider themselves members of the Madchester scene. They're as revered in the native UK as Nirvana is in the States.
Their style is largely a mixture of indie rock, psychedelic rock and dance music. Its defining traits are bright, catchy sixties-style guitar riffs, a very funky rhythm section supplying good beats that you can dance to, slightly Beatlesque vocals, frequent extended songs and a heavy influence from Psychedelic Rock.
The band's key lineup, as seen in the picture above from left to right, was:
Ian Brown, vocals (second, with the Dull Surprise stare)
John Squire, guitars and artwork (third, with the wannabe-sixties haircut)
Maninote , bass (first, looking vaguely contaminated)
Reninote , drums and backing vocals (fourth, fella with the bucket hat)
The band was formed in 1984 by Brown and John Squire, its initial lineup including Reni and two other dudes who aren't important (guitarist Andy Couzens, bassist Pete Garner). They initially wasted time as a gloomy, synth-heavy goth-rock band inspired by Joy Division, but permanently changed their sound in 1987 by firing the unimportant dudes and bringing in Mani, which led to them discovering their Signature Style, "Psychedelic Rock you can dance to".
Now signed with Silvertone Records and working with producer John Leckie, their debut album The Stone Roses was released in 1989 to massive critical acclaim and huge commercial success, and is still regarded today as one of the best British albums and best debuts ever. The record spawned several successful singles, such as "I Wanna Be Adored", "She Bangs the Drums" and "Waterfall", all major hits on both the UK Singles Chart and the newly implemented Billboard Modern Rock Tracks chart in the United States. The Stone Roses embarked on a successful tour of England, which culminated in a huge outdoor gig on Spike Island attended by 27.000 people on 27 May 1990 (plagued by bad organisation and sound problems), and continued to release singles.
Soon, the band decided to capitalise on their newfound success by moving to a major label, but Silvertone refused to let them out of their contract. An injunction filed in September 1990 prevented the band from recording with another label and started a long legal conflict between the band and Silvertone. The band eventually won in court and moved to Geffen Records, but the conflict blocked their activity at a critical time and slowed down their career by forcing them out of public view. In the meantime, Silvertone released the compilation Turns into Stone in 1992, containing all the non-album singles released until that point mixed with B-sides and new material, and re-released the band's previous singles as well.
The sessions for a new album finally commenced in 1993 but were repeatedly hampered by personal turmoil, culminating in Leckie's departure and the relocation to Wales with engineers Simon Dawson and Paul Schroeder. The album, entitled Second Coming (AKA the "I like it." album), was finally released in 1994, seeing the Stone Roses break from their colourful, psychedelic dance-rock and moving towards a heavy blues-rock sound patterned after Led Zeppelin and Jimi Hendrix. The album drew a lukewarm reception with critics (a main criticism towards it being "endless soloing" on Squire's behalf) and only moderate commercial success, although first single "Love Spreads" became the band's highest charting single in their entire career.
The album's resulting tour was disastrous and saw their gradual disintegration, with Reni leaving in March 1995 (replaced by Robbie Maddix) and Squire leaving in April 1996 (replaced by session guitarist Aziz Ibrahim). After two infamously bad performances at Benicassim and Reading festivals in August that year, the group was finally disbanded by Brown and Mani in October 1996.
Ian Brown thereafter continued with a solo career, Squire carried on for a while with a new band The Seahorses before retiring from music in favour of painting, Mani joined Primal Scream, and Reni... kinda fell off the face of the planet or something.
While The Stone Roses' moment in the sun only lasted about two and half years and Madchester collapsed very quickly, their music remains critically acclaimed today, and their combination of Sixties-style guitar riffs and dance rhythms proved to be highly influential on Britpop. Oasis frontmen Noel and Liam Gallagher in particular are self-professed fans of the Stone Roses. The bandmembers themselves liked Oasis in return (Squire showed up at one of their concerts to play additional guitar on "Champagne Supernova" and Oasis borrowed Stone Roses equipment during the recording of Definitely Maybe), but disliked the rest of the Britpop scene, calling them "Kensington art-wankers".
On the 18th of October 2011, the band reunited and embarked on a world tour. They released two new singles in 2016, "All For One" and "Beautiful Thing", their first new material in decades, and then toured until June 2017. At that time, Brown made cryptic remarks indicating that the band had split again, with Squire confirming the breakup in a 2019 interview.
Albums:
1989 - The Stone Roses
1992 - Turns into Stone (compilation of non-album singles, B-sides and new material)
1994 - Second Coming
There's also Garage Flower, an Old Shame 1996 release of an album originally recorded in 1985 with Martin Hannett and showing them in their initial crappy Post-Punk incarnation, some EPs (Sally Cinammon and Crimson Tonight), some singles remixed by Silvertone without the band's approval and some cheap cash-in compilations (The Complete Stone Roses and The Very Best of the Stone Roses - the latter at least had band input into song selection).
---
Tropes related to The Stone Roses:
---