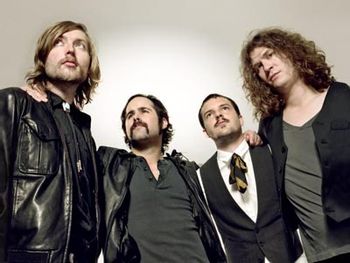 Jealousy, turning saints into the sea
Swimming through sick lullabies
Choking on your alibis
But it's just the price I pay
Destiny is calling me
Open up my eager eyes
Cause I'm Mr. Brightside
—"Mr. Brightside"
The Killers are a rock band from Las Vegas, made up of Brandon Flowers (lead vocals, keyboard), Dave Keuning (guitar, backing vocals), Mark Stoermer (bass, backing vocals), and Ronnie Vannucci Jr. (drums/percussion, backing vocals).
For an indie-rock outfit, they've been quite successful, selling 15 million albums worldwide (and with Sam's Town and Sawdust hitting UK number one).
Their sound has been (very accurately) described as "more Eighties than The '80s." All their albums save Sam's Town have been essentially synth-driven indie-rock, with the influence of New Wave, particularly Duran Duran, painfully obvious. Sam's Town was different, but also very much Eighties, being Heartland Rock/Americana In the Style of The Boss, with some more synth.
The band took a break after years of touring, during which time both frontman Brandon Flowers and drummer Ronnie Vannuci, unwilling to slow down, released their own solo albums entitled Flamingo and Big Talk respectively. Most of the reviews agree that Flamingo was So Okay, It's Average, while Big Talk was better received.
The band released Battle Born in September 2012, nearly four years after their last album as a group.
After another four year sabbatical following Direct Hits, the band released their fifth studio album, Wonderful Wonderful, in 2017. This was followed by their sixth studio album, Imploding the Mirage, in 2020, and their seventh, Pressure Machine, in 2021.
---
Band members
Principal members (founding members in bold, current members in italic):
Brandon Flowers - lead vocals
Dave Keuningnote - lead guitar
Ronnie Vannucci Jr. - lead drums
Mark Stoermer - lead bass
Current touring members:
Ted Sablay - guitar
Jake Blanton - rhythm guitar and bass
Amanda Brown - backing vocals
Erica Canales - backing vocals
Danielle Withers - backing vocals
Robbie Connolly - backing vocals
Former members:
Matt Norcross - former drummer
Brian Havens - former drummer
Dell Neal - former bass
Ray Suen, Tommy Marth, Rob Whited, Bobby Lee Parker, Brian Karscig, Taylor Milne - former touring members
---
Discography:
Hot Fuss (2004)
Sam's Town (2006)
Sawdust (2007, a compilation of B-sides)
Day & Age (2008)
Battle Born (2012)
Direct Hits (2013; contains two new songs)
Don't Waste Your Wishes (2016, a compilation of yearly Christmas themed singles released between 2006-2016)
Wonderful Wonderful (2017)
Imploding the Mirage (2020)
Pressure Machine (2021)
---
Solo Discography:
For reference, all the band members have an extensive solo career on their own merit; and although not part of The Killer's shared output, their solo albums give an insight into what the band members were doing between Killers work.
Flamingo (2010, Brandon Flowers)
Another Life (2011, Mark Stoermer)
Big Talk (2011, Ronnie Vannucci Jr.)
The Desired Effect (2015, Brandon Flowers)
Straight In No Kissin (2015, Ronnie Vannucci Jr.)
Dark Arts (2016, Mark Stroemer)
Filthy Apes and Lions (2017, Mark Stoermer)
Prismism (2019, Dave Keuning)
A Mild Case of Everything (2021, Dave Keuning)
---
Their music include examples of:
---