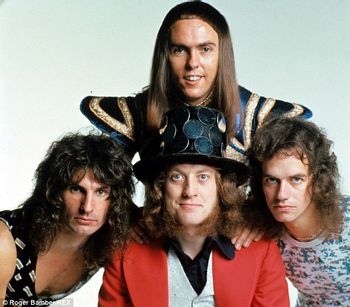 "I said Mama but weer all crazee now!"
WELL AAAAAAAAAAAALRIIIIIIIIIGHT, EVERYBOOOOOOOOOOOOOODY!
Slade are a rock band from Wolverhampton, who rose to prominence during the Glam Rock era of The '70s. With 17 consecutive Top 20 hits and six number ones, the British Hit Singles & Albums names them as the most successful British group of the 1970s based on sales of singles. They were the first act to have three singles enter at number one, and all six of the band's chart toppers (and the vast majority of their other material) were penned by Noddy Holder and Jim Lea.
While they achieved little success in The United States, they inspired many rock bands that would go on to be legends in their own right. These bands include: KISS, The Ramones, Quiet Riot (who pretty much owe all their success to Slade), Mötley Crüe, Twisted Sister, Cheap Trick, The Runaways and even Nirvana!
---
Cum on, Feel the Tropez!
---