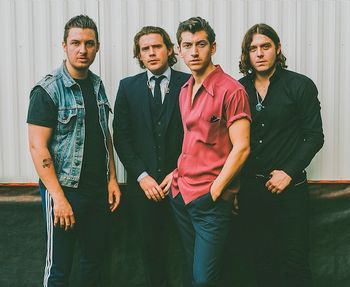 I bet that you look good on the dance floor,
I don't know if you're looking for romance or...
Don't know what you're looking for,
I said I bet that you look good on the dance floor,
Dancing to electro-pop like a robot from 1984,
Well, from 1984!
— "I Bet You Look Good On The Dancefloor"
Arctic Monkeys are a hugely successful Indie rock band hailing from Sheffield. The band is composed of Alex Turner (lead vocals and guitar), Jamie Cook (guitar), Nick O'Malley (bass guitar and backing vocals) and Matt Helders (drums and backing vocals). The band was formed when Turner and Cook got guitars for Christmas while at school and proceeded to begin practicing before recruiting Helders and their original bassist, Andy Nicholson. They were the first band to ever become really successful through the internet, as they handed out free demos of their songs to fans at gigs, who then uploaded them to social networking sites (more specifically, MySpace), leading to the band generating a huge fan following without even realising it.
Eschewing various big-name record labels such as EMI, the band instead signed on to indie label Domino Records and recorded their first LP Whatever People Say I Am, That's What I'm Not in 2006. The album went straight into the charts at #1 and, more impressively, became the fastest-selling debut album in UK historynote It replaced Kula Shaker's K and Oasis' Definitely Maybe for this title. This propelled the band into almost instant stardom and put them into media frenzy as they became renowned for their down-to-earth lyrics about teenage life in Sheffield.
Not wanting to be designated as a One-Hit Wonder, they followed up with the hard, fast sounds of Favourite Worst Nightmare in 2007. FWN was more mature, and received extremely positive reviews, even though most agreed that their debut was a Tough Act to Follow. They then took a legendarily short hiatus in which Alex Turner embarked on his side project The Last Shadow Puppets with Miles Kanenote Kane had been a featured guitarist on "505" from Favourite Worst Nightmare. The band released their third album - Humbug - in 2009 - a depart from their original high-energy style to something more psychedelic and dark, described as a mix of Nick Cave and Jimi Hendrix. It was recorded in California and mostly produced by Josh Homme.
Their fourth album, Suck It And See, returns to a rock-oriented sound while keeping the psychedelic vibes of the last. In 2013, they released their fifth album, AM - seemingly a combination of all of their albums lyrically and technically, but has a much slower, G-Funk inspired sound and Joy Division, Black Sabbath, and Velvet Underground influences note the album art for AM kinda resembles Unknown Pleasures and Word of God says the title is a direct reference to the 1985 Velvet Underground release, VU. Their sixth album Tranquility Base Hotel & Casino was released May 11th of 2018. They released their seventh album, The Car, in 2022, which builds upon the sound of Tranquility. Debuting at #2 in their native UK, it marks their first album to not reach #1 over there.
---
Band members:
Alex Turner - lead vocals, guitar (2002-present)
Jamie Cook - guitar (2002-present)
Nick O'Malley - bass, backing vocals (2006-present)
Matt Helders - drums, backing vocals (2002-present)
Andy Nicholson - bass guitar (2002–2006)
Glyn Jones - vocals, rhythm guitar (2002)
---
Discography:
Favourite Worst Nightmare (2007)
Humbug (2009)
Suck It and See (2011)
AM (2013)
Tranquility Base Hotel & Casino (2018)
The Car (2022)
EPs:
Five Minutes With Arctic Monkeys (2005)
Who The Fuck Are Arctic Monkeys? (2006)
iTunes Live: London Festival '11 (2011)
Other releases
Beneath the Boardwalk (2004) (a semi-official bootleg collection of demos and the like that was the primary reason for the hype that surrounded the band before the release of "I Bet You Look Good on the Dancefloor")
Live at the Apollo (2007) (live album)
---
Do I wanna trope?
---