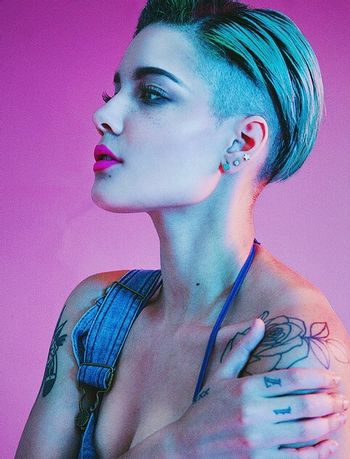 "I will never be anything but honest."
Ashley Nicolette Frangipane (born September 29, 1994), better-known by her stage name Halsey, is an American singer/songwriter specializing in alt-pop. Astralwerks signed her based on the strength of the single she posted on Soundcloud, "Ghost", which would go on to be one of her most popular songs. She sings "songs about sex and being sad". After the release of her EP, Halsey quickly gained a young set of fans through her candid attitude, her liberal sociopolitical views, and her raw, provocative, often profane lyrical style.
She co-headlined with Young Rising Sons in 2015, and then played as an opening act for Imagine Dragons' Smoke + Mirrors tour. Her rapid rise to success led her to a solo tour in September 2015. In 2016, she collaborated with The Chainsmokers on their song "Closer", which became a huge #1 hit almost immediately after it was released.
Discography
Room 93 (EP) (2014)
BADLANDS (2015)
hopeless fountain kingdom (2017)
MANIC (January 2020)
---
Her work provides examples of the following tropes:
I paced around for hours on empty
I jumped at the slightest of sounds
And I couldn't stand the person inside me
I turned all the mirrors around
Wham Shot: When Halsey performed the song "Without Me" on Saturday Night Live, a banner appeared behind her spell out like a letter "Dear Ashley...I'm sorry...I cheated." in alludes to her on-off relationship with musician/rapper G-Eazy. Also quite Tearjerking.
---