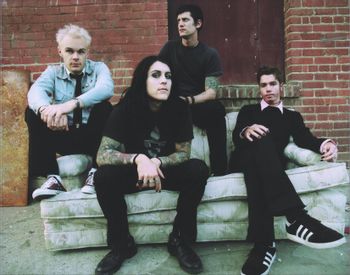 I can't stand my laughter as they cry
My soul brings tears to angelic eyes.
"God Called In Sick Today"
AFI (A Fire Inside) is an American alternative rock band, formed in 1991. Originally formed as a Hardcore Punk revivalist band, they continued much in the same way for their first three albums: Answer That and Stay Fashionable, Very Proud of Ya, and Shut Your Mouth and Open Your Eyes. Then things took a different turn.
On their 1999 album Black Sails in the Sunset, they supplemented their hardcore sound by experimenting with Goth Rock influences. This trend would continue with their next two albums, The Art of Drowning, which also brought in industrial elements, and Sing the Sorrow, which became AFI's breakthrough album and reaching #5 on the Billboard charts. Then Decemberunderground came around. While somewhat lighter in tone, it was a major success and produced some of AFI's most popular songs, such as "Miss Murder" and "Endlessly She Said".
Crash Love was stated to be a "straightforward rock record" by the band, with a New Wave feel and focus on catchy, more upbeat songs. However, it caused some alarm due to perceived abandonment of their hardcore roots. Their 2013 album Burials continues that merger of styles, featuring a dark, operatic feel to most of the songs.
Not to be confused with the American Film Institute. Lead singer Davey Havok and lead guitarist Jade Puget also head an electronic side project, Blaqk Audio and a Hardcore Punk side project, XTRMST.
---
Current members:
Davey Havok – lead vocals (1991–present)
Adam Carson – drums, backing vocals (1991–present)
Hunter Burgan – bass guitar, keyboards, programming, backing vocals (1997–present)
Jade Puget – lead guitar, keyboards, programming, backing vocals (1998–present)
Former members:
Vic Chalker – bass, backing vocals (1991–92)
Geoff Kresge – bass, backing vocals (1992–97)
Mark Stopholese – guitars, backing vocals (1991–98)
Studio discography:
Answer That and Stay Fashionable (1995)
Very Proud of Ya (1996)
Shut Your Mouth and Open Your Eyes (1997)
Black Sails in the Sunset (1999)
The Art of Drowning (2000)
Sing the Sorrow (2003)
Decemberunderground (2006)
Crash Love (2009)
Burials (2013)
AFI (The Blood Album) (2017)
Bodies (2021)
---
Kiss my tropes and lay me to sleep:
---