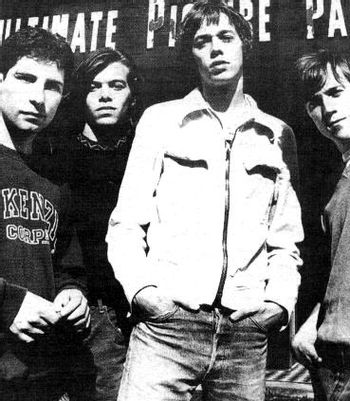 Ride are a shoegazing band from Oxford, England. They were active from 1988 to 1996, made a one-off appearance in 2001, then reunited in 2014 for a 2015 tour in Europe and North America, and are still going today. They were part of the wave of popular shoegazing bands that arrived in the wake of My Bloody Valentine, such as Slowdive and Lush. While not having My Bloody Valentine's monstrously imposing sound, Slowdive's Dream Pop tendencies, or Lush's spaciness, they distinguished themselves mainly through a more aggressive, faster-paced sound that drew from classic rock and Punk Rock, and their all-male lineup (My Bloody Valentine, Slowdive and Lush have/had at least one or two female members).
Their first two albums Nowhere and Going Blank Again have been enshrined in the canon of essential shoegazing albums, with the former sometimes being considered the genre's second best effort after Loveless, and the latter toning down the shoegaze tendencies in favour of influences drawn from Grunge (the band-members admit to being inspired by Nirvana's Nevermind while recording), Power Pop and classic rock, giving it a sort of proto-Britpop sound. Once shoegaze collapsed, the band tried to stay relevant by reinventing itself as a full-on Britpop act with Carnival of Light, which gained them some positive notice but no chart success, and increasing tension between songwriters Bell and Gardener led the band to break up during the recording of Tarantula. During their break-up, Andy Bell formed Hurricane #1 and later served as Oasis' bassist.
On 21 February 2017, "Charm Assault" premiered, their first new single since 1996's "Black Nite Crash", and first new song in 21 years. The next day, they released another single, "Home Is a Feeling". Their fifth album, Weather Diaries, was released on 16 June. In March 2019, the band announced that they had already finished their sixth studio album, This Is Not a Safe Place, with the producer of Weather Diaries, Erol Alkan; it was released 16 August 2019. On 23 April 2019, the song "Future Love" was released as a single; on 2 July, the song "Repetition" was the second single to be released.
---
Members:
Andy Bell – guitar, vocals
Mark Gardener – guitar, vocals
Steve Queralt – bass
Laurence Colbert – drums
---
Discography:
Ride (EP) - 1990
Play (EP) - 1990
Fall (EP) - 1990
Nowhere - 1990
Today Forever (EP) - 1991
Going Blank Again - 1992
Carnival of Light - 1994
Tarantula - 1996
Coming Up for Air (EP) - 2002
Weather Diaries - 2017
Tomorrow's Shore (EP) - 2018
This Is Not a Safe Place - 2019
---
Acid troping hunchback apparition:
---