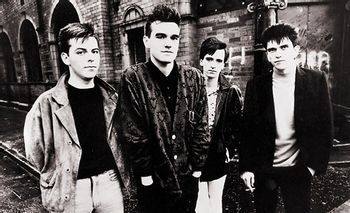 "So, I broke into the palace
With a sponge and a rusty spanner
She said: 'Eh, I know you, and you cannot sing.'
I said: 'That's nothing - you should hear me play piano.'"
— "The Queen is Dead"
The Smiths were a Manchester-based alternative rock band that formed in 1982 and broke up in 1987. Based on the songwriting partnership of Morrissey (vocals) and Johnny Marr (guitar), the band also included Andy Rourke (bass) and Mike Joyce (drums). Their sound was largely defined by the combination of Morrissey's witty, Deadpan Snarker lyrics and campy, melodramatic vocals with Marr's jangly, catchy pop-rock melodies (drawing a lot from The Beatles, Power Pop and Classic Rock) and the steady support of the Rourke-Joyce rhythm section. However, they branched out beyond pop-rock and experimented toward the end of their career.
Widely regarded as one of the most important bands to emerge from the British indie music scene of The '80s, the Smiths had a major influence on other artists, including Radiohead, The Stone Roses, and Suede. The band's influence on British alternative and indie rock is often compared to the influence that R.E.M. had on those genres in the United States.
Following the band's breakup, Morrissey went on to have a successful solo career. Marr formed Electronic with Joy Division/New Order guitarist Bernard Sumner, and also formed the short-lived Johnny Marr & the Healers. He also played with cult alternative rockers The The, contributed to Talking Heads' final studio album Naked, and has done session work for too many artists to list. He was a member of the American indie rock band Modest Mouse from 2005 to 2008. After leaving Modest Mouse, he was a member of the British indie band The Cribs from 2008 to 2011, before setting off on a solo career of his own. Rourke, meanwhile, became a session musician and later formed the supergroups Freebass (with Joy Division/New Order's Peter Hook and The Stone Roses' Mani) and Blitz Vega (with Happy Mondays' Kav Sandhu) before dying of pancreatic cancer in 2023.
Discography:
The Smiths (1984)
Meat Is Murder (1985)
The Queen Is Dead (1986)
Strangeways, Here We Come (1987)
Their numerous non-album singles and b-sides are collected on:
Hatful of Hollow (1984)
The World Won't Listen (1987)

and its far more famous American equivalent Louder Than Bombs, issued the same year.
Vote for your favourite Smiths album by heading over to the Best Album crowner
! There's also a Best Song crowner
as well!
---
"I would go out tonight, but I haven't got a trope to wear...":
---